OFFERING MORE THAN STATIC: DYNAMIC WAYS TO PUMP UP YOUR ASSOCIATION'S WEB SITE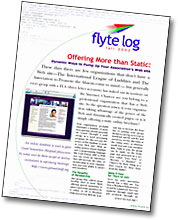 These days there are few organizations that don't have a Web site–The International League of Luddites and The Association to Promote the Abacus come to mind–but generally every group with a TLA (three letter acronym) has staked out its territory on the Internet. Chances are you belong to a professional organization that has a Web site. So the question arises, is your organization taking advantage of the power of the Web and dynamically created pages, or is it simply offering a static online brochure?
Your organization probably maintains a database of members and may already personalize letters through a mail merge in a word processing program. So why not put the power of this database to work at your Web site? With an online version of your database and a programming language like Cold Fusion, ASP or PHP, you can create an experience that will increase the value of membership in your organization and your ability to attract new members.
The Benefits of Membership
Any group that collects membership dues is most likely offering special premiums to attract and retain members, be it online or off. A Members Only area at your Web site is an easy way to increase the benefits of joining your group. Members can log on to read or download special articles and resources, receive discounts at the online store, or whatever would best suit your membership. Calls to join the group can be made on the home page and promoted in a section called "Join Now" or "Become a Member" or "There's No Such Thing as a Free Lunch So Step Away From the Buffet".
Make it Easy for Them to Join
Let's say your association already has a Web site. You have a Members Only area protected by a password. You communicate through email and sell products through an online store. So why are you making prospective members print up a form and mail you a check? This is the era of instant gratification and people don't want to wait for anything. They want to give you their credit card–securely–and get instant access to your Members Only section. The National Center for Gender Issues and AD/HD (http://www.ncgiadd.org) utilizes a custom-developed online payment system. People wanting to join enter their credit card information into an online form at the site. Their information is checked in real time through a third-party provider, and once validated they are given a temporary password. With this password they can now enter the Center's Members Only section. No form printing, no check writing, no waiting. Simplifying the process increases the likelihood surfers will become members.
Greet Them at the Door
Your Web database can personalize the experience for your members. After physicians at Good Samaritan Hospital – Los Angeles log on to the Members Only section they can access information specific to them. Since many of the physicians might log on at public computers at the hospital, they need to know that the personalized information is for them, and not for the previous physician who had logged on. To accomplish this goal Cold Fusion–a powerful programming language–is used to interact with the database. The Members Only home page greets the physician by name and displays their photograph, assuming they've provided one.
Allow Members to Update Their Information
Why should you have to do all the heavy lifting when it comes to updates? If a member has a new email address, new job or has joined the Witness Relocation Program you can put the impetus on them to update their information. Once they've logged on they can click on an "Update My Information" link and change any information you allow them to. (You may want to allow them to change their password or home address, but not the renewal date on their membership.) The Human Resource Management Group (http://www.hrmg.org) offers just this arrangement for their members. HRMG is also alerted via email whenever a member changes their information. When HRMG wants to update their local database they can download the Web database to synchronize their information through a custom-designed admin system.
Personalize the Experience for Non-Members, Too
The Division for Learning Disabilities (http://www.teachingld.org) offers something special to both members and non-members alike. Educators of children with learning disabilities can go online at the site to the Find A Colleague section. After creating their own profile, including such information as where they're located, what grades and subjects they teach, and optional questions such as why they got into teaching, they can then search through the other profiles to share ideas with colleagues.
The Pennsylvania Psychological Association (http://www.papsy.org) wanted to offer Continuing Education credits to both members and non-members. People can sign up at the PPA's Web site and their credit card information is instantly validated through PayPal. (PayPal is an online service that will take credit cards for you even if you don't have a Merchant Account.) Once the credit card has been checked a unique username and password is generated. Then the visitor can read through the materials and take a multiple-choice test at the end. If they pass they are taken to a page that allows them to print a Certificate of Completion. Those who don't pass are allowed one more attempt. The PPA can review reports that say how many people have taken the test, how many are members, how many passed, and what their scores were. This is much more time and cost efficient than sending out printed tests, scoring them by hand, then mailing out Certificates of Completion. It's also better for site visitors who can take the test at their convenience.
Save On Administrative Time and Costs
One of the many administrative expenses the medical staff office ran into at Good Samaritan Hospital was the time and effort spent on Affiliation Letters. Affiliation Letters–for those of you who aren't medical staff officers–are documents of physician employment and status that one hospital requests from another. Before the development of this online tool, requests were processed, information pulled from the database, a letter was generated and printed, then mailed or faxed by hand to the requesting hospital. Now, other hospitals can simply log on, submit the physician's name, and the Web site generates an Affiliation Letter including letterhead and signature. The requesting hospital gets their information instantaneously and the medical staff officers from Good Samaritan can put their time to better use.
Another activity for the medical staff officers was to coordinate dozens of meetings each month for the 600 or so physicians on staff. It was a time-consuming process to set up the meetings and invite a specific group of physicians to each meeting. There was no way to get quick feedback on who would be attending which meeting. Now, through an online admin system, the medical staff officers can create meetings and invite individual physicians or entire departments in less than two minutes. When members log on they can view their upcoming meetings and accept or decline the invitation. The medical staff officers can then view a specific meeting to see which physicians are able to attend.
Although your organization may not need to send out Affiliation Letters or plan dozens of meetings a month, there are probably activities that can be automated or simplified through your Web site. Membership renewals, email reminders for meetings, and regular updates to important documents are just a few places to save time.
Another Idea
As a membership benefit or for an additional fee, you could offer members their own Web pages at your site. A password protected admin system would allow members to update their information, add links to their own Web site or email, and upload their photo.
As you can see, there's a lot of opportunity for your Web site to save you time and money, increase membership benefits, and generate funds for your organization. What you do with these tools is only tethered by the information in your database and your creativity.
–Rich Brooks
President, flyte new media