Whether you've had your eCommerce website up for years or just got set up with your online store last week, your sales rely on people finding your products, and that means you need to work on SEO. Search Engine Optimization is all about making your website the best possible match for a search query on Google, Yahoo, Bing, or any other search engine. But beware: an eCommerce SEO strategy is different from that for a lead gen website.
Why eCommerce SEO is so Important
Many people think SEO is merely about coating your website in as many keywords as possible. But it's much more than that. Really, SEO is all about providing the best user experience. That means taking into consideration not just how users find your website and products, but how easily they can navigate your site, what information is available to them and how it's formatted, the load speed of your pages, and so much more. When you invest time and energy into good SEO–and therefore good user experience–you are increasing the likelihood of two things:
In the short term, your web pages will improve in ranking, so they appear higher up in search engine results, driving more traffic to your e-com site. Did you know that 75% of users never scroll past the first page of search results? That means that no matter how many people are searching relevant keywords, your business will miss out on most digital traffic until you optimize and begin ranking on the first page.
In the long term, you will also find more users from organic search convert–make a purchase–because your website has been optimized to bring in the most qualified leads and provide the smoothest customer journey.
So how exactly do you accomplish your short term and long term objectives through SEO? Every eCommerce SEO strategy can be broken down into 4 parts:
On-Page Optimization: optimizing the product and category pages that visitors and search engines can see on your website.
Link Building: connecting your pages to one another internally and gaining trust with visitors and search engines by acquiring links from other websites.
Technical SEO: ensuring there are no technical errors and that your website is structured properly.
Measurement: analyzing your traffic patterns and user behavior to see the gaps in your eCommerce SEO strategy and further adapt.
No matter the size of your store, eCommerce SEO is a big undertaking and it's difficult to know where to start. Rather than spreading out our eCommerce SEO tips, we wanted to create an ultimate guide that would walk you through each of these 4 essential eCommerce SEO steps with examples and actionable advice. Of course, there's always a benefit to having an eCommerce SEO expert on your side, but we're also firm believers that your intimate knowledge of your brand and common sense can be a powerful combination in making tangible SEO progress. This guide is on the lengthy side so grab a snack and buckle up.
How to Conduct eCommerce Keyword Research
Like with any website, keyword research for eCommerce is essential to understanding the search behavior of your ideal customers. But eCommerce websites require keywords with a specific type of intent. While informational keywords may match users with service pages or blogs, eCommerce sites need to zero in on these three keyword types, based on the intent of the searcher:
Navigational: Includes branded terms that users know will take them to a specific website.
Commercial: Focuses on specific product searches that often include comparison terms.
Transactional: Demonstrates purchase intent.
By optimizing for these types of keyword intent, your website is more likely to be served up to people who are in a buying mood. Every page on your website, from your homepage to individual product pages should target a different set of specific keywords. But how exactly do you know which keywords to target and how to find new, potential keywords through eCommerce keyword research? The answer is two-fold. Target keywords can be found both by evaluating the terms that your page is already ranking for and by discovering new keywords to incorporate. 
What keywords does your eCommerce site already rank for?
Let's start by evaluating the current keywords that your website ranks for. You can do this by using a free or paid eCommerce keyword research tool like Google Search Console, Moz, or Ahrefs. Often, free tools are a great starting point and can always be supplemented later as you get more comfortable with keyword research for eCommerce and dive deeper into your eCommerce SEO strategy. We'll use Search Console for our examples, since it's available to anyone.
Start by navigating to your search console account. (If you don't have an account or don't know how to access it, learn more about setting up Search Console here.) Once you're in your dashboard, click on the "Performance" tab in the left hand menu bar. From here, you can explore the queries for an individual product by adding the page URL to the dimensions at the top of the screen. Select 'page' and then use the drop down menu in the pop-up window to ensure you have it set to 'exact URL.'
You can then see the actual keywords that your pages are appearing for in search results. This won't be an exhaustive list of all keywords your page ranks for but it's generally representative of the most important and relevant ones. Often, many of your ranking keywords will be branded, navigational keywords. 
Of course, brand awareness is important and you absolutely want your website to appear when searchers are specifically looking for your company…but they alone won't provide the traffic and conversions you want as a result of your eCommerce SEO strategy. As long as your company name is memorable and you have consistent branding throughout your website and product line, you will never have to work hard to rank for branded keywords.
Instead, your focus should be on optimizing for unbranded terms which often correlate to new (rather than returning) customers. Scan the list of keywords in Search Console for unbranded terms and use your common sense to evaluate the relevance of that keyword to your webpage. Hint: not all of them will be! Sometimes Google ranks your page for seemingly random, irrelevant terms. While we can't entirely eliminate these, having a lot of them may indicate that the purpose and content of your page is unclear.
Through Search Console, you see not only the number of search impressions from each keyword (how many times your website showed up) but also how many of those impressions resulted in actual clicks to your website. Pay attention to which keywords have the best click through rate–the number of clicks divided by the number of impressions. The best keywords will have a large volume of impressions with a good click through rate and high relevance to the product itself. 
Once you've discovered which keywords are already bringing you the most SEO success, you can further optimize your on-page content to speak to those terms. Looking at keywords through Search Console for each individual page is a tedious process but it helps you understand the language that your audience is using to find your brand. 
How do you find and target relevant keywords that your store doesn't rank for?
You may find that some of your product pages aren't ranking for any keywords or you may discover that none of their current keywords accurately represent the product and aren't bringing in appropriate traffic. That means it's time to go out into the world in search of new keywords to target. There are lots of paid tools or SEO experts that can help you conduct eCommerce keyword research, find content gaps, and analyze your competitors' targeting strategy. But the easiest (and cheapest) way to find new keywords for your product or category pages is to go straight to the source: search engines.
For eCommerce brands, one of the most powerful search engines you can leverage is Amazon. Amazon is the largest eCommerce site, accounting for 41% of the US market. From within Amazon, you can begin a search using a word/phrase that you think describes your product, such as "wicker basket." As you type, Amazon will suggest searches similar to yours that are backed by popular demand.
These are often long-tailed (very specific) keywords and can offer good insight into what searches are already being made around that topic. You'll notice different qualifiers like material, size, style and more that help narrow down the product that a user is looking for. Play around with a few terms and take note of any that you may be able to incorporate into your on-page optimizations. When you think you've found a good keyword, follow through on the search to see if the current results for that term are similar to your own product and therefore will match the search intent.
You can perform similar research on category page keywords. Explore Amazon's departments to learn how they might categorize a product similar to yours. While categories may not convert as often as product pages, good category page SEO can still help put more customers in your sales funnel. 
Repeat this process using other search engines, like Google and Bing, and even your competitors' websites. When your team begins work on a new product page or is updating an old one, make it a habit to spend at least 10-15 minutes doing eCommerce keyword research with these methods. If you have a few target keywords in mind when you begin setting up the page structure or eCommerce copywriting, it's easier to incorporate them naturally, rather than trying to work backwards. 
Now that you have some keywords chosen for a particular product, the next big question is how do you use them?
How to Implement Keywords Through eCommerce Copywriting
You've probably already guessed the first place that you should be implementing your chosen keywords: directly in your web page copy! But if you're starting to catch on to how this whole eCommerce SEO strategy works, you might have also guessed that good eCommerce copywriting isn't as easy as sprinkling those words throughout the page.
Mainly, we want to focus on prioritizing where on the page those keywords are placed, based on the hierarchy of information on each page. 
First and foremost is the page title or H1 tag. Then, any additional H2s and H3s such as the product description, details, or review sections are read. Finally, the body text. Make sure to include your best keywords in those headers and then use common sense to spread out synonyms throughout the body text.
Not only should headers be your priority for keyword placement, but they also influence how Google scrapes your content for featured snippets and knowledge panels. "Knowledge panels are information boxes that appear on Google when you search for entities. They are meant to help you get a quick snapshot of information on a topic based on Google's understanding of available content on the web." As an eCommerce website, you have a unique opportunity to garner sales directly from search results pages, and ensuring that Google has enough information to fill these knowledge panels can be key in helping your potential customers make their purchase decision.
Use common eCommerce heading categories to ensure that you are providing a full picture of your product. Here are a few examples:
Product Description
Product Details
Related Products
People Also Like
Reviews
Customer Questions
Shipping Info
Return Policy
Keyword research for eCommerce and implementing eCommerce copywriting best practices should become a habit of yours over time. One trick we like to use to help visualize the page hierarchy and keyword placement is by highlighting our target keywords throughout the text. Try highlighting your most important words in a bright color like yellow and your synonyms in a quieter color like light blue. This will allow you to quickly evaluate whether or not you've succeeded in prioritizing your keyword placement throughout the text.
Optimizing Category & Product Page SEO with Meta Data
Your on-page copy is not the only place your target keywords belong. There are also three main elements of metadata where you could implement target keywords to improve your product page SEO. 
Title Tags
Title Tags are the assigned SEO title of a particular URL. Though they can overlap, these are different from the H1 headers in that they don't appear on the page itself. Instead, they appear only on the results page of search engines. When it comes to organic traffic, your title tag is the first thing a user is going to read and has the opportunity to make a big first impression. They also happen to be the first part of your webpage that Google crawls when deciding what results to serve a search. Thus, it should be one of the first things you do when creating or updating individual webpages.
What makes a good title tag?
Unique: duplicate content can hurt your ranking so every title needs to be different.
Short: title tags should be between 50 and 60 characters.
Keyword Rich: include 1-2 of your target keywords with the most important one appearing first.
Compelling: above all, convince searchers to click on your webpage by characterizing the page in a logical and compelling way.
Meta Descriptions
The next thing that both searchers and search engines look to is your meta description, where you have the opportunity to give a brief overview of the page or product. They are equally important and follow many of the same guidelines listed above. Like with title tags, you want to write a unique description for each page that artfully incorporates target keywords and stays under 160 characters. We like to use a SERP simulator when writing titles and meta descriptions to view our work as it would appear to users.
Pro Tip: For both title tags and meta descriptions, try incorporating common search modifiers before or after your keywords on product pages to get more long-tail traffic. Examples include "Buy," "Deals," "On Sale," "FREE Shipping," and "Great Selection."
Image Alt Text
Alt text can sometimes be the forgotten member of the product page SEO family, but it actually offers a great opportunity to rank in image search results and should be treated with equal care. It was originally developed to provide descriptions of visual elements to web users that employed a screen reader–and still is. But because search engines are also blind, it has evolved into a tool used by Google and other engines to evaluate the contents of images. Properly labeled photos have the opportunity to appear in image search results, offering users yet another entry point to your content.

Websites often have a LOT of images on them, and not all are important for SEO. Focus on your main product images and ensure that they all have alt text assigned to them that briefly and simply describes what's shown using some target terms from your eCommerce keyword research.
Aim for under 125 characters
Incorporate keywords where appropriate 
Create a cohesive sentence
Don't use phrases like "An image of…"
If you want to increase your chances of ranking in image results, you should also pay attention to image size and file name. At most, images on your website should be no more than 200KB to reduce the chances of slow load speed. For most images, that means a max width of 800 pixels. Replace file names like "IMG_1234.jpg" with descriptive names like "small-wicker-hamper.jpg."
Link Building is Essential to Your eCommerce SEO Strategy
Deep breath! We made it through the eCommerce keyword research and implementation phase. This is a huge portion of any eCommerce SEO strategy and although it is an ongoing effort, it will get easier and more natural over time. Now we'll move into link building, a notoriously slow and challenging aspect of SEO. There are two types of links we'll discuss: internal and external.
Optimizing Internal Links
Internal links are often very simple for eCommerce sites, where your site's navigation generates lots of natural internal links. That being said, you can and should be strategic with your internal links rather than relying entirely on automatically created links.
Link building is all about passing authority (and traffic) from one page to another. Which means your internal linking strategy should focus on using well-ranking, highly trafficked products to uplift high-priority or underperforming products and category pages. How can you leverage the trust a well-known product has built to get more eyeballs and conversions on other products?
Think about the opportunity for product page SEO presented in the "Suggested Products" section on each page. Rather than always suggest the same set of 10 top performing products, instead suggest seasonal or new products that your sales team wants to boost. Also ensure that those related products are in fact related. For brands that cover a range of items, make sure there is a logical or thematic connection between the current product page and the one you're linking off to.
How to Get External Links to Your eCommerce Website
Google and other search engines use complex algorithms to evaluate and rank your web pages in their results. Though they aren't completely transparent with their ranking factors, top SEOs have long known that external links, or backlinks, are perhaps the most important element to your success.
"Search engines have often messaged that what others say about you is more important than what you say about yourself."
External link building is notoriously difficult for product pages. Often, product backlinks come from review blogs, top product articles from sources like Wirecutter, or other listicles that vett their own link choices. If your product is high quality and your eCommerce SEO strategy is well rounded, you already have a good chance of attracting these backlinks. So rather than spend our time teaching you how to perform cold outreach for more backlinks, we want to help you understand how to evaluate the quality of your current external links.
What makes a backlink high quality?
Source Domain Authority: Like we said, links are about passing authority from one webpage to another. The sites your backlinks come from should be of high authority. You can use Ahrefs' free authority checker on any domain. Look for scores 50 and above.
Relevant Anchor Text: When you hyperlink text, like for the free tool above, the text that is attached to the link matters. Google evaluates the keywords in the anchor text to understand why and what the link goes to. Anchor text like "click here," is bad, whereas text that contains important keywords and relevant information is good.
Specific Landing Page: Often, backlinks point straight to a website's homepage, and while this is still somewhat useful, it muddles the customer journey. The best links send traffic directly to a relevant category or product page.
Do Follow: When creating links, a piece of code is added that tells search engines to count (or not count) the link as an endorsement from the source site.
To improve your backlink quality and get even more qualified traffic from them, focus your efforts on backlinks that come from a high authority domain but are lacking in the other 3 elements. For example, you could zero in on any backlinks from high authority sites that have bad anchor text like "click here" or "buy now," and take the time to reach out and suggest an edit. We use the paid Ahrefs backlink profile to analyze referring links and narrow down the list.
This is a tedious process and requires paid SEO tools to get started, but with external links as one of the most important ranking factors on Google, it could be worth your time and effort. If you're interested in external link building, we can always discuss how flyte can help give your team a jumpstart.
Technical SEO for eCommerce Sites
Site health is important for all websites, but particularly for eCommerce sites because they tend to have a lot of pages. This means the potential for technical issues is higher and that technical SEO could be the biggest difference between your page and a competitor's. 
There are lots of factors that feed into how your site scores on a 1-100 scale, such as load speed, broken pages, or even missing metadata. You could probably spend a lifetime nitpicking every aspect of your site health to achieve a perfect score but the 80/20 rule is in effect here: there are a few issues that hold the most weight. Focus your efforts on these to make the biggest impact:
Missing Titles, Meta Descriptions or Alt Text: We discussed the importance of these three elements and any page missing them is a missed opportunity to gain organic traffic.
Broken Links: When a URL changes or a page is removed, all links to that page become broken. It's tedious, but try to stay on top of updating links.
Duplicate Content: Duplicate content is one of your worst enemies. Not only does Google penalize it when ranking your pages, it also means you are cannibalizing your own content by competing against yourself for important keywords.
Too Many Redirects: Redirecting from a broken link is a useful strategy, but adds an additional step in the customer journey that can be a point of friction. The best solution is to remove the broken link and replace it with a link directly to the new destination page.
Large File Size: This happens most often with images and can slow download speed for your page, which is both a ranking factor and an aspect of user experience.
Mismatching SERP Titles: Recently Google has been rewriting assigned title tags when displaying content on their results pages. Often, this indicates that the initial title tag isn't optimized and can be improved by cross comparing the titles and making adjustments.
Don't Forget Measurement of Your eCommerce SEO
I've got a hard truth for you: even if you've done everything above, your SEO work is not over. Nor will it ever be. Of course, things will get easier over time and you'll spend less time fixing problems and more time working on a proactive eCommerce SEO strategy. But customer behavior and the digital landscape are constantly changing, so your store will need to continually adapt with it.
The key is to focus on progress. And the way to make continual forward motion is to measure the results of your eCommerce SEO efforts. For this, you can start by going back to Google Search console. Has your average ranking position improved? When you look at specific pages, are the keywords they rank for relevant, unbranded terms? What is your click through rate?
You should also tap into Google Analytics–don't worry, we've got a guide for that too–where you can analyze traffic patterns to see what works and what doesn't. Here are a few metrics you should pay attention to:
Sessions: look specifically at the number of sessions from the source / medium of google/ organic. If your organic sessions increase month over month, year over year, its a good sign that your SEO work is paying off.
Average Session Duration: don't get caught up on the actual number, but rather the patterns across pages. The idea is to determine whether your SEO work on certain pages has made their session duration longer than other site content.
Bounce Rate: again, focus on the trends when looking at bounce rate. After doing SEO for a page, has the bounce rate decreased? Do customers tend to visit more pages per session because you've added relevant internal links?
Conversion Rate: of course, your end goal is to sell your products, but revenue can fluctuate with seasons, sales and other factors. Keep an eye on your conversion rate over time to determine if the page is resulting in a sale more often than before.
If you want to dive deeper into measuring your technical SEO, domain authority, backlinks, and even comparing your site to SEO competitors, we suggest getting a subscription to Ahrefs.
Next Steps
Since you likely can't optimize your entire eCommerce site in just one sitting, print up this Ultimate Guide or download our ECommerce SEO Checklist if you just need a cheat sheet.
Your path to more visibility, more search traffic, and more sales is a step-by-step journey that includes:
eCommerce keyword research and on-page optimization with SEO-focused copywriting
Link building from relevant websites
Improving the Technical SEO of your eCommerce site
Tracking your eCommerce KPIs so that you can continually improve your online store
If you're a DIYer, this is likely all the information you'll need to get started. If you're feeling overwhelmed, or need help with parts of this SEO overhaul of your eCommerce store, well, that's what we're here for! 
Our favorite thing in the world is to take a good store and make it even better; to take an eCommerce site with some search traffic and start driving tons of customers your way. If you're looking for some help, reach out to flyte today!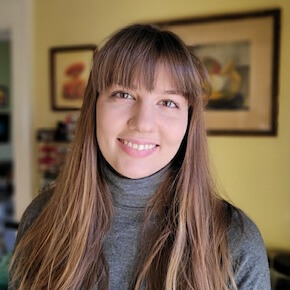 Izzy joins flyte after moving to Portland in 2020, a city that is affably similar to her beloved Burlington, Vermont, with the added benefit of ocean air and fresh seafood. With a degree in English and a background in the nonprofit sector, she carries a curiosity for all things communications. From social media and email newsletters to website management and SEO, Izzy is involved. Reach out to Izzy today!