If you're looking to reach more of your ideal customers on Facebook, then you'll need to understand how to use Facebook Business Manager and prepare to run Facebook Ads. In this post we'll give you a crash course in everything you need to know about setting up and organizing your Business Manager account for success.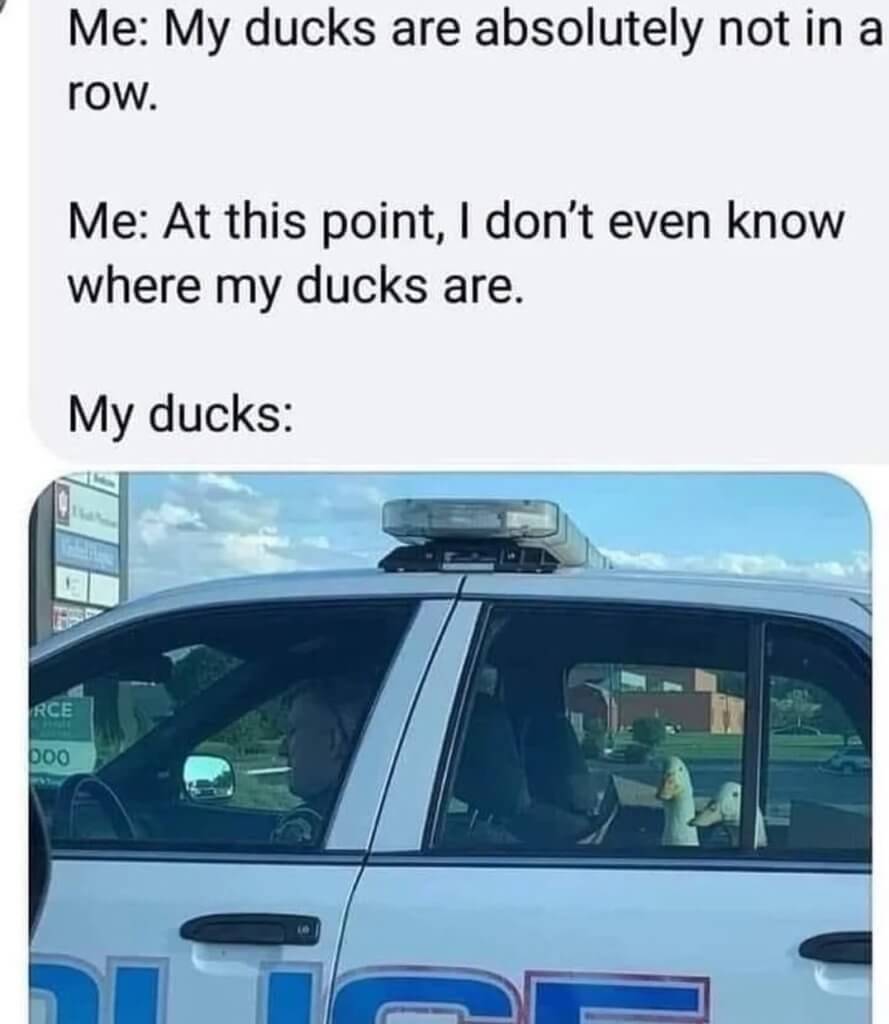 Facebook doesn't always make things easy for business owners, so we've done our best to create an exhaustive (but not exhausting!) guide to creating or accessing an account. Depending on your business's prior experience with Facebook and its tools, you may not need to read the entire post. Refer to the table of contents below to skip straight to the section that's right for your stage in the process!
Treating Your Social Media as a Business Asset
What is FB Business Manager?
What Can You Control With Business Manager?
Why Should You Use FB Business Manager?
How to Access or Setup Your Business Manager Account
Who Owns My Facebook Business Page?
I Need a New Business Account
I Want to Run Facebook Ads… What Next?
How to Claim Your Facebook Page
Connecting Your Instagram Account
Setting Up Your Ad Account
Adding a Payment Method
Creating a Facebook Pixel
Granting Access to Your Facebook Business Manager
Adding a Business Partner
Adding Employees and Admins to Your Account
Whether you sell products, market services, fundraise as a nonprofit, or just want to spread the word about your blog, you probably have social media accounts for your company.
If that's the case, you may have heard of Facebook Business Manager. Not ringing a bell? Don't worry, we'll explain what it is, why you should use it, and how to get all your social media ducks in a row.
Treating Your Social Media as a Business Asset
Social media is exactly what it sounds like, a form of digital media whose purpose is primarily to help people connect online. You can make or connect with friends, give them live updates through your feed, and chat with them from anywhere in the world.
But social media is also a key tool for businesses to reach and connect with their current and potential customers.
Without writing too much of a manifesto, we want to encourage you to treat your business' social media accounts as valuable assets that need professional management. Just like your brand kit, your email list, or your website, your social media is an important way for you to market to your audiences and deserves the same professional attention.
Platforms are continuing to adapt to service businesses better and separate the worlds of personal and professional social media. Facebook Business Manager is one of these adaptations.
What is Facebook Business Manager?
In short, Facebook Business Manager is a tool that allows you to manage and share access to different aspects of your business' social media presence on Facebook and Instagram. Think of it like the back end of your website. Only you as a business owner, your trusted employees, and any approved agencies or business partners have access to Business Manager.
What Can You Control with Business Manager?
Even though Facebook Business Manager is owned and operated by Facebook, it isn't limited to managing just your Facebook page. Here's a list of all the business assets that can be controlled through your FB Business Manager.
Facebook Pages: No need to limit it to just one. If you have multiple business pages–say you have multiple locations for a store–you can manage them all here.
Ad Accounts: If you want to run paid social media ads on Facebook and Instagram, this is where you'll find the creative studio, audience targeting, and reporting.
Instagram Accounts: Though you can't publish posts here, you can connect your Instagram account to all your other social assets.
Catalogs: Here you can manage the catalogs for your Facebook and Instagram stores, a vital part of social ecommerce.
Pixels: These are the little snippets of code that can track the interactions between social media and your website.
So Much More: Though the above are the main elements, FB Business Manager can also be used for app management, WhatsApp accounts, CRM Integration and more.
Why Should You Use Facebook Business Manager
For the sake of your business and your personal life, you need some work/life separation. If you've been managing your business's Facebook page through your personal account you may not only be jeopardizing your privacy and blurring the lines between work and play, you could also be limiting the tools available to your business.
Think of a Facebook Business Manager like a bank. Without it, you're keeping your business's social media assets in your wallet like cash…or worse, loose in the pockets of various winter jackets and pairs of pants, not to be seen again until spring or accidentally donated to GoodWill. 
When you use FB Business Manager, you bring all those assets into one safe place. You have robust reporting and tracking tools available to you, dedicated advising, and above all, security. You can control who has access to each individual element and what type of actions they can take.
If you want social media to be more than just a side-gig for your business, you need to have a Business Manager. The next step is just to figure out how. You can watch our Facebook Business Manager Basics video or read the instructions below for a more in-depth guide on getting started and setting up each of the important assets within Business Manager.
How to Access or Set Up Facebook Business Manager
Oftentimes, Facebook will automatically create a Business Manager account when you set up a business page on Facebook or an Instagram business account. You may already be using FB Business Manager, or have an account that you didn't know existed!
If you are the person who created the original Facebook page or Instagram account, you can find out if you have a FB Business Manager account by visiting business.facebook.com and logging in.
If you have an account, your screen might look something like this upon logging in:
Or, if you're one of the many people who have access to Facebook's new layout, Business Suite, it may look something like this:
For the most part, these two layouts have the same functions and contain the same elements, just with a different look.
You can see on the left that our business name, flyte new media, appears at the top. This is the homepage or 'feed' page that will often appear when you enter a Business Manager account. If you don't see this, it means you are either not the owner of the Facebook Business account, or you don't have one!
Who Owns My Facebook Business Page?
If you suspect that someone else has ownership of your Facebook business page, it's important that you take the time to solve that mystery. To protect privacy, Facebook cannot provide you with the contact information for the owner. Instead, here are some options for what you can do to get ownership:
Visit your Facebook page and use the left hand menu bar to find "settings." Click this and "page roles" will appear in the new menu. If you're lucky, the name of the page owner will be listed here, and you can get in touch with them to provide the appropriate access to the account.
If the Page Owner is listed as your business's name like in the example shown below, you will need to do some sleuthing.


Work through the list of admins. Get in touch with them and ask them to visit business.facebook.com and login. If none of the listed admins can get access, start contacting former volunteers or employees and ask them to follow the same steps.


Once you've exhausted any possible past owners you can proceed with submitting an ownership claim request with Facebook Help. This process is tedious and there's no guarantee that Facebook will grant your request even if you have all the appropriate info.
As a last resort, you can consider creating a new Facebook page and setting up a Business Manager account for it using a trusted owner. If you do this, provide ownership access to at least one other person for redundancy and save this information somewhere safe.
I Need a New Facebook Business Account
If you've determined that you don't yet have a Business Manager account for your page, or you're just getting started with Facebook and haven't made a page yet, the process is quite simple.
On business.facebook.com follow the prompts after clicking "Create Account." When you choose an email address, it's good practice to use one that is accessible by multiple people. For example, instead of entering my employee email address: izzy@samplebusiness.com I would enter a contact address: info@samplebusiness.com. That way, you have a safety net in place if an individual employee is out sick, leaves the company, or otherwise can't access their email.
I Want to Run Facebook Ads…What's Next?
Congrats, you're in! Now you need to add your different social media assets into the account and give access to the appropriate employees and partners.
Familiarize yourself with the left hand menu bar on your Facebook Business Manager. You can find the full menu by using the gear icon at the bottom left corner of your screen. As we mentioned earlier, this menu may look different depending on if you have the new Business Suite layout. Everything you need to accomplish will be navigated to from this menu so it's a good idea to poke around before getting started.
If you came to Facebook Business Manager to run social media ads (or have someone else run them for you) you'll need to complete the following steps.
How to Claim Your Facebook Page
Your Facebook Page is the keystone of your FB Business Manager. Find "Pages" under the accounts tab in the menu. You'll be prompted add a page in one of three ways:
Add a Page you already own
Request Access to a Page that isn't yours
Create a New Page
We'll focus on the first and third options. If you have a Facebook Page for your business, use the first choice and search for your page.
If you're new to Facebook for Business, use the third option to start the process of creating a brand new page. Don't worry about getting everything perfect right away, just fill out the basic info to get started.
Connecting Your Instagram Account to Business Manager
This will be important for businesses that are interested in running ads on both Facebook and Instagram. To do this step you will need to already have an Instagram account set up as a business profile.
Find "Instagram Accounts" in the left hand menu and use the blue "add" button in the top center. A pop up window will appear for you to enter your login information to the account and connect it to the Business Manager.
Setting Up Your Ad Account
This may be your first foray into social media ads, or you could have been "boosting posts" up until this point. Now that you have a Business Manager you can run more robust and detailed advertising on both Facebook and Instagram.
Find "Ad Accounts" in the left hand menu and use the blue "add" button in the top center. If you've been running ads without a Business Manager, you have probably been using your personal ad ID. You can find your personal ad ID by using the drop down menu in the top right of your personal Facebook profile. There, you'll find a megaphone icon with the title "Ad."
Once you've navigated to this page, your ID number will appear in the top right as shown in the example below. This is the number you would need to copy in order to transfer the ad account into your Business Manager.
Unless you've been creating ads with your personal account for a long time and have collected significant data, we suggest taking this opportunity to create a dedicated business ad account instead. Any boosted posts you've done in the past have limited targeting and data collection, so you're better off starting fresh with the full breadth of Facebook's tools.
Use the third option to Create a New Ad Account and follow the prompts provided. Remember to select the correct currency for your business as this cannot be changed at a later date.
Once you've created the account, Facebook will automatically prompt you to add people and set their permissions. You don't need to do this now, but it's a good idea to start by adding yourself and selecting the "full control" option.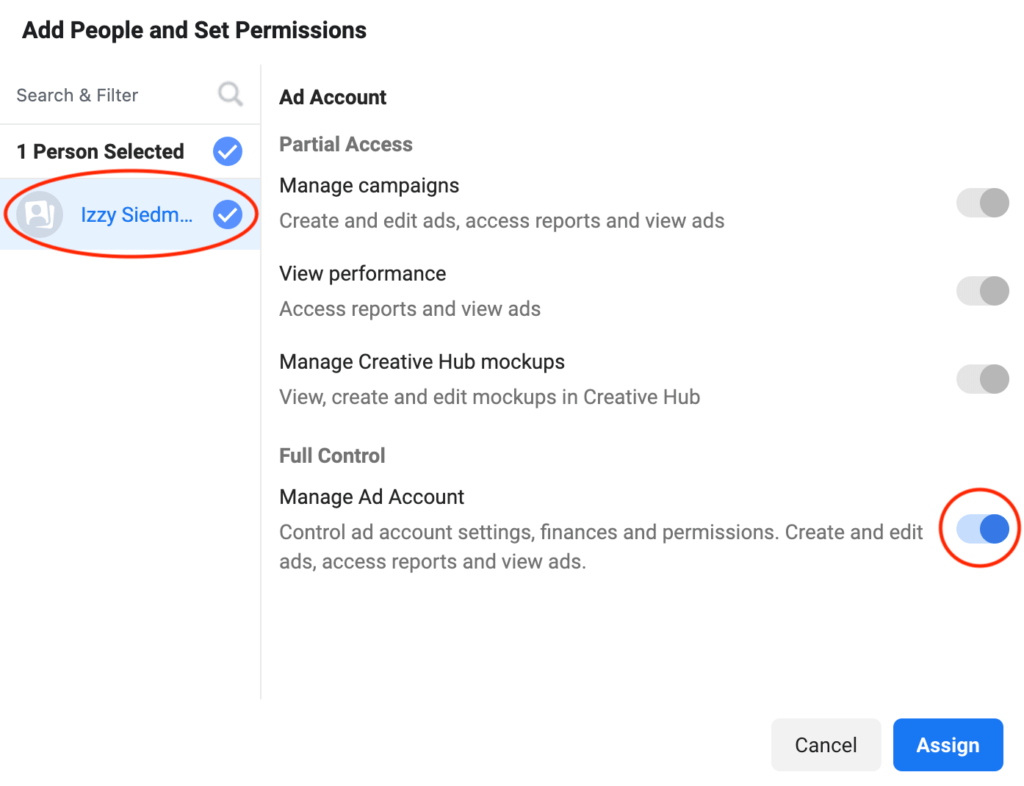 Adding a Payment Method
To run ads through your new account, you'll need to add a credit card to your payment info. If you just completed the process of creating a new ad account, Facebook will likely prompt you to do this next.
If not, you can find where to enter payment information by navigating to "ad accounts" in the left hand menu and selecting your new account. On the right hand side, there will be a drop down arrow next to the "Open in Ads Manager" button, as shown below. Click the arrow to see the "View Payment Methods" option and navigate to this page. Then follow the steps to add a credit card or other payment to your account.
It's a good idea to do this in advance of your planned ad start date as Facebook will take a little while to confirm your payment method.
Creating a Facebook Pixel
Above all, Facebook is a valuable tool for collecting audience data so you can better understand who and how to target potential customers. If you plan on running Facebook ads and including links to your website, you absolutely need a Facebook pixel.
The pixel acts as the bridge between social media platforms and your website, allowing Facebook to connect the dots between ads and website events. For example, it will allow you to collect data on social media users who click on a Facebook ad that takes them to your website and then purchase an item.
You can use the data it collects to analyze your audience demographics, the success of your current marketing strategy, and how to retarget with future ads.
Use the three lines at the top of your left hand menu to expand your tools and find "Events Manager." Once on this page, use the "Connect a Data Source" button in the center of the page. Follow the steps by selecting "Web" and "Facebook Pixel" and filling in the information about your Pixel's name and the website you will be connecting it to.
At this stage, Facebook will prompt you to add the Pixel code to your website using one of two methods. If you're working with an agency (wink, wink) or have a dedicated web developer, you can select the first option to manually add the code. Copy the code to your clipboard and send it to the appropriate person so they can take care of adding it to your website.
If you're comfortable with the backend of your website, Facebook also has partners like WordPress and SquareSpace that make it easy to place the code. Just pick the second option and follow the steps provided.
Granting Access to Your Facebook Business Manager
If your head is spinning, we don't blame you! Facebook Business Manager is a complicated tool and they don't always make it easy to navigate and manage. Social media ad experts from an agency (like flyte new media) can help you accomplish your marketing goals with far less stress… but first you'll need to provide access to your account and social assets.
Adding a Business Partner
Find "Partners" under "Users" in the left hand menu and select the option to "add a partner to share assets with." From there, enter the agency's business ID.
A pop-up will appear where you can select the assets that you would like to give them access to. Here's a list of the assets agencies need in order to successfully run your ads:

FB Page
Ad Account
Pixel
Instagram Account
Catalogue (if applicable)
Use the menu on the left to find each of these items and select the appropriate assets. For each asset, a list of permissions will appear on the right hand side. At minimum, the agency will need all of the "Partial Access" options toggled on. If comfortable, you can also toggle on the "Full Access" option at the bottom, which will allow the agency to complete much of the setup process that they might otherwise require your assistance on.
Once you've selected all the assets, click save changes at the bottom of your screen. On the next pop-up, select the first option to designate the partner as an agency, then click accept to finalize the process!
Adding Employees & Admins to Your Account
You can also add individual people such as employees or consultants by finding "People" under "Users" and using the blue "add" button. You'll need to enter their email address and select which type of user they are on your account. Then you will go through the same process of assigning them individual assets as you did in the steps above.
Ready to Start Connecting With Your Audience With Social Media Ads?
Phew! Are we the only ones a little out of breath? The good news is, you are now ready to start working on the fun stuff! Discovering audiences, building ad creatives and connecting with potential customers.
Get in touch with flyte about how we can help you make the most of social media for your business, both through paid advertising and organic strategies.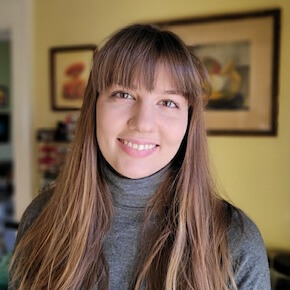 Izzy joins flyte after moving to Portland in 2020, a city that is affably similar to her beloved Burlington, Vermont, with the added benefit of ocean air and fresh seafood. With a degree in English and a background in the nonprofit sector, she carries a curiosity for all things communications. From social media and email newsletters to website management and SEO, Izzy is involved. Reach out to Izzy today!