How many bookmarks do you have on your browser? Depending on who you ask from the flyte team, it could be upwards of 30. Some are important spreadsheets and documents we visit daily, but many are online tools and resources that we've come to love and rely on to get our jobs done (and done well!).
We'd like to believe that our success in marketing, web design, and development comes purely from natural talent but the truth is we have a lot of help. And why keep our most dependable gadgets secret?
We polled our staff on some of their favorite free marketing tools, how they use them, and why they love them so much. Some of the marketing and web tools included in this list are 100% free to use, while others are offered on a freemium model, meaning some features are only available through a paid plan.
Here's the panel of marketing and web development experts you'll hear from in this blog.
Copywriting Tools for Better SEO and User Experience
Every writer has a different process. Some people set a timer and dump out as much content as possible before going back to clean things up later. Others prefer to labor over each sentence, often writing and rewriting a phrase three or four times before moving on.
We're not here to dictate what writing strategies work best because there really isn't a single answer. But we do know that the best copy takes into account each of these questions:
Does this copy sound good? You don't want to sound overly formal or robotic, but you also don't want to use the same vernacular that applies in text conversations. This stems into other questions like, "what is my brand voice?"
How easy to read is my copy? The average reading level in the US is 7th to 8th grade. If you want the majority of people to understand your copy, you need to pay attention to its level of difficulty. You should also think about questions like, "how skimmable is my text?"
Do I provide enough of the right information? This is maybe one of the toughest questions because it requires you to get into the heads of your readers. What questions are they asking? How do they want the information presented? How in depth do you need to go on a topic?
How will my copy incorporate SEO? Google's objective is to match user intent with appropriate content, and to do so they use complex algorithms to evaluate your copy. As you go, employ SEO best practices to improve your chances of ranking for your chosen topic.
We asked our in-house copywriter, Izzy Siedman, to share her favorite free copywriting tools that help her answer each of these questions when writing.
Freemium
"This is one of the first places I go when I start a new copywriting project. Just type in a topic and find related phrases and questions that people online are talking about around that subject. Often these phrases and questions are vital long-tailed keywords." –Izzy
"I don't know what I would do without thesaurus. Not only does it keep my writing interesting, it can actually help me find synonyms for important keywords and provide SEO benefits." –Izzy
Sign up required
"Your website visitors want to get information quickly and easily. You can use The Writer's free readability tool to evaluate where your copy falls on different tests like the Flesch-Kincaid" –Izzy
Free SEO Tools for Marketers
If we tried to create a comprehensive list of SEO tools and their particular merits, this blog would wrap around the earth multiple times over. A lot of what makes certain SEO tools the 'best' comes down to preference and this list is no different. But we do want to touch on each of the different stages of SEO: research, implementation, and reporting.
Our entire marketing team is versed on SEO best practices because they so often overlap with other aspects of digital communications. They each contributed a favorite tool that helps them keep up with SEO.
Freemium
"Ahrefs is by far the most comprehensive SEO tool I've used, and it seems to always be improving. It's superb for keyword research, exploring competitors and even finding content gaps. Everyday I'm discovering new ways to use this tool" –Izzy
"When I need to visualize my Titles & Meta Descriptions, I turn to Mangools SERP simulator. It helps me keep the user experience in mind when working on high level SEO elements." –Casey
"Once you discover GDS, you'll never go back to reporting just through Google Analytics. The ability to bring in multiple data sources and customize your report is a game changer." –John
Best Email Service Providers
Email remains a major pillar in most marketing strategies, especially for nurturing leads and creating an unbroken customer journey. Even though its place in the marketing industry hasn't changed much, email service providers are rapidly developing and adapting. Now email services are focusing on features like mobile optimization, easy website & CRM integrations, and robust reporting capabilities.
Whether you are just getting started with email marketing or you already have a list and are looking to move to a new provider, it can be difficult to sort through the many options and find one that suits your needs. Our Marketing Manager, John Paglio has worked with countless different email systems over the years, and though there are pros and cons to all of them, two stand out as leading options.
Freemium
"There's a reason MailChimp is the leader in email marketing. It's user friendly, offers smart recommendations, and has plenty of automations to help you optimize for the customer journey." –John
Freemium
"Klaviyo is great for ECommerce. It connects directly to most online stores and acts as a CRM. You're able to see customers who have opened emails, added to cart, purchased, etc." –John

Tools for Social Media Marketing
Social media is one of the most competitive marketing channels and with the added challenge of ever-changing algorithms, posting can sometimes feel like flying in the dark. How do you know what will resonate with your audience and spur engagement? How do you make sure your posts stand out from the endless stream of content?
The answers always start with experimentation. You'll need to try different strategies for types of posts, when to publish them, what hashtags or emojis to include, and who to speak to. And in all likelihood, even a successful strategy will need to evolve; what works today won't work tomorrow. Thankfully, there are tools out there to help you navigate the path forward.
We put together our four favorite free social media tools that help us discover new strategies, measure our results and continue researching and discovering our audiences' preferences.
Freemium
"Between different platforms and multiple brands, I'd be lost without Agorapulse. With it, I can schedule all my content in one place and visualize everything with the calendar function. Not to mention their custom reports are superb" –Izzy
"Using emojis and formatted text (bold, italics, etc.) are great ways to make your captions stand out and create an extra layer of branding! I add them as bookmarks so I can pull them up quickly when writing captions." –Rachel
Freemium
"SparkToro has everything you need to know about your target audience. Hashtags they use, popular accounts, videos, competitors and more. It truly is amazing for researching aggregated audience data." –John
Freemium
"Instagram continues to be an outlier in its inability to include links in organic posts. Linktree gives you the opportunity to open doors to more than just your website's homepage. We want to be the best guides for our audience, without Linktree it would be so easy for them to get lost." –Izzy

Essential Google Ads Resources
Research. Test. Measure. Repeat. With a flexible and well thought out strategy, your Google Ads could be one of the biggest drivers of new leads, conversions and even profit. Google Ads capture users who are already qualified for your product or service based on their search. But the landscape is ever-shifting for each industry and you'll need some great tools to keep on top of your ad plans.
Rachel Burgard, our Paid Search Specialist, manages dozens of Google Ads accounts with the help of these two key tools.
"Google search campaigns are almost entirely centered around keywords, so this tool is a vital piece in planning your entire Google Ads structure (especially your budget). This provides a forecast of how many estimated searches to expect for each keyword, the level of competition, and most importantly, the estimated cost-per-click for each keyword." –Rachel
"This is a visual tool that allows you to see what your search ads will look like on Google. They also provide the accurate number of maximum characters for each section of an ad, as well as the option to add ad extensions, so you're able to use it as an ad planning tool." –Rachel

Free Creative Design Tools
Not everyone can become a Photoshop pro overnight, nor is it always practical to boot up Premiere every time you need to make an eye-catching social media post. But you still want to achieve a professional and appealing look on any creative project, no matter how small.
We leave the important branding, logo design and website mockups to our seasoned Creative Director, Ryan Goan, but for the everyday doodles, our marketing team relies on some awesome free tools to get the job done. Equipped with just a style guide and your common sense, you can become the next digital Bob Ross!
Freemium
"Canva has truly changed the graphic design landscape and opened the door to businesses, nonprofits, and individuals who previously thought creative work was out of their wheelhouse or budget. Templates for every format, easy drag and drop tools, awesome in-house graphics and stock photos… What more could you ask for?" –Izzy
"Slogging through stock photos is a pain in the butt, and paying for quality images makes it even more agonizing. Unsplash is a great source of artistic and professional photography with great search capabilities and easy sorting options." –Rachel
"Not all screenshots are created equal. If you still use 'Command Shift 4' on a regular basis, you're missing out. The Nimbus plugin lets you capture even the peskiest scrollable sections and provides immediate editing and markup capabilities." –John

Web Development Tools
For us marketers, jumping into website design and development is a bit intimidating. HTML, API, CSS–who knows what it all means?!? But for our friends in dev, we know that good tools can make a big difference on even small tasks like file transfer.
So rather than trying to explain development basics (or really understand it ourselves) we asked one of our amazing web developers, Jeff Cobbett for some suggestions. If you're a developer or a particularly curious marketer in search of some gadgets to add to your tool belt, check out these free development tools.
"I use FileZilla for file transfer protocol. It allows me to access and upload files needed for the sites we build. This is also a free open source file program." –Jeff
Download required
"One of my favorite editing programs is Sublime. It has some great tools when editing large files of various formats. With it, I can open and edit pretty much any file type I need." –Jeff
Download required
"Audacity is probably one of the most impressive open source free audio editing tools out there. It's built to be user friendly and has a great forum where you can ask questions." –Jeff

Go Forth and Conquer
We've always been a fan of the little guy who strives to do it all himself–in fact, many of us started out as that guy (or gal)–and these resources are meant to make that heavy lifting a little lighter. If you take anything away from this list of free digital marketing tools, it should be that you aren't alone in your marketing journey.
There are so many talented marketers and web developers in the industry today who make it their mission to create tools and guides that help anyone dive in and find success. If you need help with an aspect of your digital strategy, chances are there are 10, 20, 100 different options for support. It's only a matter of finding the sources you like the best.
And when you can't make heads or tails of all this, don't be afraid to turn to the experts, whether it's to take over your project or just get a guiding star in the right direction.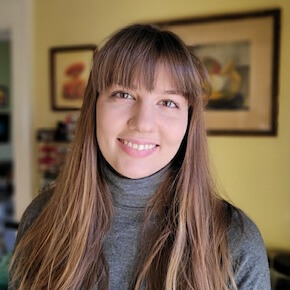 Izzy joins flyte after moving to Portland in 2020, a city that is affably similar to her beloved Burlington, Vermont, with the added benefit of ocean air and fresh seafood. With a degree in English and a background in the nonprofit sector, she carries a curiosity for all things communications. From social media and email newsletters to website management and SEO, Izzy is involved. Reach out to Izzy today!