We'll be the first to admit it: us marketers and digital advertisers are a tough group to shop for. Ever since I told my grandmother I did copywriting, I've received nothing but artful notebooks–for which I'm very grateful–each birthday and holiday. We can't even begin to tell you about the email advertisements our team gets for marketing themed t-shirts and embroidered baseball hats. And we don't blame you if your brain goes into standby mode every time you try to ask what we're interested in and we start talking about conversion rate optimization or the latest Google core update.
Of course, we love a good joke gift and those coffee shop gift cards are always appreciated, but it feels good to give (and receive) a gift that truly speaks to someone's personality and interests. If you really want to make a marketer's heart sing this holiday season, we have a few ideas of memorable gifts for marketing professionals. Who knows, maybe my grandma will find this blog and feel inspired too
Starting at $24/month from Jasper
This is like the adult version of gifting a toy robot or remote controlled car. Along with other artificial intelligence tools, Jasper is a program designed to produce website copy, blogs, emails, social media posts and ads that are optimized for SEO and customer psychology. It may not always be perfect but there are dozens of marketing professionals who swear by the increase in speed and efficiency it provides to any content creation. Plus, it's lots of fun to play around with.
$168 for one year
Most marketers wear at least a few different "hats" at their job and are constantly learning new skills as the industry changes. Skillshare has thousands of dynamic and engaging classes taught by experts in different fields. Whether they're looking to learn how to code, improve their photography skills for social media, or take a deep dive into leadership training, there's something for everyone. A year-long subscription provides access to Skillshare's full library of courses.
Starting at $25 from 1Password
My dad has always taught me to create strong, unique passwords–that means numbers, special characters, upper and lowercase letters, and at least 8 characters in length no matter the requirements of the website. But life as a marketer is busy and those convoluted passwords are too easily forgotten. 1Password is one of the most popular password managers, so you can safely store login information to all your online accounts in one place. It may not seem like an exciting gift but it's sure to make your marketer's life a lot easier.
$100 on Amazon
Sure, plenty of great podcasts start with the host locking themselves in their bedroom closet and using their smartphone to record episodes. But quality audio recordings can be the difference between a few hundred and a few thousand listens on each episode. The Blue Yeti Nano is an affordably priced professional recording microphone that can help the marketer in your life grow their podcast audience to the next level.
$23 from Redbubble
Okay, we know we said a lot of marketing t-shirts and memorabilia are pretty shoddy, but this one is too perfect to pass on. "It depends" is the go-to phrase of every SEO and it's subtle enough to be a great every-day shirt. We promise, even if you don't get the joke, the SEO in your life will get a kick out of this one.
For the Networker: AOC 2023 Conference Tickets
You can learn a lot online, but nothing beats meeting people from your industry in-person. While many of the best digital marketing conferences have gone virtual, the Agents of Change is back for a day of face to face networking, speaker presentations, and workshops on October 4th of 2023. Give the gift of a ticket to this awesome meeting of the minds, and if you're feeling generous, put them up in one of our favorite nearby hotels.
$7.99/month on Twitter
Whether or not you actively use the platform, you've probably heard some of the hubbub around Twitter changes now that Elon Musk is running the show. One of those changes includes allowing users to pay for the blue verified check mark on their profile that was previously reserved for official businesses or celebrity accounts. To be clear, this is definitely a joke gift, as many users have taken advantage of this new feature to troll existing profiles and wreak general havoc. We're not sure how long this option will last so best to take advantage of the fun now.
$65 on Amazon
Listen, it's exhausting to learn all sorts of new "mind mapping" and digital note taking programs. Sometimes, the best way to work out your thoughts for website design or plan your next Facebook ad campaign is to hash it out on a good old fashioned whiteboard. Grab this package deal for the visual learner in your life so that none of their great ideas ever get lost in the digital sauce again.
$200 from Adobe
We all love (and rely on) free tools like Canva to create visuals for social media, ads, and other marketing materials. But consumers' standards for visual content have skyrocketed and you need a lot more than some drag and drop features to stand out among the crowd. You can gift the entire Adobe Creative Suite, including Photoshop, Illustrator, Premiere, and more. We guarantee this will up your favorite marketer's creative output (and eat up their work hours).
$39 from Autonomous
For some, the age of work from home is coming to an end. If you know a marketer who is headed back to their company's office for some or all of the work week, consider giving them a better desk set up. Laptop stands like this one from autonomous are a budget friendly way to switch from a sitting to standing desk and give your body a break. And if you really want to ball out on the best office gift, there are some amazing office chairs that would make anyone swoon.
$209 from Screaming Frog
We don't need to go into all the messy details, but there's a lot that can go wrong with a website and even the smallest technical errors can be penalized by Google and reduce the chance of your website appearing in search results. Crawl tools like Screaming Frog keep a finger on the core vitals of your website as well as key SEO optimizations that can improve your website's ranking. Anyone with their hands in the backend of a website could benefit from this tool, from developers to business owners or SEOs.
Free Feels Good Too
Gifting is not about how much money you choose to spend, but rather about the care and thought behind it. Yes, marketers have hearts too. If you're looking for ways to make a marketer's life just a little bit better, there are so many free tools out there that could completely change their workflow! In fact, we also have a list of 20 of our favorite free marketing tools that you could introduce someone to.
Whatever you choose to do this holiday season, we hope you get to spend lots of time connecting with the people you love!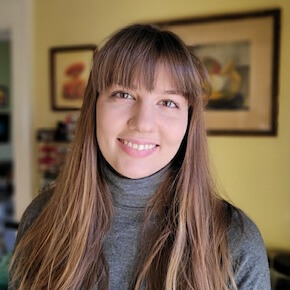 Izzy joins flyte after moving to Portland in 2020, a city that is affably similar to her beloved Burlington, Vermont, with the added benefit of ocean air and fresh seafood. With a degree in English and a background in the nonprofit sector, she carries a curiosity for all things communications. From social media and email newsletters to website management and SEO, Izzy is involved. Reach out to Izzy today!