Are you responsible for the Halloween party this year?  Do you have the playlist set? Ideas for spooky decorations? How about some creepy snacks for the trick or treaters? 
Those were the questions I set out to answer recently on the evening news program 207, which airs on the NBC affiliates here in Maine….
Music
Spotify
There are some pretty cool playlists that you can find all over the web. I found a few playlists that are great for different situations. Halloween Hipster is a playlist that could probably be found playing at a Halloween party in Brookyln or East Bayside. The music is a mixed bag from Jay-Z's "Lucifer" to The White Stripes "Little Ghost.
I couldn't sit back and not create my own Spotify playlist. Similar to the Hipster playlist, I have put together a wide range of genres. From Jessie J/ Ariana Grande to AC/DC there are plenty of spooky tunes that will enhance the fright fest! Follow my playlist on Spotify! 
iTunes
I found a great playlist for the haunted house or to scare the trick or treaters on your porch. On iTunes, search for "Halloween Theme" Radio and play it on loop for the duration of the night in order to creep everyone out. You can even put the spooky noises in the bathroom! You can find that radio here. 
Decorations
We all know the normal Halloween decorations of fake skeletons, spooky jack-o-lanterns, and plastic headstones. Let's kick those decorations up a notch. I really like to use ThinkGeek.com for my hi-tech decorations. 
Spooky DVD Projections
We always open our big picture window and project scary movies backwards, this year we may change it up for this DVD. Make your house look haunted with a ghost flying out of the house. The DVD can be bought here.
Star Wars Porch Light Covers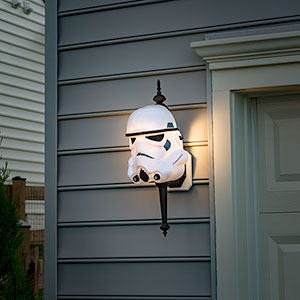 During this time of year I usually cover the lights with paper masks to make them look spooky. I can finally put down the scissors and buy these really cool Star Wars masks. You can buy these porch light covers in a galaxy far, far away.
Webcaster Gun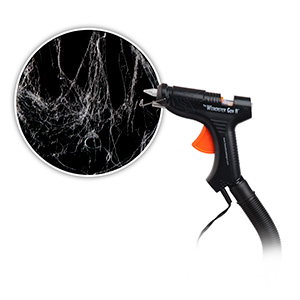 THIS! If you know me, you know Spiderman is my favorite superhero. There is nothing else that I can use that will give me Spidey's web shooter! I can't wait to get my hands on this webcaster gun and start stringing spider webs all over the house and neighborhood. Get your own webcaster! 
Food
There are always very intriguing treats at halloween parties, but I want to make sure that everyone sees your dish as the standout treat this year! First, I used three search terms on Pinterest; Halloween, Party, and Food. The search yielded many results but I have singled out 3 dishes that I believe will make you the star ghoul at the halloween party.
Puking Pumpkins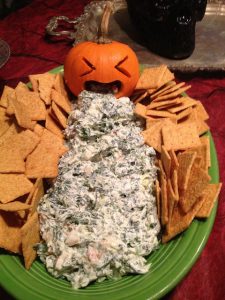 For some reason, puking pumpkins seem to be all the rage this year on Pinterest. There are many foods that can be seen coming out of a pumpkins mouth, many dips such as guacamole or spinach and artichoke dip. This spread is creepy and tasty all at the same time. 
Chocolate Covered Pretzels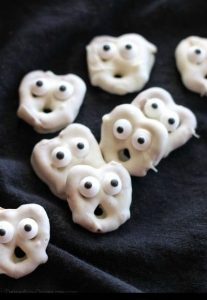 Let's face it, anything with googley is deemed suitable for halloween. These ghost pretzels are a for sure winner at your party.  The great thing about this dessert is that you can do it with the twisted pretzels or pretzels rods and it'll all look great. Don't like ghosts? Great news, you can make mummies! More Artistic? Create pretzel pumpkins!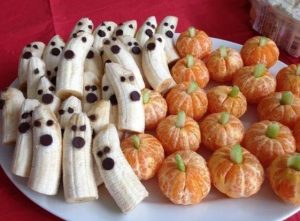 Want to win over the rest of the parents and be an enemy to all of the trick-or-treaters? I have found a way to creatively make bananas look like ghosts and tangerines look like pumpkins. Take your tangerine pumpkins one step further and create jack-o-lanterns on the skin of the tangerine! 
Creative Costumes
Are you stuck in the same costume warp hole every year, wether it be a cat, a cowboy, or a robot? Show up to this year's Halloween party in style and blow all the couple costumes and generic costumes out of the water. I tend to gravitate towards CarbonCostume.com where they give you great costume ideas and where to find items for cheap. Here is just a few costume ideas that I found very creative: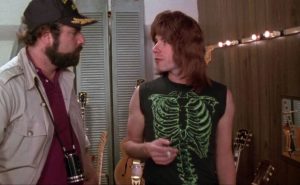 Bob Ross (yes, that's me)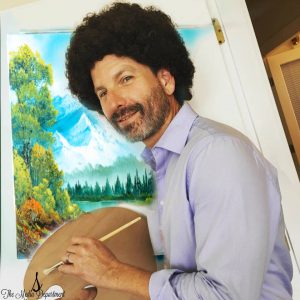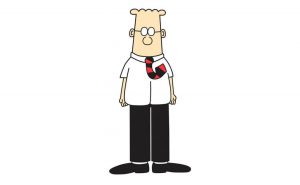 With all of these Halloween tips and tricks, your party should be the best one on the block! Make sure to play those spooky tunes, shoot a few strands of web, eat a some ghost pretzels, and dress like Dilbert! 
Any favorite sites or apps I forgot? Be sure to mention them in the comments below.