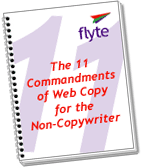 Do you want to attract more clients and sell more online? It's all in the copy.
While I often recommend that businesses and professionals should hire copywriters to create the copy on their Web site, I know that sometimes this is not possible for a startup.
To that end, I've written The 11 Commandments of Writing Web Copy for the Non-Copywriter. This article is required reading for anyone who is:
tasked with putting together the copy for their company Web site,
wondering why their site isn't getting good ranking at the search engines, or
wants to convert more visitors into clients.
Even those with experience in writing copy in the print world will benefit from Web-specific information, like how to use keyword-rich title tags, why anchor text is so important, and how to make text easier to read on a monitor.
Download your free copy today!