For our first official responsive website we launched The Marketing Agents, a website and blog about digital marketing.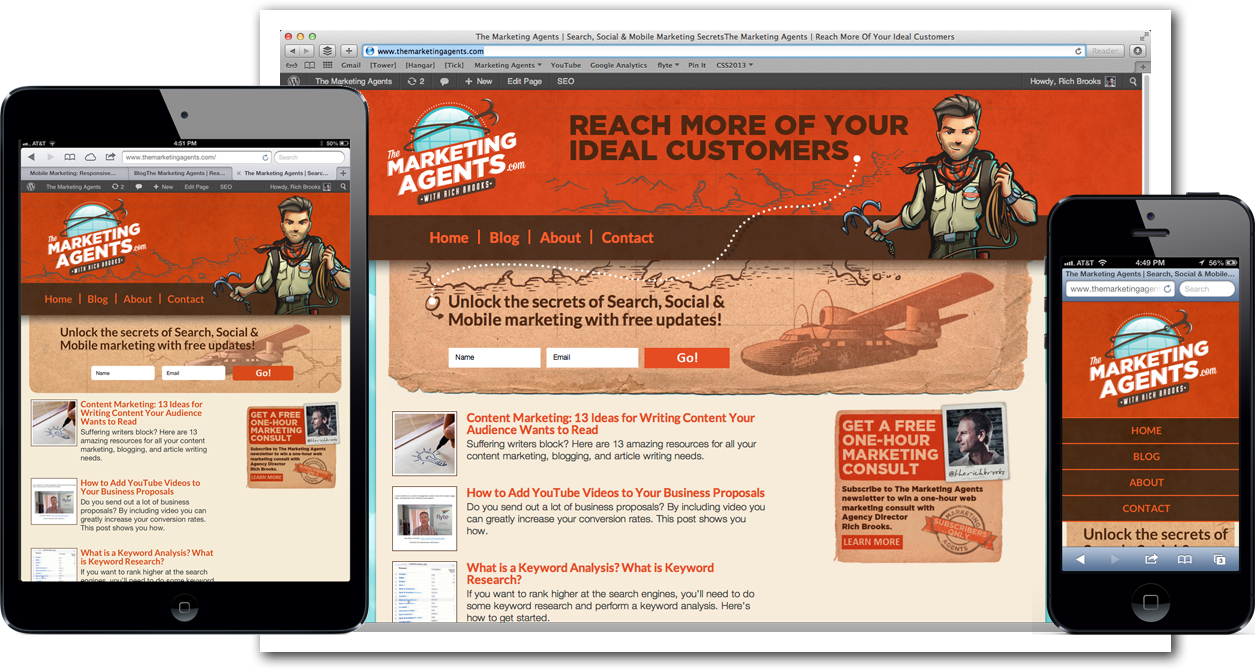 What is responsive web design, you ask? 
Well, responsive web design is an approach to designing websites so that they are optimized for any type of screen or device.
As you can see in the image above, a different style sheet is served up depending on the screen resolution. The desktop/laptop has the widest footprint, but a slimmed down version is served up on the tablet, and a smart phone optimized version appears on the iPhone (or Droid, or Windows phone, etc.).
This was an especially tricky project because the original design was not meant to be responsive. Josh Fisher, our talented friend and illustrator, designed a traditional website (as I instructed!) We had planned on creating a mobile-friendly version with WP-Touch, a popular WordPress plug-in that creates smart phone optimized versions of WordPress blogs and websites.
However, because of the focus of The Marketing Agents–search, social, and mobile marketing–we decided to use it as a test subject for our journey into responsive web design. Andy Woznica, our über-talented WordPress developer, took it upon himself to make the site responsive, and he did a great job.
What is The Marketing Agents all about?
The Marketing Agents is all about helping businesses and organizations reach more of their ideal customers through search, social & mobile marketing.
This is a side project for me (Rich Brooks). Kind of a solo album, if you will. (Although, as I mentioned above, this is not anything I could have done without copious amounts of help.)
The blog launched this week, with a podcast and YouTube channel soon to follow. I'll be interviewing marketing experts on the podcast, and the YouTube channel will be a mix of how-to marketing videos, expert interviews and interpretive dance.
One of my favorite parts of my job here at flyte is consulting with clients one-on-one to help them improve their online visibility and results. I plan on continuing this at The Marketing Agents. In fact, each week I'm going to be giving away a one-hour social media/web marketing consult to a Marketing Agents subscriber. Subscription to The Marketing Agents email list is free, and as long as you're on the list, you're entered to win!
So what are you waiting for?!?
In the meantime, please go over and check out The Marketing Agents and let me know what you think, what's working (and not working), and what you'd like me to write about in the future.
I'm hoping this is going to be an exciting adventure, and I'd like you along for the ride.
One final word of thanks…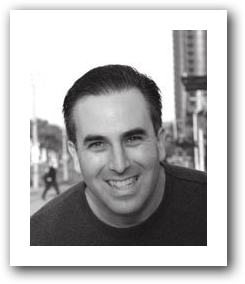 None of this would have been possible without Mike Stelzner, founder of Social Media Examiner.
Mike has been a mentor, a sounding board, a drill sergeant, and a friend.  He was the one who convinced me I should create my own brand, and gave me plenty of feedback and constructive feedback over the past six months.
Thanks, Mike.