Royal River Natural Foods

Based in Freeport, Maine, Royal River Natural Foods has been in business since 1994, providing their customers with healthy, organic, natural, and local products. Mainers looking for healthy products can find what they're looking for in departments such as Health & Beauty, Local & Maine-Made, Meats, Produce, Supplements, and Wine & Beer. 

Project

SEO, SEO Copywriting, Local SEO, Logo Design, and Responsive Website Design and Development

The Need for a Solution

Royal River's old website was not generating business or educating the regular RRNF customers. The site was difficult to update, so it didn't accurately reflect who RRNF was or what you would find in the store. The website didn't promote Royal River's values or teach prospective buyers about what products RRNF had stocked on their shelves. On top of all that, Royal River felt their logo and branding, which they had inherited from the previous owner, felt dated and wasn't a good representation of who they were.

What We Did

flyte designed a new logo, a mobile-friendly WordPress website, and supplied Royal River Natural Food with search engine optimized copy. flyte also coordinated with Russel French, a Maine based photographer, for the photography on the website.

Experience With flyte

"Everyone I worked with at flyte new media was professional, creative, attentive, and just plain wonderful. I felt that I was in good hands and am so happy with the end result; new logo, new website, and a whole new feel. It was a true pleasure from start to finish."

— Tina Wilcoxson, Owner of Royal River Natural Foods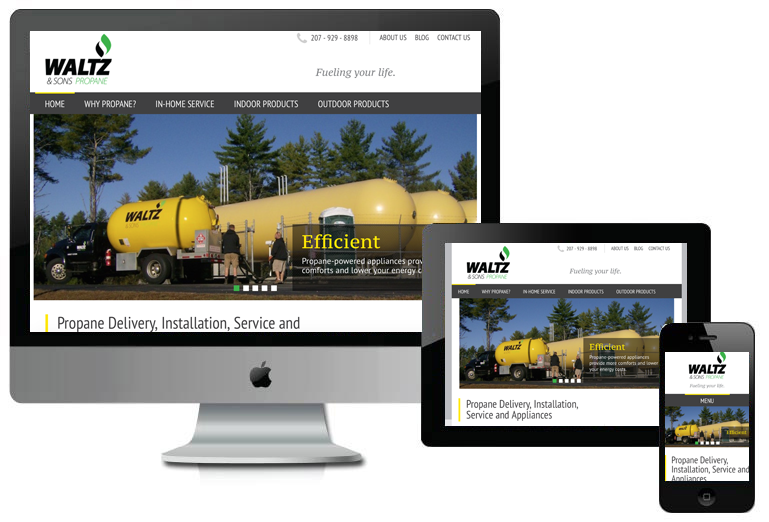 Waltz & Sons

A family owned business, Waltz & Sons provides propane sales, service and delivery for residential customers. Serving Maine homeowners for 20 years, they stand behind their products and services as well as their commitment to the environment.

Project

Digital Marketing Consulting, Search Engine Optimization, Email Newsletter, Logo Design, Video Production & Marketing, Responsive Website Design & Development

The Need for a Solution


They wanted to build customer awareness of propane and its uses, as well as provide education for the safety and maintenance of propane systems. As a leader in the service and delivery of propane, they needed a website that reflected their accountability and responsiveness.

What We Did


Flyte designed a new logo, a responsive WordPress website, provided content copywriting services as well as video production/marketing services to tell their story to existing and prospective customers. Flyte also provided SEO, email marketing and digital marketing consulting to help align their marketing goals with the best tools and an actionable plan.

Experience With flyte


"We are so happy with the first video and the response we are getting on Facebook. It's fun to watch the "likes" for the video climbing up and up. I made the changes to the other blogs (adding photos and fixing the text!) I really like how they came out. Thank you for the suggestions!! We also got our first good review on Google Reviews!!!  We were really happy about that! Thank you again for all your help!  You are all so amazing to work with and this has been such a great experience."

– Sandy
RSVP

Sellers Publishing produces and sells three separate original, high quality product lines: greeting cards, calendars, as well as books, journals and stationary products that they sell entirely online.

Project

eCommerce Website Design & Development

The Need for a Solution


Their original website had an outdated eCommerce function that could not support the level of professionalism and high demand that their product sales required

What We Did


Working with an extremely tight deadline to meet the holiday rush, flyte rebuilt and redesigned the eCommerce website using WooCommerce for WordPress in a Responsive custom theme.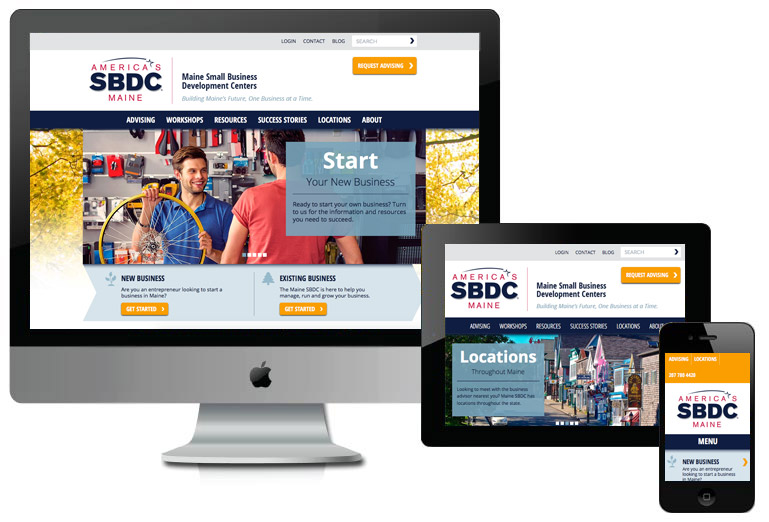 Maine SBDC

The Maine Small Business Development Centers has been helping entrepreneurs and small businesses since 1977, through no-cost, confidential business advising and training.

Project

Content Audit, Responsive Website Design & Development

The Need for a Solution

Their old website contained out-of-date information, and they lacked the in-house expertise to maintain it. Additionally, their messaging didn't communicate immediately what they offered, who they helped, and why they are so effective.

What We Did


Flyte designed and developed a new responsive WordPress website that showcased their results, featured success stories and integrated an advisor search by location, to make it easy to get connected with the right resources.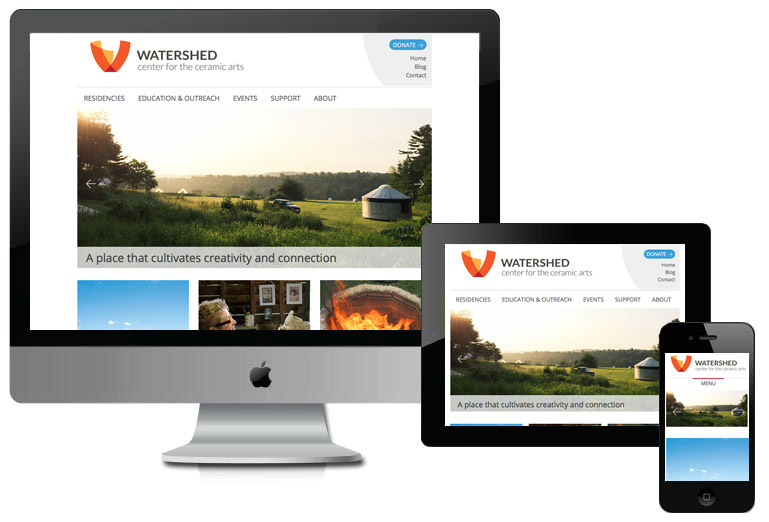 Watershed Center for the Ceramic Arts

For the past 20 years Watershed Ceramics has been providing time and space for artists to explore ideas with clay. With extensive state-of-the-art kiln facilities Watershed offers self-directed artist residencies in a unique and beautiful setting.

Project

Digital Marketing, Logo, Responsive Website Design & Development

The Need for a Solution

The executive team at Watershed sought to rebrand their organization and increase audience engagement with a newly designed website. They wanted to communicate the strong sense of place and convert site visitors to participants and attendees in their residencies, workshops and community events.

What We Did

Flyte designed a new logo and responsive website that evokes the history and sense of community of Watershed, while simultaneously guiding visitors to specific conversion points along the way.

Experience With flyte

"We announced that our website was up…and have gotten a great response.  People are very complimentary and we've had a good number of sign-ups for programs and e-news info.  So we're off to a great start!  Thanks for all your work to put this together. "

– Claire Brassil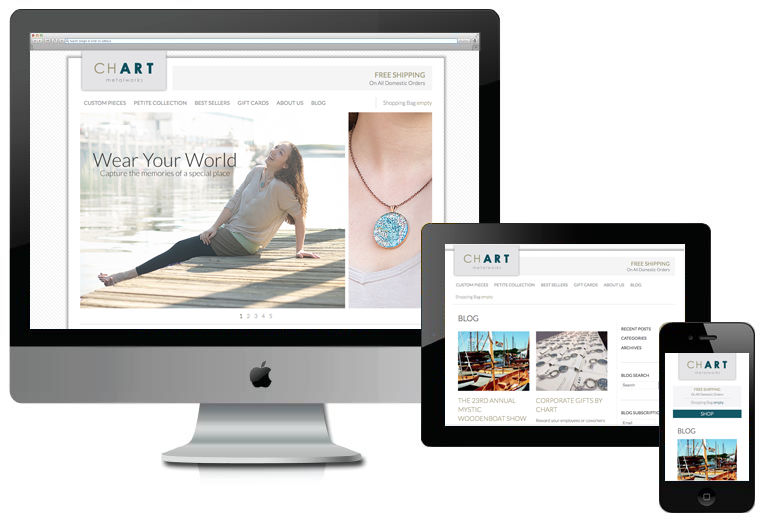 Chart Metalworks

CHART metalworks, with the help of a talented pack of Maine based artisans and an expansive collection including maps and territories beyond the US, handcraft custom nautical chart and map adornments allowing you to capture your most treasured spots across the globe.

Project

Search Engine Optimization, eCommerce Website Design & Development, Custom Programming

The Need for a Solution

CHART metalworks came to flyte to update their outdated website and branding.

What We Did

We created a new site, blog and social media profiles. The site is built on WordPress so they can easily update it themselves, add new items to sell directly from their website, and use their blog to to talk about new events and products.

Experience With flyte

"Since the launch of our Flyte e-commerce site internet sales are up 32% in less than a month! Thanks, guys!"

– John Guptill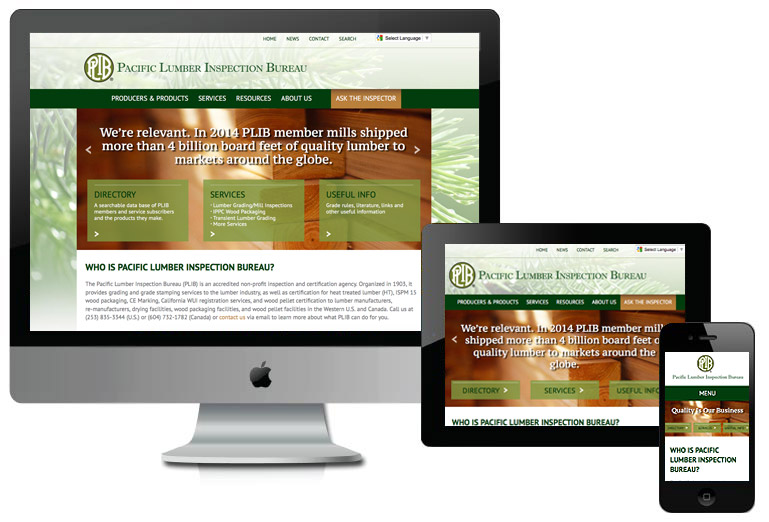 Pacific Lumber Inspection Bureau

The Pacific Lumber Inspection Bureau (PLIB) is a private, non-profit 503 c(6) member- based quality control inspection agency. They offer lumber grading and grade stamping services, as well as certification for heat treated (HT) lumber, ISPM 15 wood packaging, CE Marking, California WUI registration services, and wood pellet certification, to over 100 softwood lumber manufacturers and re-manufacturers, drying facilities, wood packaging facilities, and pellet fuel manufacturers in Western North America.

Project

Digital Marketing, Email Marketing, eCommerce Responsive WordPress Design & Development

The Need for a Solution

PLIB came to flyte looking to not only provide information on who they are and what they do, but to also be a resource of technical and practical information in lumber grades, lumber manufacturing, and wood packaging topics.

What We Did

flyte designed and developed a fully custom, responsive website that allows customers to access the member portal, search for specific producers & products in their area and interact with PLIB via an 'Ask The Inspector' tool, which gives users the ability to ask a seasoned lumber inspector their most pressing lumber, wood manufacturing and wood packaging questions.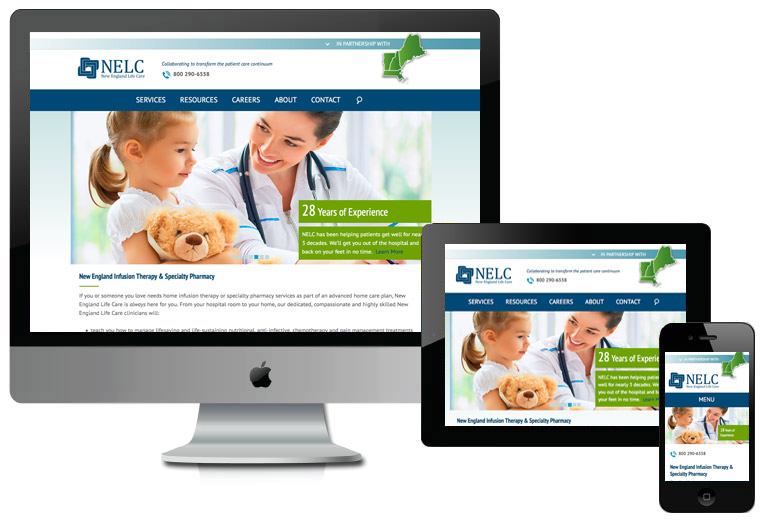 New England Life Care

New England Life Care provides experienced, efficient and effective home infusion therapy, home infusion nursing and specialty pharmacy services including nutritional, anti-infective, chemotherapy, pain management, and more to communities across Massachusetts, Maine, New Hampshire and Vermont. 

Project

Digital Marketing, Search Engine Optimization, Copywriting, Responsive Website Design & Development

The Need for a Solution


In approaching flyte with the design and development of their new website, New England Life Care's primary goal was to delight their customers. They envisioned rolling out new features in stages and slowly integrating new interactive features and portals. NELC needed a website designed to grow with their expanding organization.

What We Did


Based on a digital marketing plan and SEO research, flyte developed new copy and a website that shows the growth of their expanding organization. The website serves the presentation of career opportunities that resonate with ideal job candidates and displays the strong connection to their member hospitals.

Experience With flyte


"I would highly recommend Flyte to anyone looking to improve their web presence. We came to Flyte with some very specific visions as to what we wanted our home page to look like and they helped us conceptualize those visions and bring them to life on our new site. They made recommendations as to what would work well for our organization and what would not and were always there to point us in the right direction. We're very happy with our new website and look forward to continuing to work with Flyte to build upon our web presence."

–Matt Sievert
New England Life Care
Summer Feet

Sumer Feet offers luxury cycling experiences for active adults in the US, Canada & Europe. Providing personalized services to active couples and individuals, Summer Feet runs small bicycling vacations designed to show people the best of Maine and beyond.

Project

Responsive Website Design & Development, Integrated E-Commerce

The Need for a Solution

The original website was dated and not mobile friendly. The navigation was clunky and not intuitive. Norman wanted the new site to feel personal and project an image of polished fun.

What We Did


Flyte redesigned the site using WordPress in a responsive custom theme. We worked with the mission of creating an attractive site that was clean and easy to use. We incorporated a visual menu to simplify navigation and integrated a booking widget to streamline the online reservation process.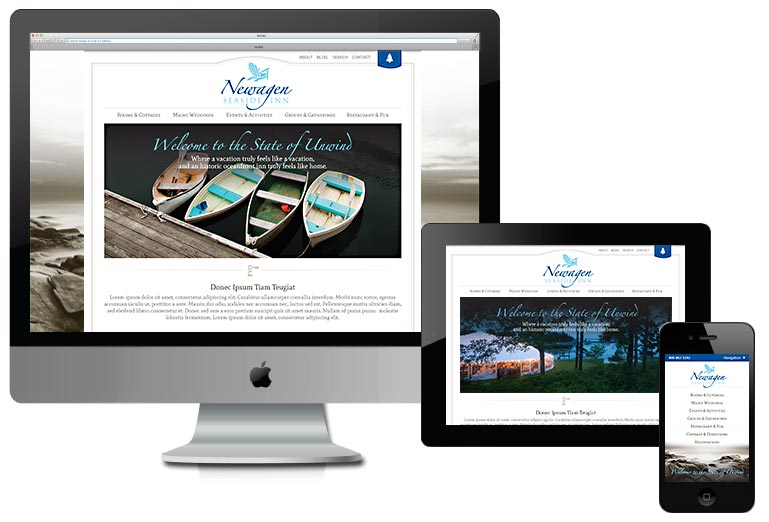 Newagen Seaside Inn

"Welcome to the State of Unwind" perfectly summarizes the vibe of Newagen Seaside Inn. A traditional ocean front inn with a long tradition of celebrations by the sea, Newagen has helped to plan and been happy to host generations of Maine weddings, family reunions, and family vacations.

Project

Digital Marketing, Social Media Profile Optimization, Email Newsletter, Website Design & Development

The Need for a Solution

Newagen came to flyte looking to differentiate themselves from their competitors and for a site that was more representative of their brand. They also wanted their users to have an easier time navigating and booking with them.

What We Did

Flyte designed their mobile-friendly WordPress site and integrated it with an online reservation tool for easy booking. We also provided designs for their social media profiles, email newsletter, and help run their campaigns to increase weddings and corporate bookings.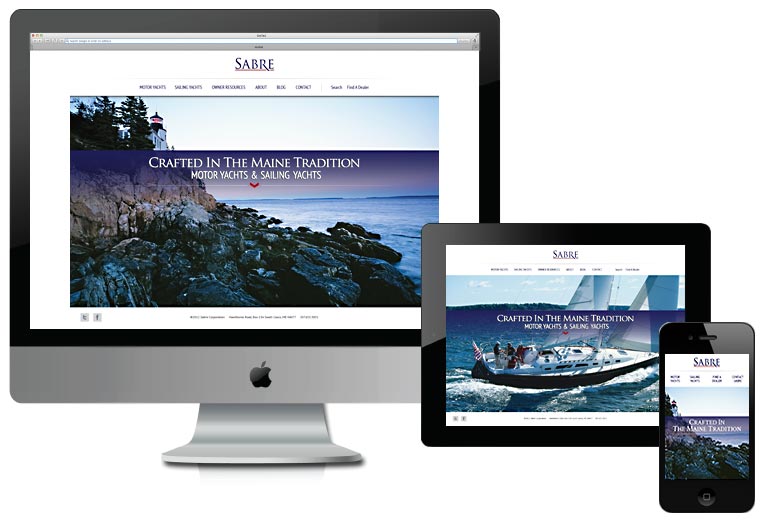 Sabre Yachts

Sabre Yachts has been crafting sail and motor yachts since 1970 from two plants in Raymond, Maine, approximately 25 miles north of Portland, and a little over two hours from Boston. Sabre's sister company, Back Cove Yachts, operates from a manufacturing facility in Rockland, ME. The Sabre work force consists of men and women who take tremendous pride in their work and are sensitive to the marine tradition of the State – hence the company's motto, "Crafted in the Maine Tradition".

Project

Website Design & Development, Custom Programming

The Need for a Solution

A longtime client of flyte, Sabre's website had become outdated in both functionality and aesthetics. Their goal was to increase awareness of the Sabre Yachts brand and to see more web traffic. 

What We Did

We made sure that the website–rich with photos, videos, and PDF manuals–worked just as well on a smart phone as it did on a 32″ desktop computer. Visitors can quickly find their way around the site to compare models, change out boat options and learn more. Sabre Yachts exude luxury, something we strove to convey in this photo-centric website.