The Client
The Pacific Lumber Inspection Bureau (PLIB) is a private, non-profit 503 c(6) member- based quality control inspection agency.
They offer lumber grading and grade stamping services, as well as certification for heat treated (HT) lumber, ISPM 15 wood packaging, CE Marking, California WUI registration services, and wood pellet certification, to over 100 softwood lumber manufacturers and re-manufacturers, drying facilities, wood packaging facilities, and pellet fuel manufacturers in Western North America.
In 2014, PLIB member mills produced about 4 billion board feet of softwood lumber. In addition, PLIB's wood packaging subscribers produced millions of IPPC marked wood packaging items.
These lumber and wood packaging items were shipped to markets around the world, a testament the fact that since 1903, the PLIB logo has been recognized worldwide as a mark of quality and conformity.
The Objective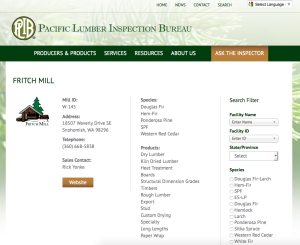 The client was looking to not only provide information on who they are and what they do, but to also be a resource of technical and practical information in lumber grades, lumber manufacturing, and wood packaging topics.
Additionally, they wanted to convey a message reinforcing that they're the experts in their field, and to provide a valuable, enjoyable experience for their members. It was important for their website to serve both end users, and their membership base.
Member usability was a critical component of the functionality of this website.  Delighting members was a main objective for the new PLIB website.
As such, the client was looking to offer several unique and important features to members such as a portal for members to access their company quality inspection data; links to other resources, upcoming events, and new information; and marketing information on their members and subscribers to drive business to them.
PLIB also needed a website that would attract new subscribers and that incorporated an online method for purchasing grading materials such as books and other relevant resources.
The Tools
We used WordPress to develop a fully custom, responsive website designed to attract and convert the desired target demographic.
Our developers added custom website search functionality, which gave users the ability to find producers & products with individual profile pages.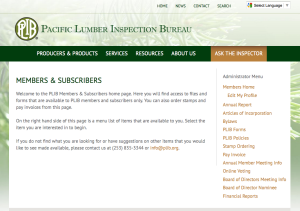 We also created an "Ask The Inspector" tool, which gives users the ability to ask a seasoned lumber inspector their most pressing lumber, wood manufacturing, and wood packaging questions. Customers can also browse previously asked and answered questions through this tool as well.
Additionally, we developed a member area that delivers on providing an enjoyable, seamless experience for the client's valued member base by building in custom detailed search functionality, detailed member directory and a clear navigation design throughout the website.
We built this website on a responsive design, which makes this website
more
than
mobile friendly
. Responsive design ensures this website will function smoothly across any screen size, giving users a seamless experience whether they're accessing the site from a desktop computer, tablet, or smartphone.
The Outcome
The client has an attractive, engaging, and easy to use website that serves end users and members alike. With unique features such as the "Ask The Inspector" tool, clearly laid out resources,  and a detailed searchable member directory, The Pacific Lumber Inspection Bureau not only has a website that they can be proud of – but a website that delights their customers as well.
Site Visitors Can…
Customers are now able to search through the member directory to find potential business partners, or other professional resources by facility name, ID, state, species or products offered.
They can also search and purchase publications, industry news & guidelines, and access other relevant and timely resources.
Users now also have the ability to "Ask The Inspector" their most pressing industry related questions, and browse through previously asked/answered threads as well.
Be sure to contact us when you're ready to take your business to the next level with a professional, engaging, responsive website.