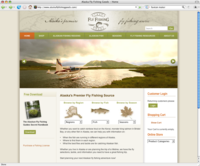 Alaska Fly Fishing Goods is one of my favorite Web sites we've ever launched.
First off, it's beautiful. The front page features gorgeous images of the Alaskan wilderness, giant fresh water fish, and shots of people fishing. Just looking at the imagery and Ryan's color choices makes me want to book a trip right now.
Secondly, it's chock full of great information, sliced a dozen different ways, each targeted for a different type of user or need. You can learn about Alaskan fly fishing by region, fish or season.
You can get tips on fly fishing for king salmon or fly fishing for sockeye salmon. You can download the Alaskan Fly Fishing Guide's Secret Handbook. You can check out the run timing charts.
Thirdly, it's well written. Just reading the Alaskan Fly Fishing F.A.Q. brought a smile to my face. (Good job, Brad!)
And you can shop. Lord, can you shop. Flies, rods, reels, waders & boots, vests, packs, luggage, and for those who don't know what to buy your fly fishing lover, the gift certificate. What's great is how site owner Brad Elfers ties the products to information. The e-commerce is completely integrated with the content. Whether you're learning about rainbow trout or grayling, Brad offers up the perfect rods, reels, lines & flies.
The site was built on Joomla, an open-source content management system (CMS) we've been using lately. As with other recent Joomla projects we partnered with OGO Sense. I can't say enough about what a pleasure it is to work with these guys. We can be pretty particular about our designs and these guys just get it done.
Joomla allows the site owner to add, edit and delete content throughout the site without knowing any HTML. It's a very robust platform, and we've got another Joomla site that should launch in the next week or two, and a few more in the pipeline.
I also want to thank Cybele and Lindsay, who did a great job project managing this from beginning to end. Great job.
If you're preparing for the fly fishing experience of a lifetime, check out Alaska Fly Fishing Goods. If you're looking for a beautiful, custom designed Joomla Web site, let us know.