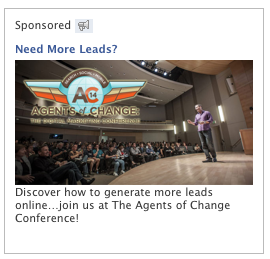 Retargeting on Facebook is a digital marketing tactic that's been getting a lot of attention lately. And rightly so – because retargeting gives you a chance to reach customers who are serious about purchasing your product or service.
If you've never heard of retargeting, you've probably experienced it. Ever looked at—say, a pair of boots—online and then seen ads for those boots at every site you go to after that?

Well, those ads aren't coming from the magic internet marketing fairy – They're coming from a digital marketing tactic called retargeting. 
How do you know you're reaching customers who are serious about making a purchase? Well, it's because retargeting works by placing a cookie in a customer's web browser when they hit a certain landing page on your site.
In other words, you're only advertising to people who have shown an intent in purchasing your product.
If they leave your website without making a purchase, you can then serve them a retargeting ad, promoting your goods or service as they browse elsewhere on the web.
So for example – let's say you own a store that sells artisan candles. A person was browsing your website, looking at different candles – then left without making a purchase.
In the past, that would have been the end of the story. But with retargeting, there's still opportunity to get a customer or client.
Continuing with our candle scenario, we now find this person later logging into Facebook to share a status update. It's here that she sees an ad for your candles in her newsfeed or sidebar. She is reminded of her original intention to purchase, clicks the ad, and buys the candles she was initially considering.
So, in this example, retargeting was able to help save a sale that may have been lost forever.
Pretty cool stuff, huh? And here's the really awesome thing about retargeting: You don't have to be a master web coder to run a successful retargeting campaign.
With tools such as Perfect Audience, retargeting is actually quite simple.
Perfect Audience creates a "perfect pixel" for you – which is the tracking cookie that consumers will adopt when they hit your given landing page.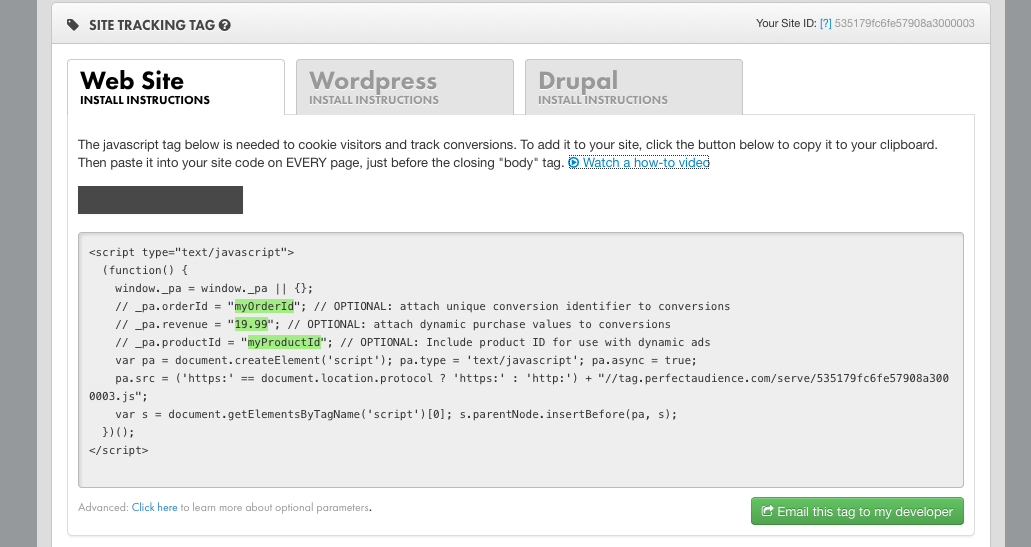 You simply copy and paste the code that Perfect Audience provides, and place it into the code exactly where Perfect Audience instructs. This part was actually so much easier than I thought it would be – Perfect Audience has step by step instructions, along with pictures that clearly highlight where the code needs to go.
The instructions are even tailored to the platform your website is built on. Really. Easy. Stuff.
From there, it gets even easier (and kind of fun, if you love marketing, like me). You create your retargeting list, which again – is something Perfect Audience walks you through. You're able to segment your audience into different lists, and also able to have a master list to market to as well.
After that, you'll select your conversion goal. This is simply, how to track the success of your campaign. It may be purchases of a certain product, registrations for a conference, or sign ups for an email newsletter – whatever it is you want consumers to do as a result of your retargeting ads will be measured here.
 At this point, it's time to create your Facebook retargeting ads!
This process is also simple and straightforward. The specs for the ads are clearly laid out for you, and preset forms guide the amount and type of copy in the ad as well.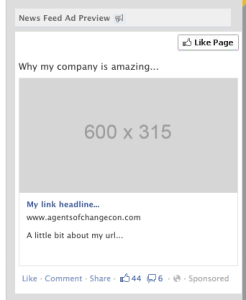 All you have to concern yourself with here is coming up with attention grabbing graphics and compelling messaging, using the allotted space.
This can actually be a fun process, if you're someone who's into copywriting. Last step is to launch your campaign. 
Select your retargeting list, set your budget, and select the conversion goals to track.
Once the data starts to roll in, there's a healthy amount of metrics available to track.
All of the standard web tracking metrics are in place, such as cost-per-click, to cost-per acquisition, click-through-rate, conversions, and cost-per-thousands impressions (CPM).
There's also a metric for view conversions, which are people who were served your ad, did not click on it, but did return to your website to make a purchase. 
Perfect Audience believes this metric can account for up to 30% of conversions.
While this is interesting stuff, if you're looking to review more concrete data, such as conversions resulting from clicks, you can simply remove the view conversions metric from your tracking reports.
If you're going to run retargeting ads on Facebook, Perfect Audience is a great tool for getting started and from what we've seen, can be an awesome tool for building long standing retargeting campaigns.
So, does retargeting work? Well, at the time of this writing we're using retargeting for the Agents of Change conference. We've spent $212 and have sold $9,600 in tickets through retargeting. That's a 4,500% ROI! (Gross, 'natch.)
Check them out here! What's your biggest question about retargeting? Ask in the comments below and we'll get you an answer!