Three Expert Tips for Better Facebook Advertising
Recent changes in Facebook mean that only 16% of your Facebook fans are seeing your content in their newsfeed…and those are people who have actively liked you!
ATTENTION: Join us on 5/30/2013 for a FREE live webinar on Turning Likes Into Sales.

Combine that with the fact that seemingly every business in the world has a Facebook page and the average Facebook user has 262 friends (and counting), and you've got a recipe for Facebook invisibility.
Although creating engaging content for the Facebook newsfeed is helpful, you may not be able to attract all the attention you desire strictly through being clever and helpful. Some advertising may be required.
In this article we'll show you how to get more out of your advertising dollar on Facebook with three expert tips.
Get New Fans for Pennies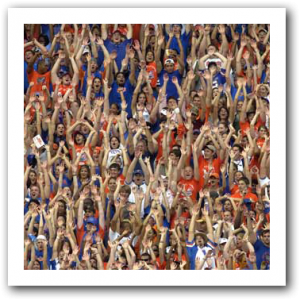 Let's start by increasing the number of people who like your business on Facebook.
Birds of a feather flock together, as the saying goes. You can take advantage of this old adage by targeting friends of people who already like your page.
Start by creating a new ad to promote your business page. Choose CPC (cost per click) pricing so that you only pay when someone clicks.
Narrow the people who will see your ad by age, gender and other demographics. You can also use narrow and broad interests to further filter your intended audience, allowing you to target just who you want.
Don't preach to the choir. Since this campaign is to increase your likes, we don't want to show it to your fan base. In the Connections section choose "Only people not connected to [your business page.]
Now get in front of fans' friends. In the same section, target people "whose friends are connected to [your business page.]
Advertise to Your Contacts
If you've been collecting emails over the years (and shame on you if you haven't!) you can target those people with Facebook ads. 
Using Facebook's Power Editor (which for some bizarre reason only works in Chrome) you can upload your database of emails to Facebook. Here's how:
Make sure you've got Power Editor installed. If you're not sure how, Facebook offers a how-to.
Visit your business page and click on the Ads Manager button near the top right of the page.
In the left hand column choose Power Editor.
Click Custom Audiences in the top nav bar, then the Create Audience button. 
Select a CSV file of your contacts' emails from your computer to upload. (CSV stands for Comma Separated Value; it's easy to expert any spreadsheet into this format.)
Once that file is uploaded you can target that audience for your ads.
Now you may ask why would you want to target an audience that you already the ability to email.
Often you will want stay front of mind without constantly bombarding your contacts with emails. 
Rick Mulready
, the Facebook marketing expert who shared this tip with me, sees this approach as a type of "retargeting."
In short, it allows you to follow your contacts around Facebook, gently reminding them of your awesome webinar, jewelry or simply to like your page.
Add Video to Your Facebook Ads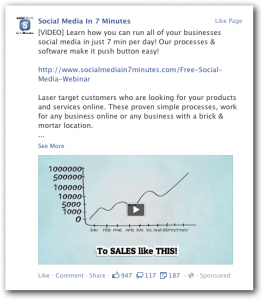 Not too long ago I saw a video for my friend Amy Porterfield's upcoming webinar on Facebook. What I also noticed was that there was a play button on the ad. When clicked it, I was treated to an engaging video where Amy explained the benefits of the webinar.
Here's how you can pull off the same trick: 
Create a video and upload it to your timeline on Facebook. Uploading it to YouTube and sharing it on Facebook won't work. This creates a status update with a bold headline.
Once it's uploaded you can turn that video update into a promoted post or page post ads.
This will create a clickable play button in your ad, increasing the likelihood people will click on it.
Takeaways
After getting traffic from Facebook for free all this time, it's difficult for many small businesses to like the idea of paying for likes or to reach fans they've already engaged.
However, by using these three Facebook advertising tricks:
Targeting friends of fans to like your page
Advertising to your contact database, and
Adding video to your Facebook ad buys
you'll greatly increase your Facebook ad ROI.
Rich Brooks