Social Media ROI: Facebook's new conversion tracking allows small businesses to really track the ROI of their Facebook Ad spend.
Facebook has created a new way to measure your ad performance and it's really quite simple.
By generating what Facebook calls a "pixel"–which is really just a snippet of code–and adding it to a landing page on your website you can track leads, registrations, checkouts, page views and more.
Ever used Google Analytics Goals for conversion tracking? Well, this works really quite similarly. You want to make sure that you add the code to a confirmation page; this way you can track folks who went through the entire purchase or registration process.
How to setup Conversion Tracking in Facebook:
First you must visit your ads manager or power editor (Note you can only use power editor in Chrome) and select "Conversion Tracking".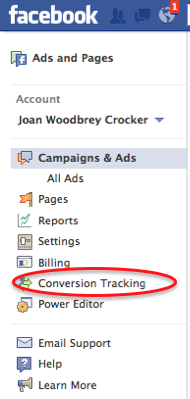 If it's your first time here you will need to accept the terms of service. You then want to name your pixel. Make sure that you give each conversion pixel a distinct name so you know exactly which ad campaign and web page you are tracking.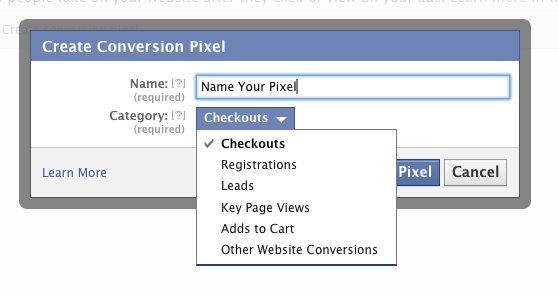 Once you name your pixel and select the proper category, click "Create pixel."
Facebook will then generate a tracking code for you to add to the header or your landing page. If you do not know how to do this yourself you may need to ask your web developer for help adding the code. Below is an example of what the code will look like.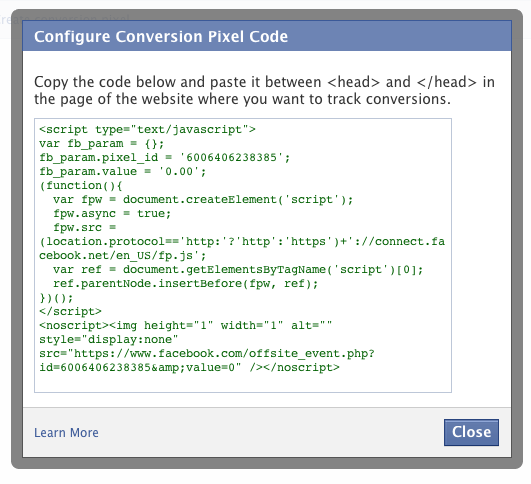 Next step is to check the conversion tracking dashboard to make sure that the code has been properly installed. If it is installed correctly it should say "Active" under pixel status. It will say inactive until it is added to the page.

Time to create your ad campaign.
How to Create Your Facebook Ad Campaign with Conversion Tracking:
To set up your ad campaign that goes along with your tracking pixel you must visit your Ads Manager or Power Editor.
In Ads Manager:
Create or edit an existing ad
In the "Campaign, Pricing and Schedule" section check "Track conversions on my website for this ad"
Select the corresponding pixel you created
In Power Editor:
Create a new ad or edit an existing ad
In the Creative section check "Track conversions on my website for this ad"
Select the corresponding pixel
Caveat: Your ad destination must point folks off of Facebook or you will not have the option to select conversion tracking.
The downside to this? You can't run page post ads with video.
In order to run a video ad on Facebook the video must also be hosted on Facebook. See the problem?
For example, we have a Twitter for Business webinar coming up and we have set up a video ad on Facebook that we would like to use to drive folks to the webinar registration page. I can set up a tracking code for the ad and place it on the "Thanks for Registering" page to track how many folks registered for the event via our video ad (or at least that's what I would've liked to do). However, since it's a video on Facebook I am not given the conversion tracking option. Therefore, I would need to use a regular ad and drive folks off the site to our website's webinar description page.
What's better than being able to track your Facebook ad ROI? You can finally prove to your boss that Facebook Ads DO work!

Visit Facebook's Conversion Tracking Help page to learn more about it.
Have you started using conversion tracking on your Facebook ads? Are your results surprising?