TRACKING CONVERSIONS: DOES YOUR WEB SITE TURN SUSPECTS INTO PROSPECTS?
ATTENTION: Join us on 5/30/2013 for a FREE live webinar on Turning Likes Into Sales.
You may have spent a lot of time, energy and money on your Web site, but how can you tell if it's actually working? If you're using Google Analytics, the free Web site traffic reporting software from…um, Google, you can set up and track conversion goals to determine whether your Web site is a lean, mean, conversion machine or a leaky bucket, spilling prospects to your competition.
So how do you set up Google Analytic Goals?
Step 1. Get a Google Analytics account and add the tracking code provided by Google to the bottom of each page on your Web site you wish to track. (Not comfortable adding code to your own page? Have your Web developer install it for you.)
Within 24 hours you'll be able to log into your GA account and see your traffic reports.
Step 2. Determine your Web site goals. For example, here at flyte we know we're never going to sell a Web site or Internet marketing services at our site. People need to talk to us first. So the goal of our Web site isn't to sell design or marketing services, but rather to initiate a conversation. There are three ways (we've determined) they may do this:
Sign up for our email newsletter.
Call us on the phone.
Fill out our contact form.
The first two goals are tricky–but not impossible–to track. The ezine goal takes place offsite at Constant Contact, our email service provider, so additional coding is required that's outside the scope of today's newsletter. The phone goal takes place offline. One "hack" would be to get a new phone number promoted only at our Web site and track who calls in on that line.
The third goal is the most straightforward, so we'll use it for this exercise. This goal is completed when someone visits our landing page after completing our contact form.
From your GA home page, click Edit under the Settings column for the domain in question.

On the next page, again click Edit under settings. You can track up to four goals per Web site. We'll choose G1, the first available goal.
In the first section of the Goal Settings page we'll enter in the Goal URL: the Web page that the visitor lands on when they have been successfully converted from suspect to prospect (or visitor to customer, depending on your goal.)
We'll also give the goal a name, such as "Contact Landing Page" or "Successful E-Commerce Transaction" or "Email Newsletter Signup."

In the next section we can define a funnel if we wish. A funnel is the path our visitors take on their way to our conversion goal.
Defining a funnel is helpful if there is a pre-defined, multi-step path we wish to examine. A good example of this would be a shopping cart checkout, which often takes multiple pages to complete. If GA later shows us that many people are abandoning their shopping cart at a certain step, we can change that page to simplify the process and increase sales and conversions.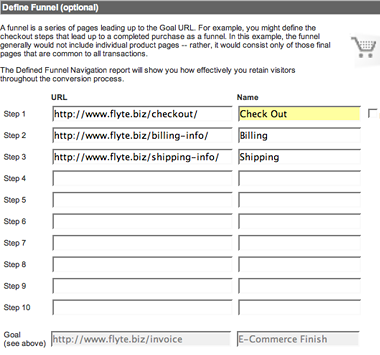 In the third section we can tweak our goal with additional settings. For most site owners you'll want to keep the first two options, Case Sensitivity and Match Type as they are. The third option is a Goal Value.
What's the worth of someone filling out a contact form? If you sell a service that's $1,000 and you estimate that three out of ten people who complete the form will ultimately buy your service, then the value of each completed form is $300.

Important! Don't include dollar signs in the Goal Value, so in the example above you would just enter 300. (I learned the hard way.)
You can also enter actual e-commerce values as your Goal Value. A detailed explanation is available in the GA Support section.
Once your GA goals are set up, you can find out what percentage of your traffic is converting on your goals. But what's even more impressive is when you break down the traffic by Referring Source, New vs. Returning or any other Visitor Segment Performance.
For example, on the graphic below, you can see that during a specific period of time, although flyte got the majority of our traffic from Google, only 0.28% of those visitors convert on our goal, or a little shy of 3 out of a thousand. Alternatively, flyte's blog delivered a higher conversion rate of 2.08% during the same time, and our Internet Marketing 101 blog for MaineToday.com converted an even healthier 2.78% of visitors.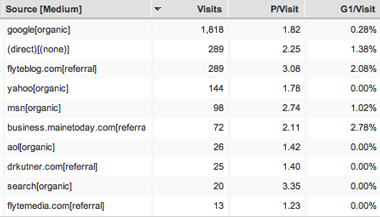 As our GA Goals shows us, people who visit one of our blogs first are much better leads…ten times better in fact! This proves to me that our blog marketing is paying off and each new post is another opportunity for a hot lead.
GA Goals can help you determine whether the money you're spending on your Web site is warranted or not. It can also help you determine if your paid listings are worth the money you invest, as well as those pay-per-click ads you've been trying out.
If you're serious about growing your business through effective Internet marketing and a strong Web presence, setting up GA goals is a required step for reporting on how these actions are affecting your bottom line.
If you'd like help installing or making the most of your Google Analytics, contact us now.
–Rich Brooks
President, flyte new media