So, you've got your mobile-friendly website all set up. Your site—built on a Responsive Web Design (RWD) framework—is now optimized for desktop, tablet, and smartphone viewing. Is your mobile marketing complete?
Not quite.
Your website is the starting point—not the finish line—for your mobile marketing. Since the majority of the world's Internet traffic is delivered to a tablet or smartphone, it's critical that you have your mobile home base all set up. That way, when people visit on their mobile device, they can enjoy your content without pinching, zooming, or squinting.
Having a mobile website is about being a good host, and making your mobile visitors feel welcome.
However, there's a lot more to mobile marketing than being Bobbi Flekman. (You know, "the hostess with the mostess.") You can't just sit back and expect everyone to come to you. You need to put the "mobile" in your mobile marketing by going out and engaging your prospects and customer where they hang out.
Sure, the QR code is dead—or at least as relevant as MySpace—when it comes to marketing. But there are other ways you can engage your audience while they're starting a their pocket-sized screen.
Let's take a look at some of the ways your small business can use mobile marketing beyond a responsive website.
Email Marketing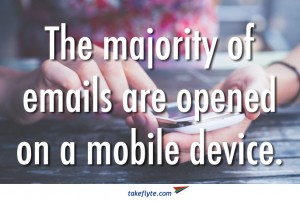 According to Litmus, mobile now makes up the majority of email opens. Many people, this author included, often use their smartphone as a de facto junk filter. Whether in bed, in a meeting, or cooling off at the gym, we quickly skim through our inbox and hit delete to anything that doesn't seem interesting or isn't optimized for a mobile device.
It's not enough to have a "mobile-friendly" email template. You need it to be a responsive template. Email templates that are only listed as mobile-friendly often look ugly on a desktop, hurting your brand. Responsive templates, on the other hand, optimize the font size and design based on the viewers' screen dimensions.
To-do: make sure that you're using an email service provider (ESP) like Constant Contact or MailChimp, with responsive email templates.
Social Media
Your customers are friending, following, and networking with people on the go. They're liking, favoriting, and sharing the content of friends and companies while they're waiting in line, watching TV, or—God help them—driving.
Some platforms, like Twitter and Instagram, were born into mobile. Other platforms, like Facebook, LinkedIn, and Pinterest, have all improved their mobile interface to the point where it sometimes exceeds the desktop experience.
The good news is that any of the content you publish to these platforms is almost invariably mobile-friendly. By creating engaging content—tweets, photos, even videos—you can get in front of your audience as they scroll through their newsfeed and engage with them.
To-do: Create small-bite content that provides value to your audience or personifies your brand. Social media is often a better place to build bridges, not to sell them. However, you can use social to drive people back to your mobile-friendly website.
Mobile Advertising
There are so many types of mobile ads available they deserve their own blog post. Or perhaps their own blog.
Using an advertising platform, you can place standard, mobile-friendly banner ads across websites of all types. You can also use interstitial ads: the kind you have to look at before getting to an article or video.
You can do hyper-local targeted ads, which are fantastic when you have a physical location and you're trying to reach a local audience.
Speaking of which, you can advertise on Yelp or TripAdvisor, which your ideal customer may be using right now to find a good sushi place or in town bed & breakfast.
And although we already discussed social media, running mobile ads on social media sites like Facebook, Instagram, or Twitter, can provide insane ROI when done right.
Just make sure that if you're going to spend money on a mobile advertising campaign, that you're driving people to a mobile-friendly landing page. Otherwise you've just spent money to get them to curse your name and click the back button.
To-do: Create a budget for mobile advertising and measure your results.
SMS Text Messaging
According to SmartInsights, text message marketing has eight times the engagement rate of email marketing. Combine that with a nearly perfect open rate and the fact people read texts within minutes (or even seconds) of receiving them, and you've got a recipe for success.
Like email marketing, SMS (short message service, in case you were wondering) should be an opt-in campaign, where you get people to give you access to their smartphone by providing them something of value. This could be valuable content, a free sundae, or a chance to win tickets to the local roller derby team.
By the way, there's also MMS (multimedia messaging service) marketing, but it's not as common, currently. With MMS you can use pictures, audio, and video to enhance your message.
While I don't believe text messages are right for every business out there, there's probably a lot of untapped potential. Like any other permission-based channel, if you provide enough value, people will give you access.
To-do: If you're interested in getting started, this article by John Jantsch at American Express's Open Forum will help.
Podcasting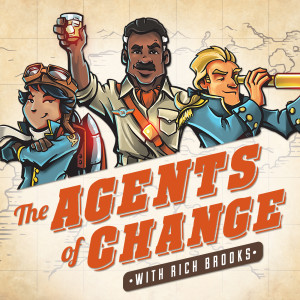 Ah, you didn't see that one coming, did you?
The fact is, most people listen to podcasts on a mobile device, and the number of people listening to podcasts and the number of podcasts they download are growing.
I've been a big fan of podcasts for a while, whether listening to greats like John Lee Dumas, Amy Porterfield, and Pat Flynn, or producing my own digital marketing podcast, The Agents of Change.
When someone listens to your podcast, you are quite literally inside their head. You can educate, inform, or inspire them while they're on the go. And podcast hosting platform Libsyn will even turn your podcast into a mobile app for a small fee, greatly increasing your reach.
To-do: Check out some podcasts, both in your industry and outside of it, to get a sense of the medium. If you feel that you've got a voice for radio and an area of expertise that can be explained through audio, try your hand at it. Entrepreneur on Fire has a free podcast course that you can check out.
YouTube
There are plenty of video sharing platforms, but the 800lb gorilla is Google's YouTube. According to some recent stats, more than half of YouTube's views come from mobile, and mobile viewing sessions are over 40 minutes on average.
The same videos that you're creating for YouTube are being consumed by your audience on a mobile device. And now with YouTube cards, you can annotate your videos with clickable buttons, driving people to your mobile website or landing page.
To-do: If you're already creating videos, be sure to add mobile-friendly YouTube cards to your videos to increase your ROI.
Mobile Payments and Rewards Programs
If you're a retail shop, restaurant, or similar business, you can take mobile payments and create mobile rewards programs to increase customer loyalty and retention.
To be honest, this is way above my pay grade, but if you're interested I recently interviewed Chris Munz who understands this part of the business inside and out. I invite you to check it out.
Mobile Apps
Although we all use mobile apps, it's not usually a direction I point most small businesses. It takes a lot of effort to get an app built, get it into the multiple app stores out there, drive your visitors to take multiple steps to download your app, and even then, you have to regularly get them to use the app.
While a mobile app will work for certain small businesses, I'd argue that it's not the lowest hanging fruit on the mobile tree.
To-do: Turn your attention elsewhere.
Phone
That's right! That pocket-sized device your customer or prospect is using to visit your website, watch your videos, listen to your podcast, read your tweets, like your Facebook posts, and sign up for your SMS text marketing is a smartphone.
To-do: Include your phone number at the top of all pages on yaour website as a clickable link so visitors can click to call.
Include your phone number in the meta-description of important pages on your site so people can click to call right from the search results page!
Investigate the costs for pay per call advertising on Google and other platforms. You only pay when customers call you.
(Check out this post with Brian Mikes on Text Message Marketing…)
Next Steps
As you can see, there's a lot more mobile marketing after your responsive website is up and running. Whether you're publishing valuable content on podcasts or videos, engaging your audience on social media, or creating targeted ads for mobile devices, you don't need to wait for people to come to you.
Your audience is on the move, and your marketing needs to be, too.
Are there other mobile marketing ideas that we didn't list here? Tell us what we missed or any other thoughts in the comments section below.