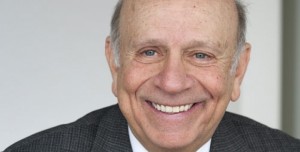 Yesterday I got to meet with one of my entrepreneurial heroes, Norm Brodsky.  I have been reading Norm's articles in Inc. magazine for about the last twelve years or so, and really enjoyed his book, The Knack: How Street-Smart Entrepreneurs Learn to Handle Whatever Comes Up.
If you run a business, Norm's a must-read.
Here are a few things I learned from our meeting.
It takes longer to get from the west side of Manhattan to Brooklyn than you would think.
I was told by an ex-New Yorker that I should plan on 30 minutes if I was going by cab. I gave myself 60 minutes because I like to be early. 
When I first jumped into the cab I told the guy I was going to Brooklyn.
You would have thought I asked him for a lift back to Maine. 
About 45 minutes into the drive we were at the east side of Central Park. That's when I jumped out and took the 4 to the L train and was in Brooklyn in 10 minutes. 
I still had about a dozen blocks to walk, carry-on suitcase in tow, on a muggy Brooklyn morning. I walked past Brooklyn Brewery but didn't even have time to snap an Instagram.
By the time I got to the office I was sweating profusely. I looked like the "Before" photo in the "Never let'em see you sweat" ads. 
Late, flustered and sweaty is no way to get to a meeting with your hero.
Hire the right people and put them in the right places.
I was met by a security guard named Shea. Shea was a young, gregarious man who remembered my name when I left without be prompted. We actually talked about this a bit, as I watched him greet people who had never been to the office before by name and told them who they were meeting.
It was a neat parlor trick that completely put people at ease. He told me he often calms down anxious job applicants when they show up, helping put them in the right state of mind before they go upstairs. 
I've seen receptionists with plaques that read "Vice President of First Impressions." When you need to have guests met by security before they even get in the building, you need an Ambassador of First Impressions.
Norm's got that.
You need to set a goal that you're constantly working towards.
But be flexible and adaptable enough to change that goal as needed.
Having a goal doesn't mean that you can't stray from that goal as different opportunities present themselves. However, if you don't set a goal you're not going to be moving towards anything, so you won't have those other opportunities.
Without goals you have no direction. Without direction you're not going to accomplish anything. 
No maybes.
I shared some thoughts about how I wanted to move
flyte
forward…maybe this, maybe that. 
Norm told me no maybes. You need to get rid of the uncertainties if you wanted to move forward.
Don't move forward with anyone else's ideas.
Even if you agree with them, you can't move forward until you've made those ideas your own. 
You need to own them, otherwise you won't take full credit when they succeed or full responsibility when they fail. 
Get a lot of opinions, but make your own mind up.
No matter how much experience other people have, they haven't been where you are, where you've been, and don't know exactly what you're made of. 
At the end of the day this is your life to lead.
(Norm and I also talked about how smart people have to learn from their own mistakes, while wise people can learn from others'.)
Norm's got great taste in bathroom art.
I was tempted to steal it. Maybe one day you'll see for yourself.
Norm's got a green thumb.
You've got to see the tree he got as a shrub from Inc. 20 years ago. I think it became a red wood when no one was looking.
Norm's a born storyteller. 
He's got a thousand stories, and he knows just the one to pull out to make his point.
When Norm Brodsky offers to call you a car, you accept.
Having survived a grueling 90 minute trip from Manhattan, I decided I'd catch a ride with the MBTA. Norm walked me downstairs and out of the building, a courteous gesture he grants everyone who meets with him.
30 seconds after we parted ways and I had left the premises the sky opened up on me and my carry-on. 
I beat it back to the CitiStorage and Shay called me a cab.
Next time I know: Take the train to Brooklyn, but cab it home.
By the way, I want to give a special thanks to
Beth Brodsky
, Norm's daughter, who set up my meeting with her dad. She's an entrepreneur herself, and if you need
professional organization in the NYC area
, check her out.