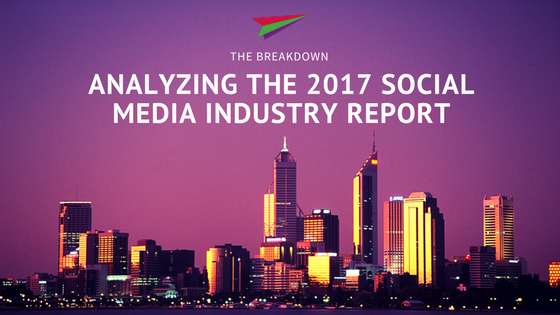 The 9th annual Social Media Marketing Industry Report is out, filled with information and advice that can help your business succeed online. What are other social media marketers doing? Where are they spending their time and ad dollars? What is the future of social media marketing?
Social Media Examiner has been releasing their Annual Social Media Marketing Industry Report for nine years. First things first, thank you to Michael Stelzner and his team for putting together an amazing report year after year. If you haven't had a chance to read it, we've put together a list of our biggest takeaways below.
The Importance of Facebook Marketing (page 25)
Facebook is still viewed as the most important platform to be on whether it is for B2B or B2C. B2C is more popular, but there are still many B2B companies on Facebook. Last year, only 56% of marketers felt that Facebook was the most important social platform. In one year that statistic rose from 55% to 62%. Everyone is on Facebook, so it makes sense to setup your business page on Facebook.
You want to cast the biggest net possible. Facebook's algorithm is always changing, and it's a very tough code to crack. To stay in front of your audience, make sure that you are urging your followers to not only "like" your page but also following your page and that they seeing your posts first. 
By having all of your fans choose "see first," your content will always be shown on the top of their newsfeed every time your business page publishes new content.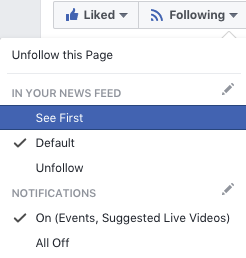 Facebook has all of the tools while other social platforms don't. Facebook now has stories which coat-tailed SnapChat and Instagram. Facebook now has its own Messenger system which eliminates the need for texting and email. Facebook is the Mecca of social platforms. They also have a through ads platform that 93% of marketers turn to when they need to advertise online. More on that in the third takeaway.
The point that we are trying to make is that everyone is on Facebook but with so many people using Facebook it's hard to generate business. Continuously posting to Facebook and engaging with users will help boost your Facebook traffic. Thus why our second biggest takeaway from this report is that the more focused a marketer is on their campaigns, the more social networks are being used and a higher rate of return.
Putting in the time is worth it (page 23)
The marketers and more than likely their marketing team are investing 40+ hours a week on social media are more focused on Instagram, Twitter, YouTube, and Pinterest. They are more focused on these channels because of the allotted time for them to test and analyze other social platforms outside of Facebook.
At flyte, we work with many small business owners and entrepreneurs, so we understand when we hear "I don't have time to commit 15+ hours a week to social media." Running your own business can be very tough but if you aren't doing any social promotion, how are you going to reach your audience or attract new customers? Money can be tight as a small business owner; we aren't suggesting throwing money at digital ads that you aren't too sure about. Take the time to sit down once or twice a week and schedule a bunch of social posts on Facebook, Twitter, Pinterest, Instagram, or whatever other social media platform you are on.
For example, we are currently working with the President of Innovate Building Solutions and Innovate Home Org; they provide remodeling services, home organization systems, and nationwide wholesale of unique building material products. He's a busy man, with two locations in Cleveland and Columbus. While running both companies, he finds time to schedule a week's worth of posts for Pinterest, Facebook, and Twitter. He also writes two blog posts a week! He's a content creation machine! He is finding time to publish his content because he feels like it holds a lot of value.
If you are a small business owner or entrepreneur, you shouldn't spend 20+ hours on your digital marketing; there are bigger fish to fry. However, you should be a making a conscious effort of creating content and publishing it on social media. If content creation isn't for you or your business, we recommend engaging with fans on the social network that your audience is on and start conversations to see where your business is excelling and where it needs some TLC.
Paid Social Media – Facebook Domination – There are other paid ads! (page 36)
Facebook is the biggest social ad platform as well. With an overwhelming amount of usage, 93% to be exact. Are you even aware of the other multiple options that you have in the digital ad space? Instagram Ads, Twitter Ads, Google/Bing Ads, Pinterest Promoted Pins, LinkedIn Ads, YouTube Ads, SnapChat Ads. There are so many unique platforms that you can be using. According to Social Media Examiner's 2017 report, 16% of marketers are regularly using LinkedIn to place ads while only 15% are using Twitter for ad placements. We compared Facebook vs. Twitter Ads in the Ultimate Digital Ad Smackdown a few months ago, check it out!
By doing market research, you can understand who and where your target audience is. Once you find the social platform that they are using the most, it makes your spending decisions easier. Yes, almost everyone and their mother, and probably grandmothers are on Facebook. What if you were an entertainment venue? Buying Google Ads and SnapChat Filters to promote your location would be smart. Starting your own cooking blog?  Start with Promoted Pins on Pinterest and Instagram Ads. Use Pinterest to generate traffic to the recipes on your blogs, and Instagram to promote the beautiful dishes of food. Put yourself in your audience's shoes, where would they be most receptive to your ads. Is it time you take a step outside of your digital advertising comfort zone and step into your user's digital space.
We would love to hear your thoughts on Social Media Examiner's 2017 Social Media Marketing Industry Report. Let us know in the comments below!
Digital Marketing Strategist