How to Promote Your Event on Facebook
Whether you have an upcoming conference, webinar, or bike ride, Facebook Events can help you reach a wider audience. 
ATTENTION: Join us on 5/30/2013 for a FREE live webinar on Turning Likes Into Sales.

In fact, if you're looking for new ways to promote your business, creating a real or virtual event may be just the ticket. 
Specialty food shops could promote an evening wine tasting. (Don't have a liquor license? How about an olive oil tasting?)
A pet store could host a dog park clean up or fund raiser.
A service provider could put on an educational lunch & learn.
Spreading the word by creating a Facebook Event for your event can help you reach a wider audience, persuade more people to attend, and build a bigger fan base. Setting up your event and marketing it is free, and if you decide to advertise your event, you can easily limit how much you spend.
Creating Your Event
You should create your event off your Facebook business page. (If you don't have one, you can create one off your personal profile, but it begs the question why you don't have a business page.) Make sure you're logged in—or at least "posting as"—your business, and not yourself.
If you are, you'll see the option for "Offer, Event+" when creating an update. Click on that and choose Event.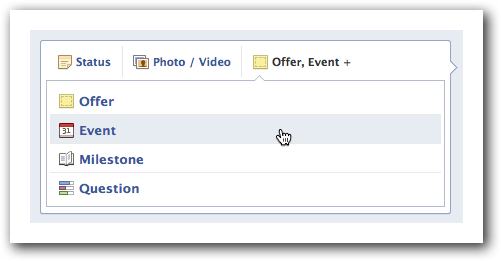 That will bring up a popup window for you to populate.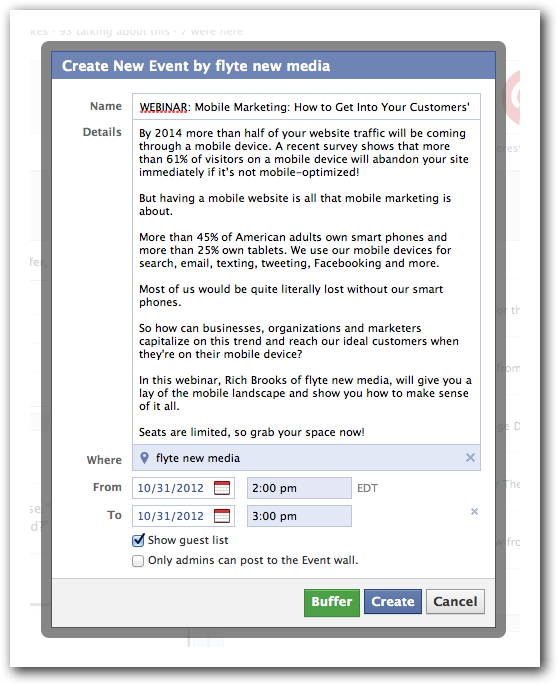 Once you've filled out all the appropriate fields, click "Create."
You should now be on the event page itself. 
I recommend creating or using an eye-catching graphic as opposed to the generic image Facebook provides.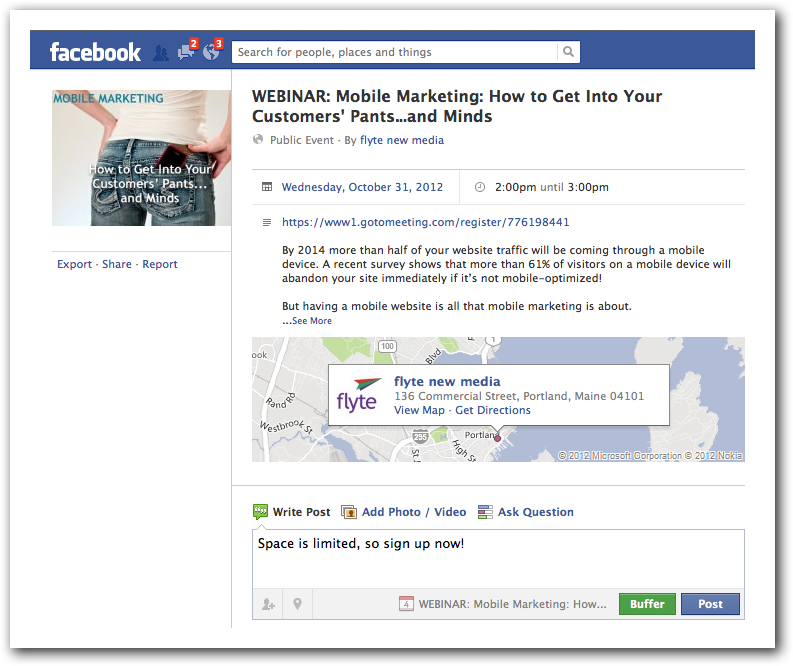 One thing I've noticed lately is that once you're invited to an event through Facebook, every update to the event generates an email to you. I don't know about you, but i find that VERY annoying. I am much quicker to "decline" an invitation if I start getting follow up messages about it.
Since we don't want people declining your invitations—and therefore cutting off communications about your event, such as last minute reminders—try to avoid those chatty updates unless absolutely necessary.
If you do have some additional info you want to add or feature, create a new post on the event page before inviting anyone else. An additional message might be about dress code, limited seating, or a reminder that attendees still need to register on a separate events page if they want to attend.
This is incredibly important if you're collecting payment or email addresses. Often people think by accepting your Facebook event invite, they are confirmed. If you need additional confirmation, make this clear.
Promote Your Event
Although there should be some mention of your event automatically on your business page, it's so minor that I strongly recommend creating a special update announcing your event.
Since images tend to draw the biggest engagement on Facebook, I like to create an image post. The downside? That prevents you from creating a link post. 
There is a simple solution, however. As you can see in the example below, I uploaded an image of the title slide of my upcoming webinar. Then, in the post itself I included a link to the event page (which I just copied and pasted from the address bar), as well as a link to the GoToWebinar signup page since this event requires registration outside of Facebook.
I also "pinned" this post to the top of flyte's Facebook page, but since only 4% of your fans ever return to your Facebook page, I'm not sure how much of an impact this actually makes.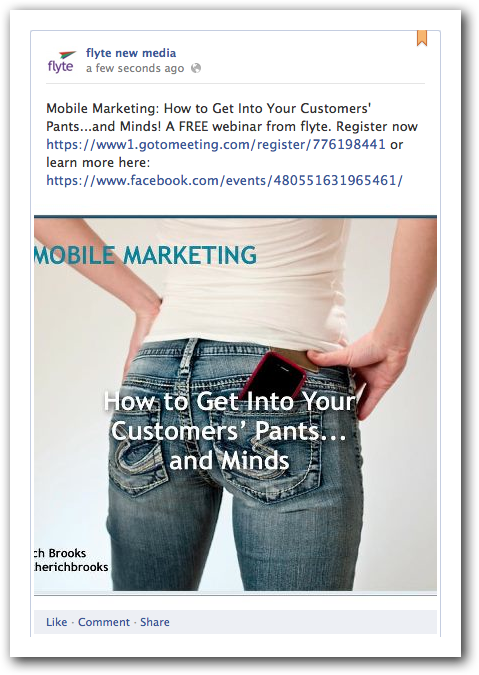 Once you've created this post on your business page you can share it as yourself on your own timeline. Two things to keep in mind:
If you've got a lot of overlap between your business fans and your Facebook friends, you may want to delay your share for a few hours so you can reach a wider swath of your audience.
Likes, comments and shares from all shared posts add to your page's engagement, so you're not diluting your engagement by sharing your content.
Invite Your Friends
Depending on how much lead time you have, you may want to do this next step immediately or wait a day or so.
Return to the event page and make sure you're "going."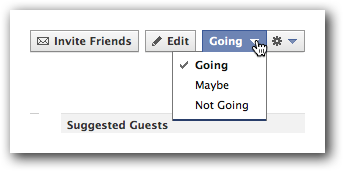 Once you are, you'll want to invite some friends. Click on that button and choose the appropriate friends from the popup window.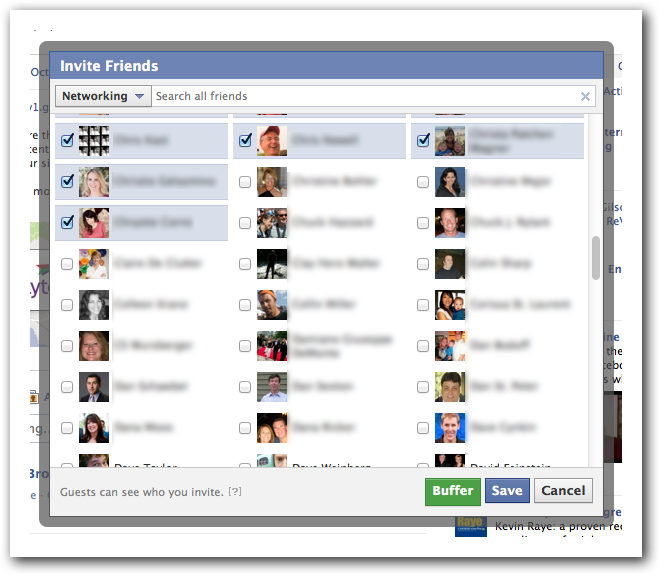 As always, use discretion when sending out invites. I get way too many invitations from Facebook "friends" just because they can invite me to events so easily. It may take a few extra moments, but really think about whether this friend wants to come to your Introduction to Yoga session. Especially if she lives in Texas and your studio is in Maine.
You also may want to stagger your invites if possible. By default, people who visit your page can see how many people were invited, and how many confirmed.
In general this is a good thing, because they can see if anyone they know is attending, which will increase the chances they'll attend. However, it can backfire if they see thousands of people invited and only four confirmed. You may be able to overcome this by only invite a few dozen people at a time.
Advertise Your Event
If it's important to reach a wider audience, some Facebook advertising may be required. 
Since only 16% of your fans see a given update from your business, you may choose to reach more of your fans through a Promoted Post. Costs will vary based upon how many fans your page has.
If your event would be beneficial to people who haven't yet liked your page, you definitely want to take out some targeted Facebook ads. For a quick lesson in how to set this up, read How Does Facebook Ads Bidding Work? over at the flyte blog.
Takeaways
Facebook events can help you promote an event or your entire business when done right. 
Create your event, share it on your business page and your personal timeline, and invite your Facebook friends.
If you're not reaching the audience you need, spend a little bit of money on Facebook ads to drive traffic to your events page.
BONUS TIP! At the event itself you should capture attendee email addresses. This will bring down your advertising costs over time as you can email your list directly without having to spend money on Facebook advertising.
Have a follow up question on Facebook events or marketing? Need some help on promoting your own business or event? Let us know!