TRACKING INBOUND LINKS IMPROVES YOUR ONLINE ROI
"Half the money I spend on advertising is wasted; the trouble is I don't know which half." – John Wanamaker (attributed)
What can we learn from this quote? Perhaps that John Wanamaker didn't have Google Analytics installed. Actually, we still can't track all of our ad and marketing dollars, but Google Analytics provides great tools for measuring our ROI (return on investment.)
Why track your campaigns?
Whether you're spending money on banner ads or investing time on an email newsletter, it's important to know whether your efforts are paying off. By using tracking codes you can determine which campaigns deliver traffic to your site, generate leads, and even get people to click on a "buy now" button.
How do you set up tracking codes?
First off, you don't need to add tracking code to every incoming link; most inbound traffic is easy to measure by default in Google Analytics. Instead, you should focus your attention on banner ads, email newsletters and non-Google pay-per-click campaigns. Inbound traffic from these sources is often tougher to track and requires additional work to measure accurately. Secondly, although there are five tracking variables, you will probably only deal with three of them:
Campaign Source: such as the name of the website where your ad is running or which issue of your email newsletter the link is from;
Campaign Medium: used to specify the medium where the link appears, such as pay-per-click, banner ad or email;
Campaign Name: which helps you differentiate between different campaigns, such as "April newsletter" vs. "May newsletter" or to test different banner ads.
Now, if that seems overly complex, don't worry: Google offers a tool called the URL Builder that will generate your links for you.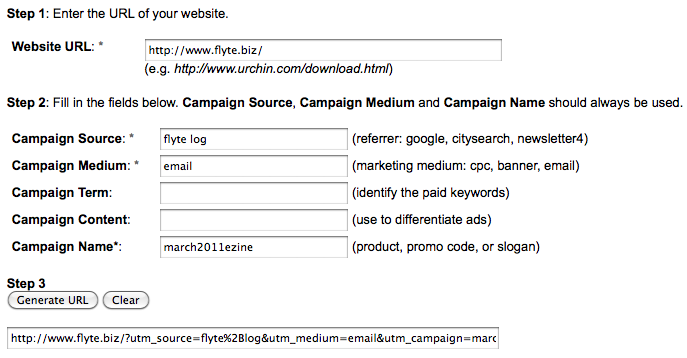 Simply enter four pieces of information:
the website URL you're linking to,
the campaign source,
the campaign medium, and
the name you give your campaign.
Then click on the "Generate URL" button…Google will provide you with a URL ready to cut-and-paste. A link to https://www.takeflyte.com becomes a link to https://www.takeflyte.com/?utm_source=flyte%2Blog&utm_medium=
email&utm_campaign=march2011ezine
Pretty? No. But you're not asking anyone to type it out, either.
If you want to track a banner ad's performance, just provide this tracking URL to the website where you're advertising along with the banner ad. If this is for an email newsletter just use the tracking URL in place of your regular link.
Measuring Your Results
Once your campaign has launched, you'll be able to measure your success (remember: failure is just a stepping stone to success) in Google Analytics.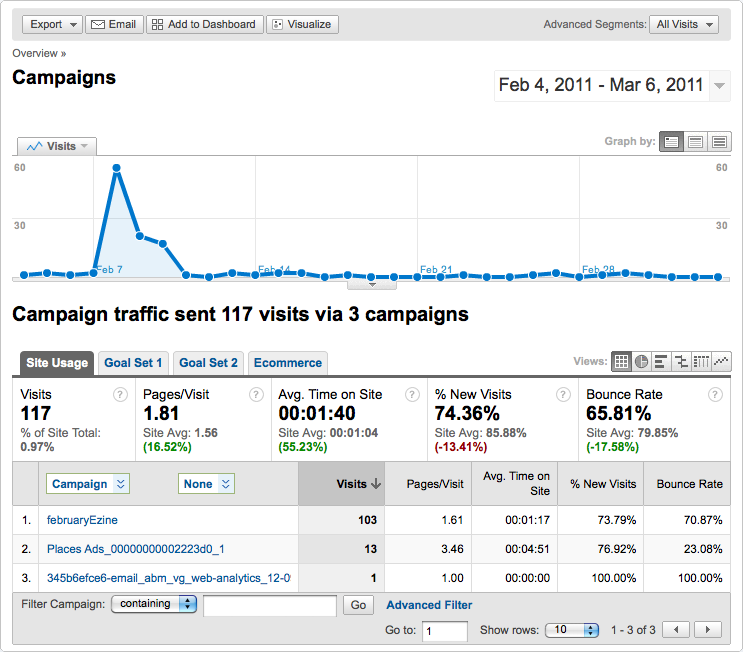 In this screen capture you can see that our February email newsletter generated 103 visits to our site and they visited slightly more pages and spent a slightly longer time than the average visitor. You can also see that our Google Places ads, although only driving 13 people in the past month, had much better than average pages/visit and average time on the site. What's even more interesting is that our Places ad had a 7.69% contact form conversion rate compared to the site average of 0.41%. This result is getting me to take a closer look at Google Places and how it fits into the rest of our marketing.
In Conclusion
The takeaway is that you need to use tracking codes for your ad campaigns and email newsletters. By measuring your results you can continually improve your ROI and build a stronger, more effective web presence. If you need help setting up your own tracking, or even advice on what metrics you should be tracking, please contact flyte new media today.
–Rich Brooks
President, flyte new media