7 REASONS TO START AN EMAIL NEWSLETTER TODAY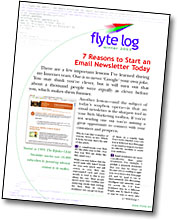 There are a few important lessons I've learned during my Internet years. One is to never 'Google' your own joke. You may think you're clever, but it will turn out that about a thousand people were equally as clever before you, which makes them funnier.
Another lesson–and the subject of today's soapbox opera–is that an email newsletter is the sharpest tool in your Web Marketing toolbox. If you're not sending one out you're missing a great opportunity to connect with your customers and prospects.
Why do I say this? A number of reasons. Seven, in fact. Which is lucky, because that's the title of this article.
1. It complements your Web site like white wine to fish. (Not that your Web site stinks like fish, mind you.)
While you may believe that the world waits with bated breath for your next article and will return to your Web site unprompted each and every month to read it, this is not always the case. Most people spend more time reading and answering emails than surfing the Web. With an email newsletter you can get in front of them on a regular basis. Don't worry whether your content is delivered via a Web page or an email as long as you have an effective medium to reach your audience.
2. Email newsletters are more cost-effective than print newsletters. For example, I publish a quarterly newsletter that you may be aware of because you're reading it right now. It's a four-color, four-page job and we mail it out to approximately 500 discerning, intelligent and attractive readers across the U.S. Your newsletter may be a different length, may be black & white, or may be sent to more subscribers more often. But for the sake of comparison, let's use these numbers.
The cost of arranging flyte log on the page–now that the template has been created–costs approximately $350. The printing costs, including freight, comes to $700. Postage, address labels and "mailing seals" cost another $200. Let's ignore the worker hours to attach these "sticky" items, as I'm generally doing it while I watch football or Buffy the Vampire Slayer. Since creating content is the same for either print or email let's table that cost. This works out to approximately $2.50 per subscriber.
To send out our new e-newsletter, Honey Roasted Peanuts, to the same size group the cost would be fifteen cents per subscriber. This covers both our setup time and the cost of some nifty software we use to manage subscribers, handle expired emails and send out HTML newsletters that look like Web pages in your mailbox. When our subscriptions go up ten fold to 5,000 it will cost only 1.5 cents per subscriber. As our circulation grows past a certain size we'll be hit with small fees to handle the increased subscriber base; however, the cost per subscriber will continue to decrease. Also, no matter how many colors or pages our e-newsletter is, or where in the world we send it, our costs stay relatively fixed.
If you're looking to save money for your company or organization wean people off printed newsletters. Don't get me wrong: there's a benefit to hard copy newsletters or else we wouldn't use them. Due to the nature of our business we've never met some of our customers except "virtually"; flyte log helps us to connect by giving our clients something they can touch. You may want to consider reducing the size or frequency of your print newsletter if you can't abandon it completely.
3. E-newsletters are interactive. In a printed newsletter you can refer to your Web site but you have to hope that your readers don't mistype that URL when they go to their browser…assuming they even will. With an e-newsletter you can make sure your site (or a PDF, or a sound clip, or any document available on the Web) is just a click away.
4. You can test its effectiveness. Depending on the sophistication of the program you're using to send out your newsletters you can track which links in your newsletter are being clicked on and which are being ignored.
5. E-newsletters encourage word-of-mouth advertising. It's easy for your subscribers to forward your email to a friend or associate, especially with a friendly reminder from you at the end of each issue. It's also a great way to build your subscriber base and market your services to people you might not have reached any other way.
6. You're preaching to the choir. Your subscribers have signed up to receive your e-newsletters. These are your best customers! They want to know when your next book is coming out, when you'll be speaking in their town, or when you're bringing a new product to market. So be sure to promote your offerings in the newsletter.
7. Starting today will help build your subscriber base. Now that e-newsletter can contain formatted text, embedded images and even polls and surveys you're no longer limited to boring plain text to get your message across. Soon you'll be able to include forms, multi-media, and other marketing tools that you can deliver to your subscribers' mailboxes. (With their permission, of course.) The best way to grow your subscriber base and take advantage of these new tools is to start right away.
Final Thoughts
In future issues we'll look at what goes into a successful e-newsletter, how to attract more subscribers, and how to leverage e-newsletters effectively. (Or, if you can't wait, you can contact us today!) However, there's no reason to hold off on sending out your own e-mail newsletter and get a few practice issues under your belt. The sooner you start the quicker you'll be connecting with your customers.
–Rich Brooks
President, flyte new media