Is your competition out ranking you in the search engines? Here are a few ways to figure out what keywords your competition is targeting so you can get a leg up! 
We are all curious to know how we are stacking up against the competition. Conducting a little competitive research doesn't just cure that curiosity… it's good business. What is working? What isn't? Why is your competition ranking better in search than you?
Keyword research can help you outmaneuver your competition and so you can rank higher than them at Google. Below are 5 key ways that you can figure our what your competition is targeting so you can too.
1. Google Adwords Free Keyword Tool: This free tool isn't just great to find and research your own keywords, you can also use it to see what a competitor's site is optimized for. All you have to do is type the URL into the Website search bar and Google will generate a list of up to 100 words that can be found on your competitors site. 
2. Title Tags: Title tags can be found at the top of your browser when you are on a competitors website, as well as in the tabs and is the title used on the search engine results page. Many think that the title is the most important factor when trying to rank well for particular terms. This means that the terms or keywords that your competitor is trying to rank well for should be here.

3. Website Analysis: While this is a more hands on approach it's also one of the best ways to look at what your competitors are targeting for keywords. For instance what have they named their navigation? Do they have a site map? What words are they using in their anchor text and intra site links? What are they titling their blogs? What are their page headers? These are all places where SEMs incorporate keywords. Find out what they are using and use those as a starting point for your keyword analysis. 
4. SEMRush – Type your competitors URL into the search bar and voila! This tool can give you some great insight into what your competitors keywords are, both organic and paid. However, you'll only get the top 10 results with the free version. It also give you the SERP position and percentage of keyword use. You can only use this once before they want you to register for the paid version.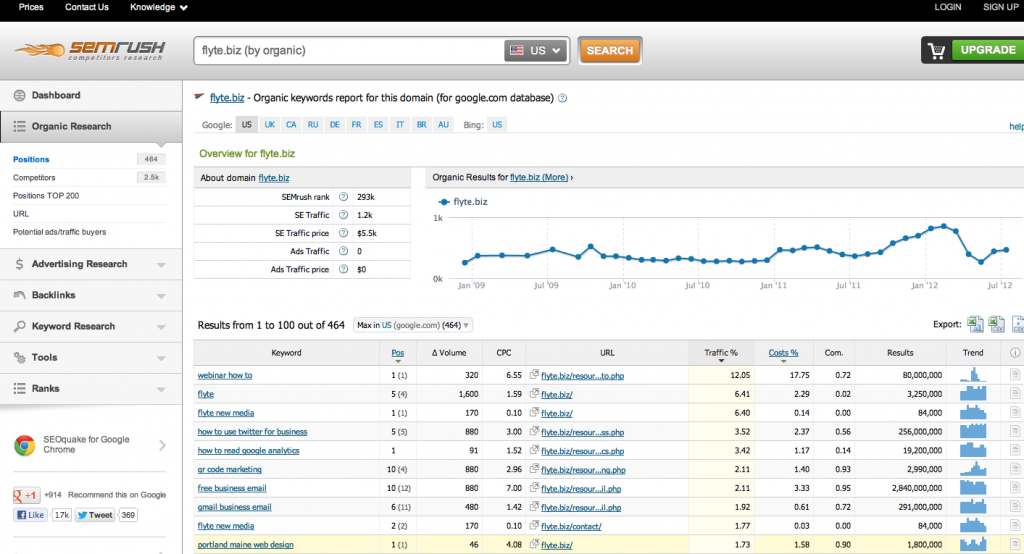 5. Alexa: Again you simply type the URL of your competitor into the search bar and you can get a glimpse at what folks are typing in to find their website. This will show you the top 10 search queries leading to site traffic as well as the rises and declines in the past month.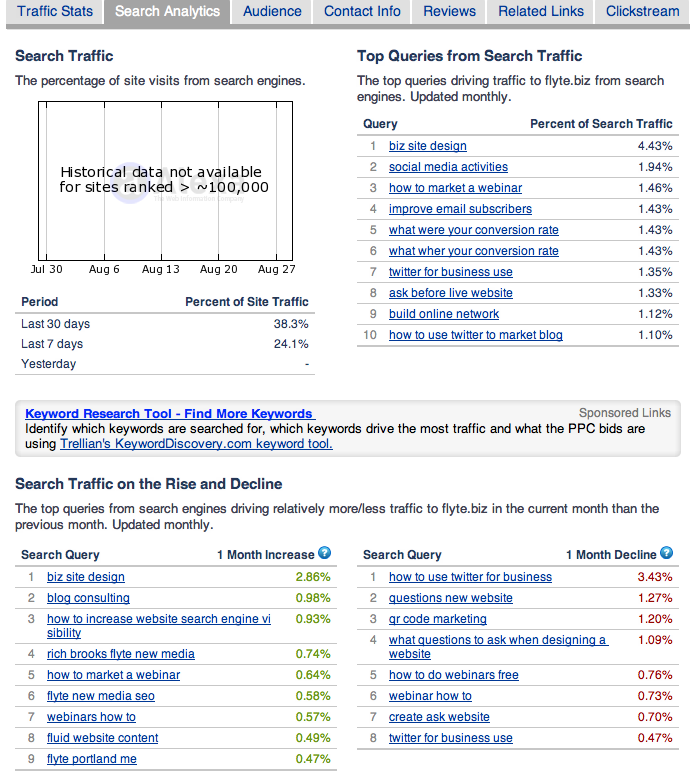 Feel inspired or want to get a more in depth view of what your competition is doing? SEOmoz and Raven SEO Tools are a couple of my favorite paid services.