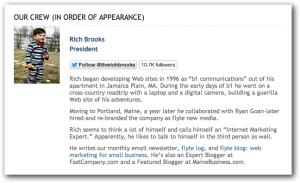 Years ago I received an email from a psychologist. She said, "I was just about to hire you to design my website when I visited your About page. I'm glad I did. It's filled with baby pictures of you and your staff. Instead I've decided to keep searching for a more professional web design company that takes their jobs seriously."
Bullet. Dodged.
I can't imagine how much work it would have taken to keep this person happy and satisfied during the project. Or what an emotional drain it would have been to work with her. Luckily, we never had to.
Our About page is just one way in which we attract like-minded clients to us, and dissuade people who wouldn't be a good fit from picking up the phone. There's not anything wrong with that second group of people…invariably there's a web design firm that would be a better fit and create a better product for them. But for us, they represent a customer service nightmare. 
Marketing Your Small Business for Customer Service Success
For a small business, so much of customer service comes down to the personal relationship you have with your customers and clients. Customers who like you, who have affinity towards you and your staff, will be more open to your approach and more forgiving of any mistakes or misunderstandings.
Looking at the flip side, customers who are square pegs to your round hole will never work out. They won't be looking for what you did right; they'll be completely focused on any real or perceived faults.
Your marketing should reflect not just who you are, but the type of client you're looking to attract. Good marketing is like a well-written personal ad. If you enjoy quiet nights playing cards, don't talk about nightclubs and all night raves.
Marketing Your Products and Services
Likewise, when you're promoting a product or service, your marketing needs to be as transparent as possible. The key is not to be perfect, or to be everything to everyone, but to manage expectations (even if you're setting them high).
A friend of mine had run several online mastermind programs in the past. She decided to run a new one that would require less of her time, have pre-recorded classes and utilize a discussion forum where members could help each other.
Although she stated this in the promotional material, she had become known as someone who was very hands on, and a number of members were disappointed that she was unreachable, and were vocal about it in the forums, complaining to other members.
Unfortunately, that type of vibe can be contagious. I suggested she privately offer a refund to the people who had complained, and remove them from the club, since so many other members were getting value from their membership.
Going forward, I recommended that she be clearer about how this program was being run and her reduced personal involvement (although she could spin it as "low-cost, on-demand classes with members helping members.") Even if she turned off some potential clients, it would be alright, because those people wouldn't be satisfied with the program as it was structured.
Marketing When Mistakes Happen
Now, no matter how effective and targeted your marketing is, there's no way you're going to make all of your customers happy.  When things go wrong—and they will—you need to own up to them as quickly as possible.
And since everything we do as a business is marketing, you should view your customer service as a marketing opportunity, too.
These days, it's not too hard to find social media horror stories about a company who tried to make a problem go away, or ignore an unhappy customer. Years ago, no one would have ever heard that United Breaks Guitars, but now every consumer has a platform where they can complain about bad service, real or imagined. (Just look at TripAdvisor if you don't believe me.)
It's better to own your mistake immediately, and see what you can do to make it right (if possible), than give your dissatisfied customer reason to complain about you on social media.
If someone does take your dirty laundry public, you have two choices: ignore or respond. If you do choose to respond, try to avoid being defensive.
If you own an inn, and someone complains about a rude housekeeper on your blog or at TripAdvisor, consider responding with a message like,
"I'm sorry you had to experience that. We take our customer service very seriously here, and I'll speak to housekeeping immediately. In the meantime, my personal email is innkeeper@someinn.com; please contact me directly as I'd like to offer you a free night's stay and make it up to you."
Yes, that response could cost you a night's revenue, and some people might be trying to take advantage of you, but it powerfully states how important good service is to you and your company. It also acts as a free piece of marketing for anyone who sees the original complaint, and your response.
Takeaways
Marketing your business or products properly is your first opportunity to reduce customer service headaches. Rather than spending your time putting out fires and soothing frustrated customers who aren't a good fit, you can focus on delivering great service to customers who will appreciate it.
When problems do arise, own up to them. No business is perfect, and consumers understand this. How you handle their problems will lose you future business or create a customer for life.
See the problems as opportunities to continue marketing your business by standing behind what you offer and delivering on expectations.
Rich Brooks
How May I Help You?