Imagine a tool that could identify all the people who want to buy what you have to sell, right now. Wow, right? Wouldn't that be absolutely amazing?
Brace yourself: that tool exists, and you've probably even heard of it.
All day long, every single day, all over the world, billions of people pull up the Google search bar and ask for help finding something they want…right now.
63,000 searches per second.
3.8 million searches per minute.
228 million searches per hour … and 5.6 billion searches per day.
No matter what your business does, I guarantee you that some of those searches are for a product or service or knowledge that you provide.
Ah, aren't you clever, Rich! you say. But it's not so easy, is it? I'm competing with nearly two billion other websites in the world. Out of all of the potential products and services available on the web, how can I make sure Google serves up mine?
Well I'm glad you asked!
One Way: Organic Search
We turn to Google because they consistently provide relevant answers to our searches. Their massive data operations analyze (or "crawl") the web and use a complicated algorithm (math!) to sort and rank all the results and they do this very, very well. We know some things about this algorithm—mostly what Google shares with us—but no one outside of Google has the "teacher's edition" with all the answers to why one site ranks higher than another.
On top of that, Google is constantly rolling out major and minor changes to its algorithm on a regular basis. Even for people who eat, drink, and breathe this stuff (like me!), the algorithm's ways can sometimes be both mysterious and mercurial.
If you want to dominate Google's organic results you'll need to invest a good portion of your own time learning SEO and staying on top of the changes, or outsource a lot of this work to an SEO expert. This should help you rank higher and generate more search traffic and conversions. But even this may not be enough to guarantee you appear at the top of page one on Google.
And here's why.
The Guaranteed Way: Paid Search
Google is a business, and like any business, it needs to remain profitable. When Google identifies a search as having "commercial intent," it will display up to four ads at the top of the page, pushing down any organic results.
What is commercial intent? Well, sometimes we turn to Google because we want to know something, and other times we turn to Google because we want buy something, and Google is scary-good at discerning between the two.
If you search for "best yoga positions," Google guesses that you might want to switch up your workout routine and will display results showing you how to downward dog with the best of them. However, if you search for "best yoga mat," Google will assume that your current mat is deteriorating quickly and will display ads showing where you can replace it.
Furthermore, if Google feels like there may be relevant local results, even the top organic results may be pushed so far down the page that it doesn't show without scrolling.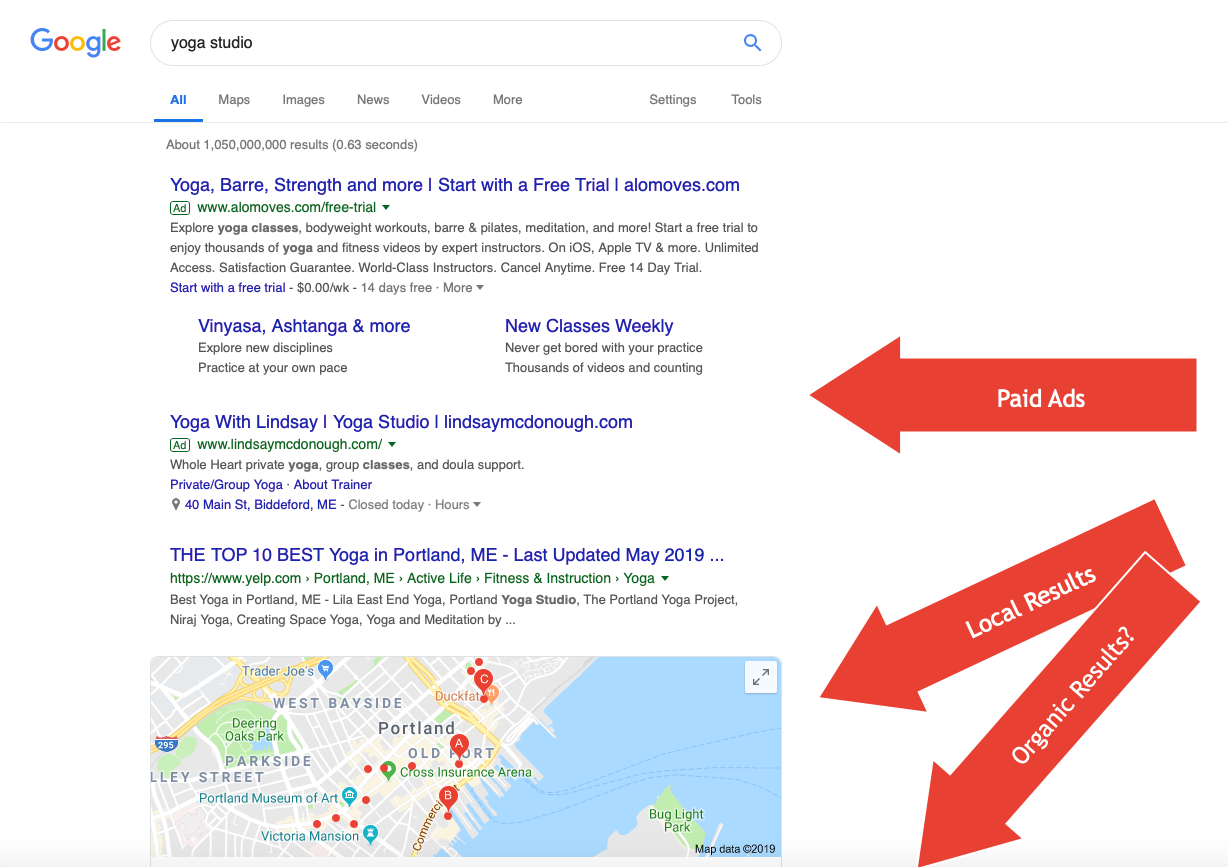 If you want to appear at the top of a given search where Google is showing ads, you'll need to engage in the bidding process known as Google Ads (formerly Google AdWords).
Anytime anyone does a Google search that has commercial intent, the results are split between organic and pay-per-click (PPC) placements. Google lists paid search ads first, local search results second, and general organic search results dead last. And I used "dead" there deliberately.
I've had many conversations with business owners and marketing directors over the years that tell me they don't believe in the power of Google Ads because "I never click on those ads."
Maybe you feel the same.
Well, I recently saw that Google made $33 billion (with a B!) from people clicking on Google Ads…in a single quarter! And that number grows every quarter of every year.
In a recent article by online advertising giant Wordstream, they declare there is a "war" on free clicks, and report that almost 2/3 of clicks for searches with high commercial intent go to sponsored results.
So maybe you're not clicking on those ads, but someone is. When someone does a search for a product or service, they don't really care if the first result is an ad, as long as it's relevant. They may not even notice it's an ad, since it looks like every other result except for a small, discreet, "Ad" tag next to it.
You may still feel that your organic results offer more value or provide a better ROI than paid results. However, this doesn't matter for most small to medium size businesses.
Why? Because they aren't ranking on page one for organic search queries they care about. After the first 10 organic listings, (and paid ads and local results) potential customers have no clicks left to give. Did you know that 3 out of 4 people never visit the second page of search results? When was the last time you ventured further than page one? If I don't see a result I like in the top ten, I refine my search; I don't keep digging in a dry well.
For some sectors like law, real estate, hospitality, or any item sold by Amazon, ranking on the first page of organic search results is just not realistic. Strategic, well-designed PPC campaigns may be the only way for a smaller business to take on the Amazons of the world—and win.
So, are you are saying that I have to pay for my clicks?

Probably. Do me a quick favor: pull up Google and type in any search phrase that relates to your business. Now, scan the first page of results. (Don't worry, I'll be right here when you get back.)
Did you get lots of organic results but no paid ads? Congratulations! Either your business is completely unique, your sector is underserved, or Google believes those search terms do not demonstrate commercial intent.
If your search terms do not demonstrate commercial intent or if your competitors aren't trying to rank for them, you can safely focus on organic search placement.
Did you see ads atop the results page? You will need to spend money to rank for that term. And to get the most from that investment, you should have a sales funnel built to support it.
Okay, you've convinced me. How can I use paid search to connect with potential customers?
Google Ads has been set up so that anyone—anyone—can run ads on the platform. However, that's a lot like saying anyone can play in the NBA. While that may be true, you'll be competing against Google Ads experts who spend all their time on the platform. It's not always a fair fight.
You have three options:
1. Go it alone. There are YouTube videos, online classes, webinars, and certification courses that you'll need to invest in if you want to compete in a competitive field.
2. Hire a paid search agency or expert. A good expert should be able to provide you a positive ROI in a few months.
3. Go hybrid. Many agencies and experts can help you get things started, improve your click through and conversion rates, and then hand the reigns over to you.
Whichever path feels right for you, the following tips are just some of the ways we help your potential customers give a click about you using Google Ads:
Decide which words to buy and how much to budget.
The bidding on hyper-competitive keywords can get pretty crazy. Some business terms can cost $50 a click! That's a "click," not a "conversion" or even a lead. If the first search terms you've tried are generating tons of well-funded PPC ads, don't give up. Get specialized, and localized. Even the biggest companies leave gaps in their keyword strategy. Perhaps you can't afford to invest in "destination wedding." How about "seaside weddings" or "coastal Maine weddings"?

Target your keywords.
Refining your keywords is a great way to improve the quality of your results and that can often mean going negative. Searches for "gluten free bakery" do nothing for bakeries that aren't gluten-free. If you love flour, make "gluten free" a negative keyword for your business.
Time it right.
Your ideal customer may be more interested in your product or service at specific times. Business services tend to do better from 9 – 5. Date night restaurants might perform better on the weekend.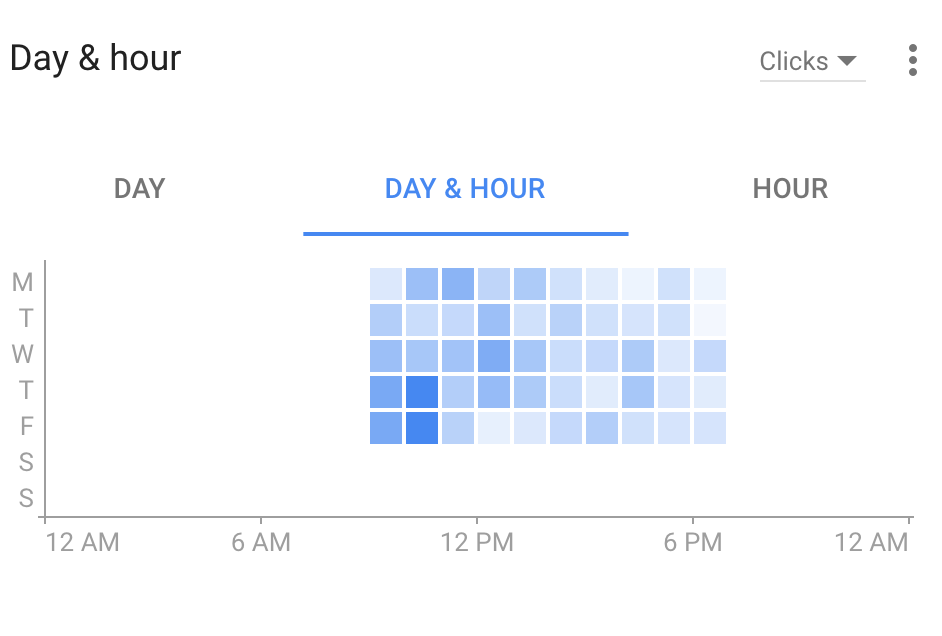 Keep an eye on quality.
You don't want all the clicks. You want all the customers. If your Google Ads results show a lot of what we call "pogo-sticking"—clicking on your PPC ad and coming right back to their search, never to be seen again—something isn't right. Google can actually start charging you more per click if too many people pogo-stick your ads. Stop unsatisfactory comparison shopping and noncommittal clicks. If you aren't getting conversions on your PPC ads, adjust your Google Ad wording or ask for a professional evaluation.
Make sure potential customers get what they came for.
If someone clicks on your PPC ad after searching for a specific product or service and is sent straight to your homepage, you've just asked them to do their whole search all over again. Chances are, they won't bother. You paid for that click and you want to profit from it, so send potential customers to a squeeze page or a product page. Better yet, do a split test on both destinations and see which one performs the best!This is all about Quality Score. When I asked my co-worker John to review this article, he stated, "this is much more important than a lot of people may think." He went on to say:
Quality Score (QS) is not a Key Performance Indicator (KPI,) but we recommend using it as a health indicator for your account to determine if you're heading in the right direction. Google rewards you for having a high QS. The higher the QS, the lower your cost per click and cost per conversion will be, saving you tons of money. Let's dive into what Google uses to factor a Quality Score.
CTR (click through rate)
Keyword relevancy to its ad group
Landing page quality and relevance
Ad Relevancy
Google Ads historical data
According to WordStream, "no one outside of Google knows exactly how much each factor 'weighs' in the Quality Score algorithm, but we do know that click-through rate is the most important component. When more people who see your ad click it, that's a strong indication to Google that your ads are relevant and helpful to users." Thanks, John!

More on Negative Keywords
Many advertisers don't realize that their ads are being found for search queries that aren't relevant. Depending on the keyword match type–Google gives you the ability to control how broad or narrow your matches are–you could be showing up for a totally unrelated search.If a user was searching for "accounting jobs" and Quicken was bidding on "accounting" for their QuickBooks software under broad match, their ad could show up, thus wasting money on a click that isn't qualified for their business.
Site Extensions
The larger the ad, the more Google "real estate" that is taken up on the top of the first page. Site Extensions help you acquire that land. You can add as many extensions as you want. Some extensions include your physical location, your phone number, your seasonal sale, and extra links to other pages on your website, in addition to your landing page.
Landing Page Experience
I can't express how many times we see a landing page for a paid ad go to a homepage or a contact page.As mentioned before, your landing page impacts your Quality Score. This doesn't necessarily mean the layout of the page. Google looks more at if the keywords that you've been bidding on appear on the landing page and has the same message as your ad.
For example, if you are a landscaping company and you're bidding on tree removal keywords but you are sending people to your general services page which discusses lawn care, snow removal, patio designs, and tree removal, that's not good. The landing page should be strictly about tree removal because that's why someone clicked on your ad.
Don't be afraid to ask for help.
As I mentioned, Google designed Google Ads to be an accessible way for any business owner to bid on search terms and, for the most part, that's how it works. That doesn't mean that newbies will get the same results as pros, however.Companies that focus on paid search ads have a few advantages that you might not—like access to highly specialized analytics and software tools to measure experiences and optimize results. Here at flyte, we invest in some of the best (and sometimes most expensive) tools out there to help our clients succeed. If you don't have the time or resources to develop a strategic campaign and sales funnel, measure and evaluate your responses, and optimize your PPC ads, you may not get the most from your PPC investment.
It doesn't matter if you like or don't like the idea that Google sells ad space at the top of their search results. It doesn't matter if your organic results are "better" or more relevant than the paid ads that push you further down the page.
The bottom line is that businesses have almost always had to pay for visibility, and the search engines are no different.
Paid ads, when done right, can be a cost-effective way to acquire new customers and generate leads and sales. You can also measure the ROI of every ad you run, something that's not quite so clear when it comes to organic results. That means you can shut off underperforming ads and double down on ads that show positive results.
If you need help on your journey to the top of page one, contact us today for a free consult on setting up and optimizing the Google Ads that will drive sales for your business.
See you at the top!