These days, there are so many incredible digital advertising options available to marketers, it's often a matter of drilling down to the best opportunities, rather than figuring out where to find your audience.
Yet, with all of the social media options out there, Facebook continues to be an extremely powerful advertising platform for many a business.
And for good reason – Facebook has continued to step up their game with options for advertisers: Power Editor, Business Manager, Facebook Ads Manager…the options are awesome, and appear to be growing.
The cool thing is, even though Facebook has added more ad platforms to their offerings, they've continued to add advertising goodies to the Facebook Ads Manager.
Let's review four Facebook Ads Manager Tools you don't want to miss out on:
Saved Audience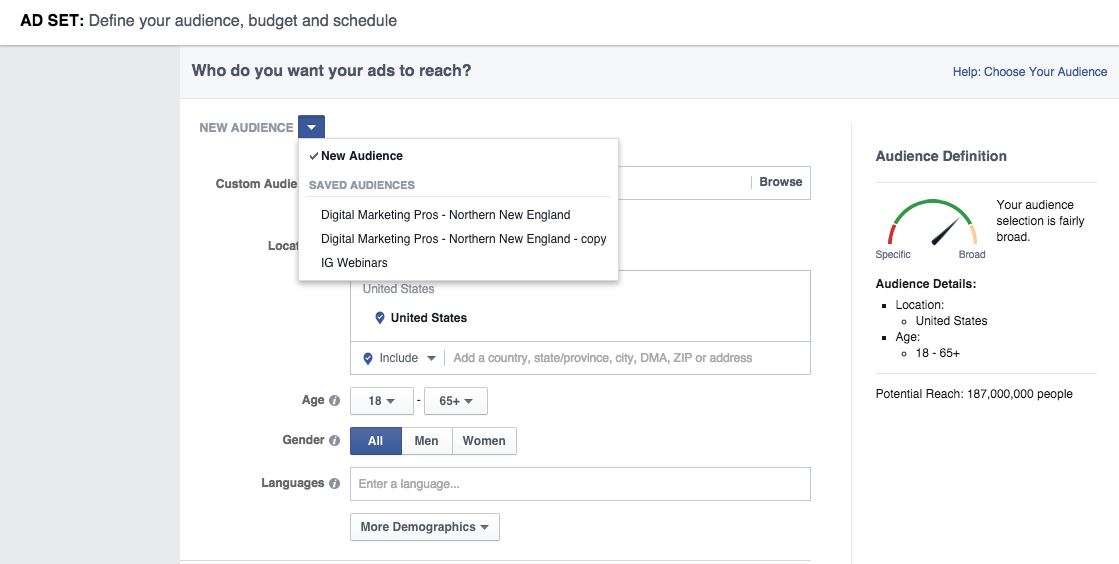 In the not so distant past, the only way to create a custom audience was through the Power Editor. And don't get me wrong – this is a fantastic tool.
But, you have to check this out as well: You can now save audiences you've selected via interest, geographic, behavior, etc. targeting in campaigns you've run through Ads Manager.
You can then choose to target ads at your saved audience for any future campaign for the given account.
It's as simple as checking off the "Save Audience" box before saving your target audience & budget as you create your campaign.
This is a great time saver if you're doing a lot of creative or objective testing, because you can easily select the exact same audience each time.
It's also a great way to manage the testing of new audiences, by allowing you to give each audience a descriptive name.
Instagram Ads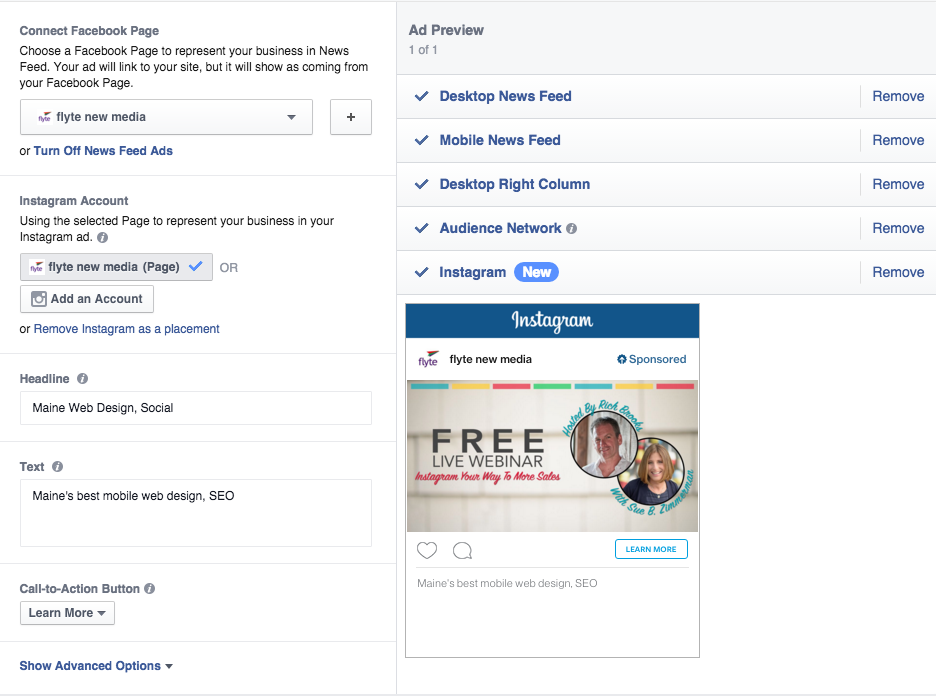 Yes – You can place Instagram ads through Facebook ads manager! And the process is refreshingly drama-free.
To place an Instagram ad through Facebook Ads Manager: Connect your company Instagram account for your Facebook Page.
Then, select (or rather – choose not to deselect) Instagram Feed placement after you draft your creative in Ads Manager.
Instagram ads support many objectives: website clicks, conversions, app downloads, and video views.
Post engagement is slowly rolling out as Instagram ad objectives as well. And all can be managed through Facebook Ads Manager.
To make what could be a long story short – when placing Instagram ads, remember that the size and shape of the posts are different than Facebook, as is the audience mindset as they engage with the Instagram platform.
Facebook Pixel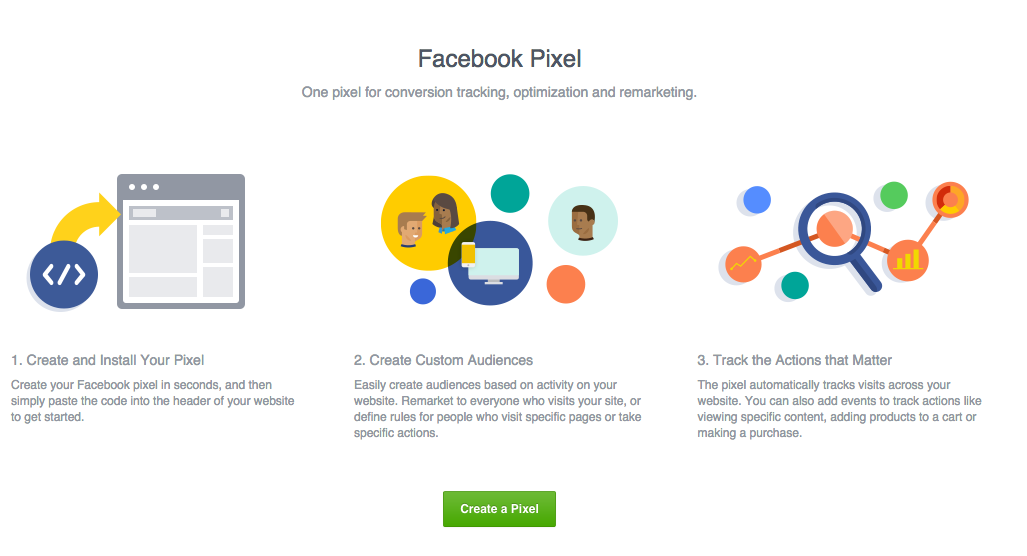 If you've been in the Facebook advertising game for a minute, you've probably used the conversion tracking pixel on the regular.
You also may have come across the new(ish) Facebook pixel, which is an upgraded version of the tracking pixel that tracks events, conversions, and audiences (for retargeting).
According to Facebook, the "Facebook Pixel" will replace the conversion tracking pixel by late next year.
So if you haven't used the Facebook Pixel yet – get on it!
Like the other tools I've mentioned, the Facebook Pixel can be generated through Facebook Ads Manager. From the main menu, select "Tools," then Facebook Pixel, and then follow the instructions for creating and installing your pixel.
This is an excellent tool for tracking and reporting on important ROI metrics like Cost per Action, and Conversions.
Enhanced Reporting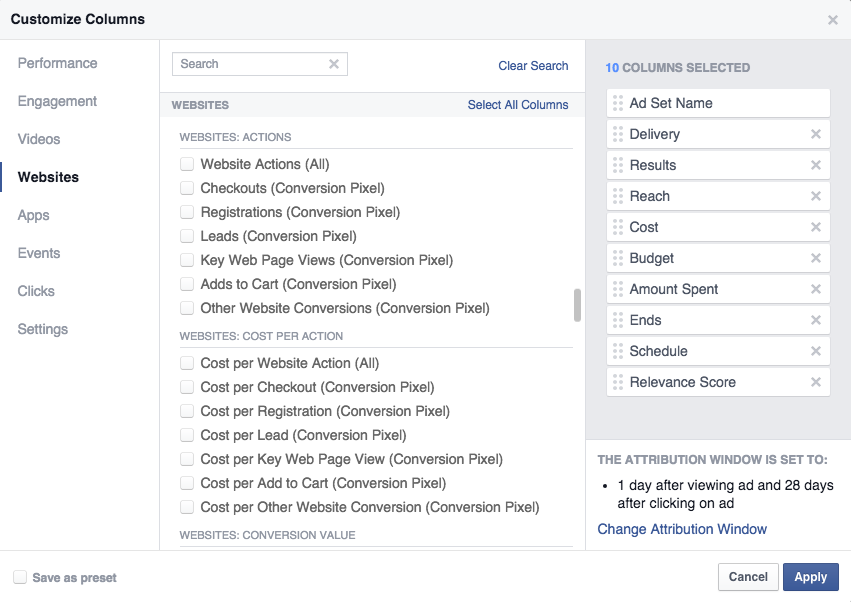 I've noticed a lot more opportunity when it comes to creating customized reports in Facebook Ads Manager. In the past, we could easily track campaign objective metrics, but things have taken a turn for the better.
I've been pretty pumped about how deep we can dig into campaign metrics through Ads Manager as of late.
We can customize reports by performance, engagement, delivery, video engagement…the list goes on.
We can further breakdown the data by delivery, action, and time/date. And all reports can be exported to Excel. The awesomeness of this is self explanatory 🙂
One other report I've really been digging is Audience Insights, which gives you a glimpse into who your most engaged audience(s) really is. What pages they like, what shows they watch, where they live, etc.
This allows advertisers to have a stronger understanding of their target audience, making it easier to paint a picture of your true business "avatar".
So, what's next? 
The features above are a few of the pretty sweet tools available to us through Facebook Ads Manager.
If current trends continue, I'm sure we can expect more amazing tools to roll out as 2016 gets underway. What are your favorite Facebook Advertising tools and tactics? Hit me up in the comments to discuss!