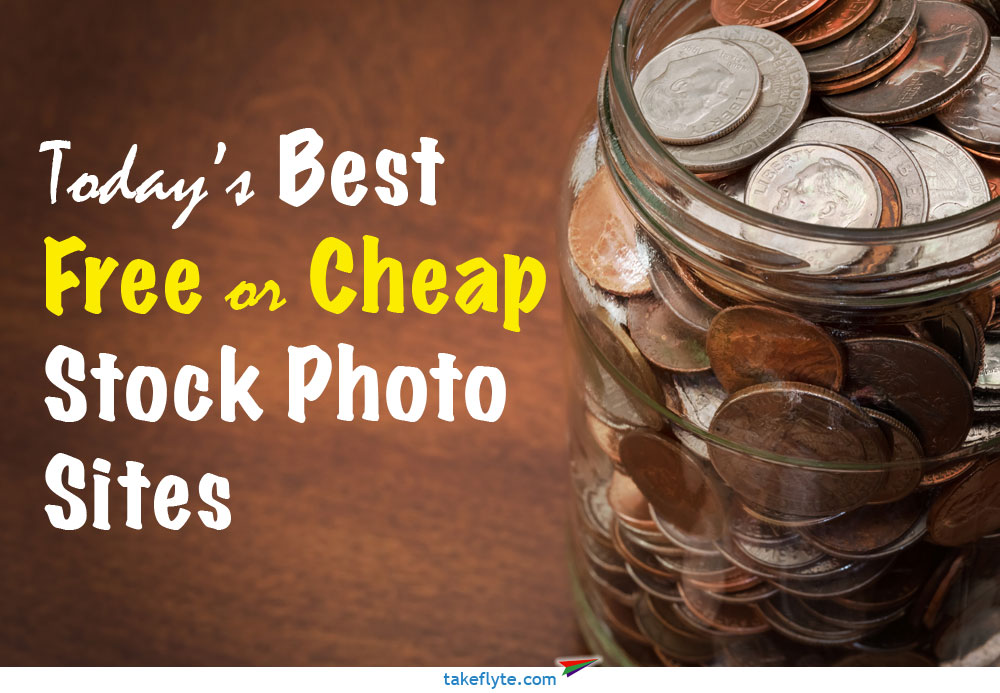 If you're looking for ways to get your blog read, your emails opened, and your social posts shared, then you need an eye-catching image to reel readers in and get them engaged. However, if you're publishing to your blog a few times a month, or sending out emails weekly, or filling Facebook with daily posts (not to mention Twitter, LinkedIn, etc.,) those photos can get expensive.
While I'm a strong believer that you shouldn't cut costs when it comes to your website photos—especially those homepage photos that will be seen by thousands or even hundreds of thousands of visitors over the years—when it comes to blogging and social media sometimes "good enough" is, well, good enough.
That being said, there are some great options for legal stock photography that you can use for your content marketing. I decided to put a few popular sources to the test, as I was looking for an image for this post. 
How to Find The Best Stock Photography
To test these services out, I searched the way I often do: literally and metaphorically. For example, if I'm writing a post on customer service I might search for "customer service," but also on metaphoric ideas like "life preserver," "hotel bell," or "pillow mint."
An important caveat: my taste in royalty-free images may not match with yours. I tend to prefer something that represents and idea rather than the idea itself. "Hotel bell" > "customer service." 
Also, I prefer images that are a little off center or have a "quiet space" so I can throw some text on it without taking away from the picture itself. (Case in point: the header image for this blog post.)
Finally, having been in this business for nearly twenty years, I've seen some images and ideas that have been beaten to death…or should have been. For example:
You may feel this image accurately, and originally, reflects the message in your post.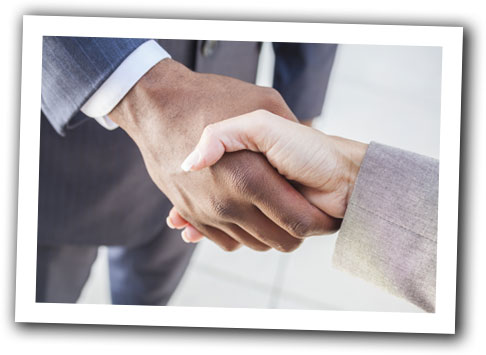 In which case, we'll just agree to disagree.
Or, you may post this on your blog, because you find these "aliens" a cute way to get your point across in visual storytelling.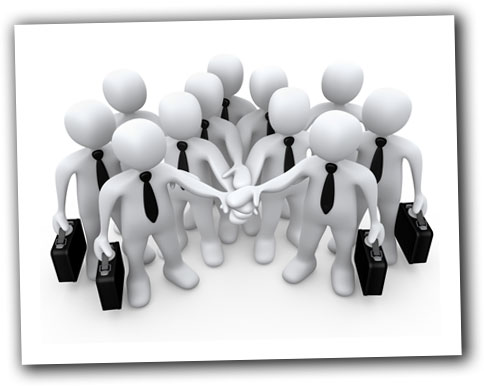 If so, I may have to block you on Facebook. 😉
Seriously, though: do you know how much it killed me to have to
buy
 those two images?!? Next I'll be using
Comic Sans
on a website! 
For the purposes of today's study, I decide to search for "hotel bell." My goal was to find images under $5 that I could use on my blog post, meaning they would probably be a minimum of 800 pixels wide. Now, let's get to the smack down!
Their home page features a bunch of images…I wasn't sure of the legality of showing them, so I blurred them out. On the site, you see them crystal clear.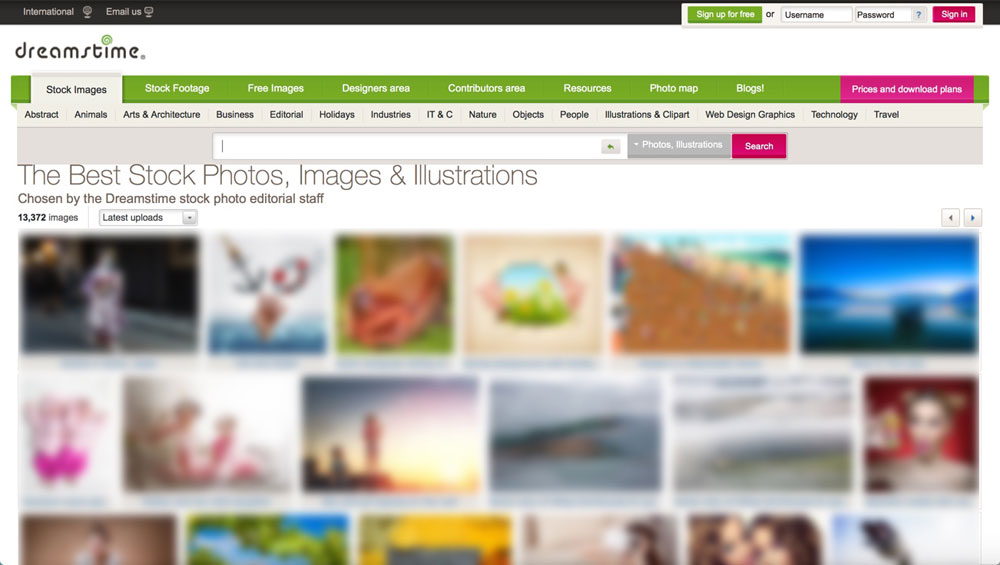 Related searches that seemed relevant
Ability to sort by a number of items, including lowest price
Found some high-quality images near the top even after sorting by lowest price
Your credits are good for an entire year
The use of credits made discovering how much the photo actually cost more of a challenge. Also wasn't sure if I was getting a discount for just signing up that wouldn't continue
The image I chose was for 3 credits normally, 2 credits because I had just created a new account. That translates to $4.09 normally.  
You can buy credits or a subscription. The lowest credit price was 11 credits for $14.99. The lowest subscription plan was 10 images for $69 (although they were running a promo for $62. The reason this is actually more expensive is because you can download any size file. Probably more important for people who need images for print.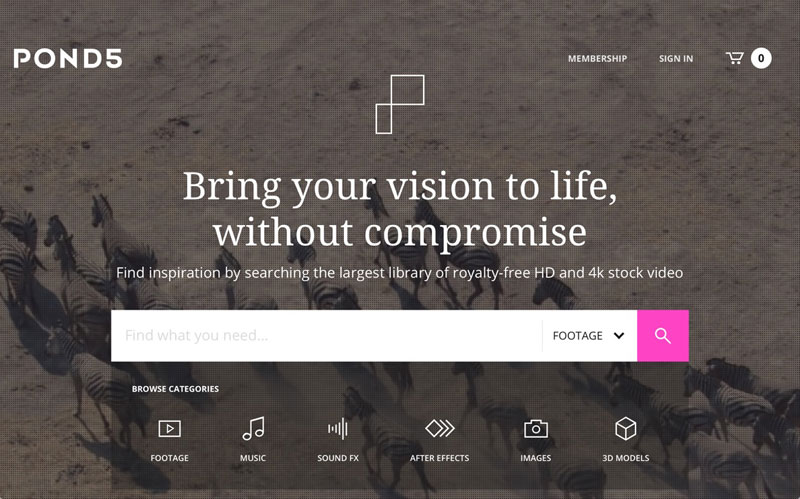 What I like:
Besides images, there's royalty-free footage, music, sound effects, after effects, and 3D models
Auto-suggest on the search 
Ability to restrict photo search based on price
Ability to order the results based on price
Ability to quickly see the price range (depending on size) by rolling over the results
What I don't:
The default price range was between $0 – $350, but to get it to $0 – $5 was physically a little difficult.
Outcome: 
The first result I liked had a $3.88 price for a small image (397 x 252), but to get to my minimum desired size, I was going to have to spend $5.82.
Membership Pricing:
Pond5 offers Pro and Premium pricing. Premium allows you 10 downloads a month for $89, which includes audio and video files as well. So, $8.90/photo.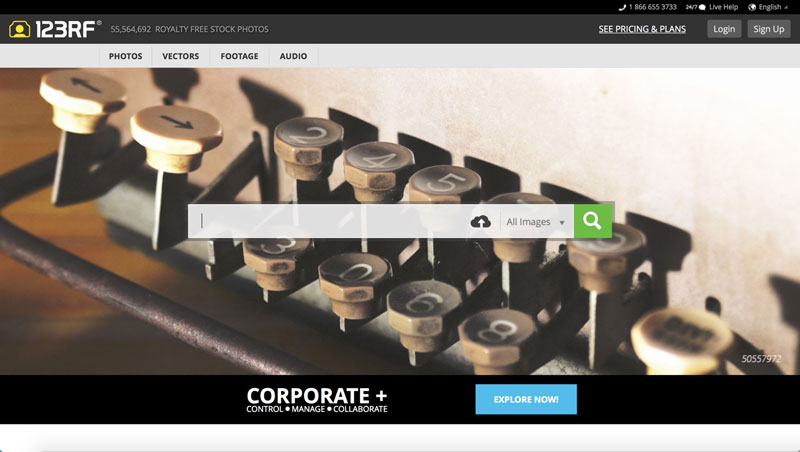 Lots of good results
Affordable prices. Even at the lowest level, the credits are basically $1 a pop, and the images I found would cost 2 credits for the minimum size I need.
Again, credits. Credits make my head hurt. And require math. 
I found a number of good images for two dollars.
Years ago when I ran a similar experiment, 123RF was my favorite site, based on quality, quantity, and cost. It's only because I found Dollar Photo Club (now shuttered and absorbed by Adobe Stock) which had amazing photos for…um, a dollar each, regardless of size, that I stopped using them. Maybe it's time to start buying credits again. 
Their cheapest, shortest term plan is $79/month for 5 images/day. It goes down to $59/month if you buy a year long subscription. Not a bad deal if you download a lot of images.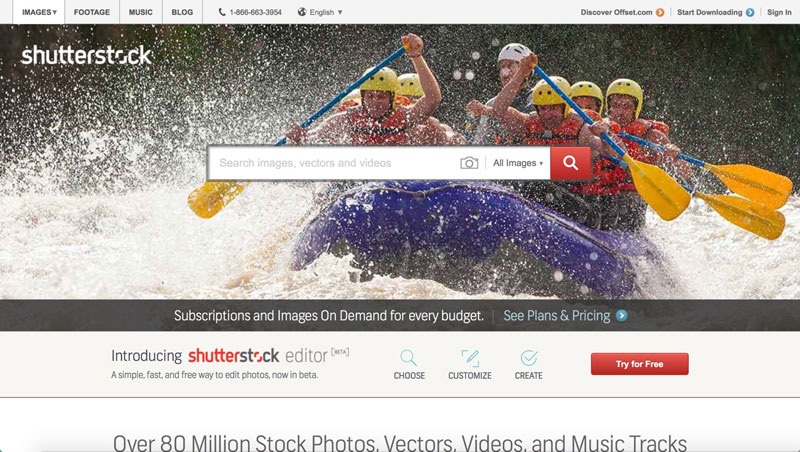 High quality results right out of the gate
Lots of good related suggestions on search
This site is not affordable for the casual blogger; the cheapest non-subscription model was $9 – $15/image, depending on how many images you bought at a time.
So many great images to choose from, but unless you're downloading 350 or more images/month, this probably won't fit your needs or your budget. For agencies this might be a good call.
350 downloads a month for $199/month is great ($169 if you buy a year long membership) for a per picture price, but are you blogging that often?
Adobe bought out Dollar Photo Club, so my DPC account was absorbed into Adobe Stock. Thus, I'm using Adobe Stock right now.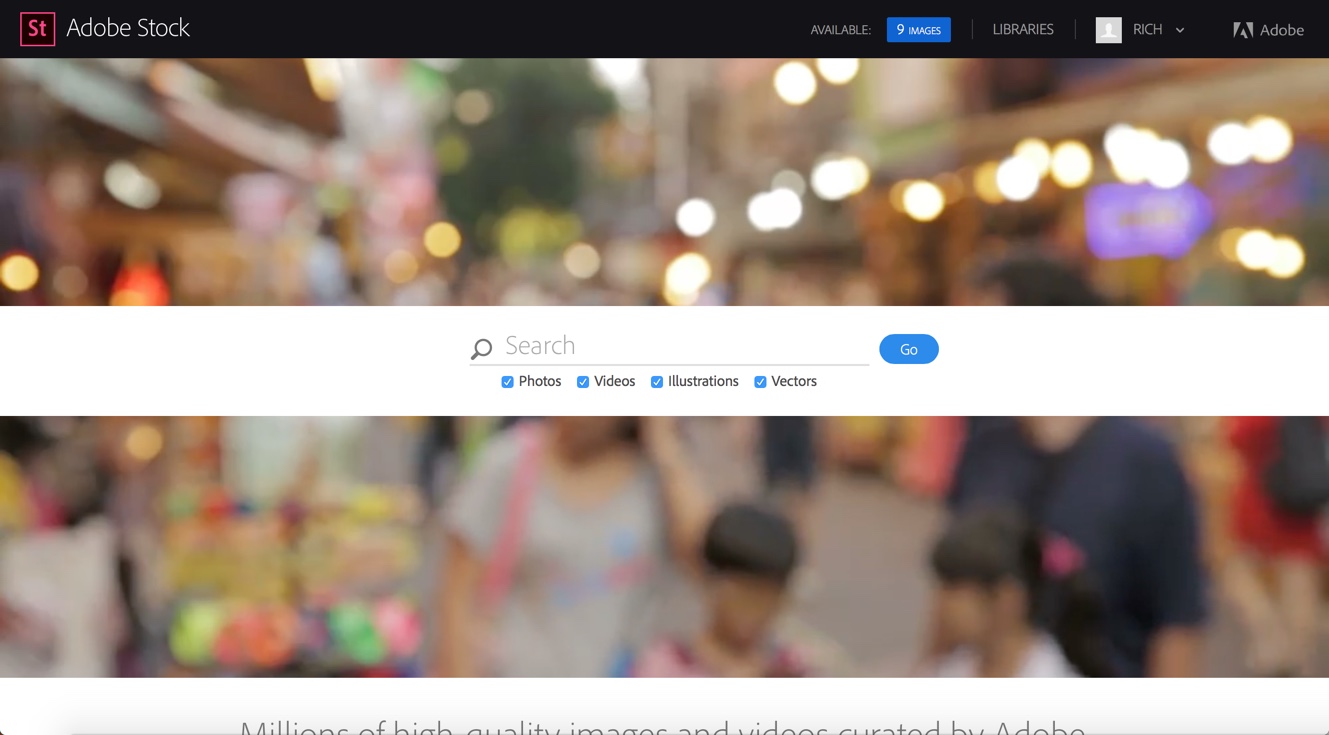 I got a great deal because I was grandfathered in from Dollar Stock Photo
Lots of great choices right off the bat
Simple pricing, big images. Most images are over 5,000 pixels wide. 
Adobe killed Dollar Stock Photo; for those of you who discovered and used the site before then, you know this is a royal shame.
There is no per image pricing. The cheapest option is $49/month for 10 downloads. However, it drops significantly to $29/month for 10 downloads with the annual plan. Most small businesses can use 10 images per month for blogs, emails, social media posts, and slide decks. 
That's about it. And if you didn't use Dollar Stock Photo, you won't miss it. 
I had plenty of great, high quality, giant images to choose from, all for $3 each. ($1 for me, as I'm grandfathered in.) 
So, everything here is a membership. I'd recommend the $29/mo annual plan for 10 downloads a month. Need more? There's agency level pricing; for $199/mo on the annual plan you get 750 downloads per month.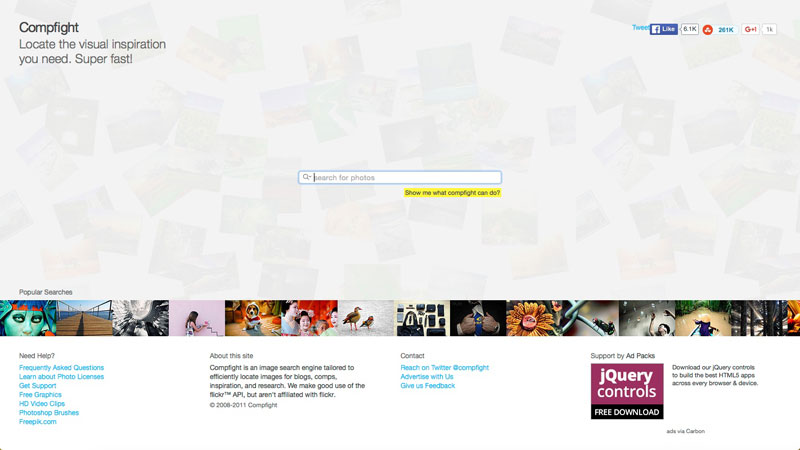 Compfight isn't really a royalty-free image site as much as it's a search tool for the photo sharing site flickr. You can search for photos that you can use for your commercial (or personal) blog using the Creative Commons filter on the left. 
It's free (often with attribution)
You'll see lots of photos here you won't find at stock photography sites
I like giving credit where credit is due, but as time goes on, I'm less interested in using photos that require attribution. I feel it can often clutter up the page. Feel free to send hate mail in the comments below.
It can be hit or miss depending on what you're searching for
I found a number of relevant photos, but when I filtered by "commercial" only three hotel bells were still in the running. But, you can't beat the price.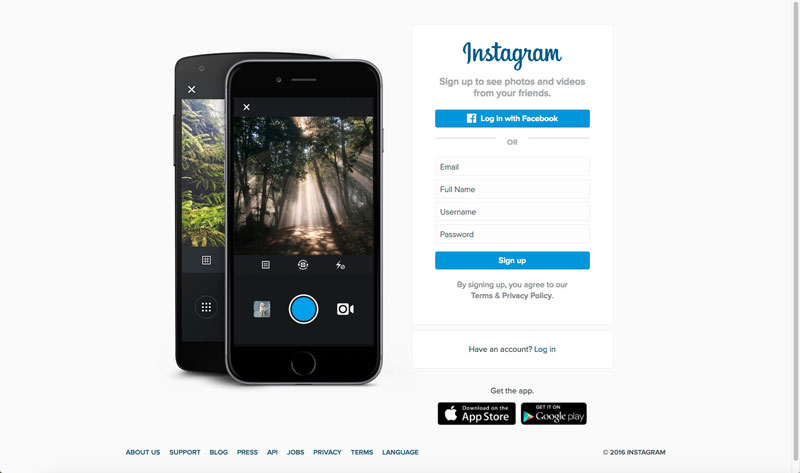 There are two ways to use Instagram. One is to just walk into the nearest hotel and snap a picture of the bell on the reception desk. Some creative cropping, a nice filter, perhaps a tilt shift to really focus on the bell, and you've got something blog worthy.
Or, you could embed any Instagram photo in your blog post the same way you would a tweet or a Facebook update. I'm not talking about stealing, here; Instagram has an embed code you can use.
Maybe I'm just a little slow, but the only way I could search for something that wouldn't default to a profile was by adding a hashtag. So I searched on #hotelbell. There were 118 results of varying quality and relevance.
It's free 
You can show off your own photography skills
If you want more people to see your own Instagram pictures (and pick up more likes and comments), it makes sense to embed the image in the post. 
You can add text before you upload it to Instagram using an app like Over, Retype or Typorama, which I like because it might help your post get shared on social media sites
The photographer may not be pleased your using her photo on your commercial blog. I would recommend that you reach out to the Instagrammer and give them a heads up. Seems like the polite thing to do. 
You've got the Instagram branding on the image, which you may not care about.
It just adds a little more clutter to the page
Instagram may change their policies in the future or the photographer may turn his account to private, which means the image would disappear. 
This works for blogs, but not emails, social media posts, or slide decks. (I probably use images more for slide decks than anything else.)
I found a few images that might work on the site and the pictures are free.
Some free royalty-free sites I didn't include.
A number of friends suggested sites like Unsplash, PhotoPin.com, and MorgueFile. While some of these sites do have amazing photos that are completely free, they just didn't have the breadth of images I would need as a blogger. In short, if you came up short on the hotel bell search, I didn't include you here. 
Pixabay had five images that matched "hotel bell" but they were all so awful (including one with an alien) I'd rather not blog than include one of those images.
Now, it might be that if I had chosen a different subject matter, these sites would have been great. For a nice roundup of free royalty-free photo sites (with limited photos), check out
this post by Dustin Senos over at Medium
.
Takeaways
There are some great, affordable, royalty-free sites out there for all your blogging needs. And your email needs, and social media needs, and slide deck needs.
Man, you're really needy! 😉 
Were there any stock photography sites we didn't mentioned that you love? Let me know in the comments below!