When I started what would become flyte new media back in 1997 I gave myself two years, tops, before I'd have to get a real job.
[Sorry for the low quality image…I have very few pictures from my early days! But look at that hair!]
I figured by then designers would learn how to program or programmers would learn how to design and I'd be out of a job, working for someone else.
I had never taken a business class, so I had no idea you could just hire people who were smarter, better organized, and more creative than you!
In those early days there were no content management systems to make publishing easier. I built websites with BBEdit or occasionally Adobe PageMill. I used an educational version of Photoshop for image creation. In fact, almost everything I used back then was either free, borrowed, or pirated. 🏴‍☠️ 🤫
My original newsletter required a stamp–not an email address–to get delivered. I wrote and designed each newsletter myself. I printed them on my dad's printer and folded them by hand. I licked each stamp and envelope. I was a one man production line!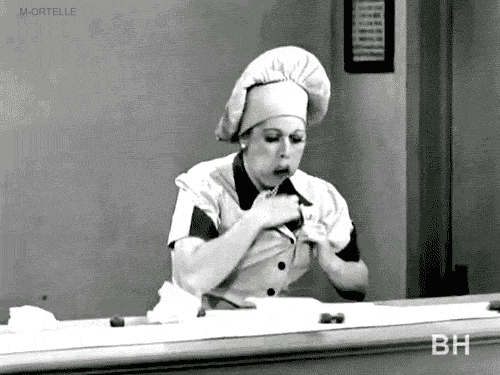 This was pre-Facebook. Pre-Google. Pre-Constant Contact or MailChimp. Pre-broadband and pre-wifi. Pre-smartphones and tablets. If someone said "Tik Tok" to you, it meant "hurry up."
Those were the days of dial-up modems. Of mailboxes filled with CD-ROMS from AOL that included a free trial. Of HotMail, AltaVista, and the Browser Wars.
It was in those early days, working on a Macintosh Peforma out of my bedroom in an apartment in Jamaica Plain, I started B1 Communications, which would become flyte new media a few years later when I moved to Maine.
I started getting steadier work and bigger clients and ended up hiring a couple of part time people to help me with the work. I added SEO to our offerings. Later blogs. Then email marketing. We were early adopters of social media marketing.
Over time I moved my offices out of my house and into the Old Port in Portland, ME. I hired more people.
I still had no idea what I was doing running a business, but people were getting paid, work was getting done, and the lights were still on.
There's now ten of us with plans to grow some more. We moved into some amazing space in the Old Port, overlooking Casco Bay. Of course, because of the pandemic we've adopted a more flexible work schedule, with employees who work in the office, or from home, or somewhere in between.
In the past few years, with a lot of outside help, I've learned to let go and watch my team grow in the process. We have specialists in design, development, SEO, paid search, social media, paid social, content creation, and more.
My goal now isn't just to keep the lights on, but rather to be the best company we can be. To put out work that we're proud of and helps our clients grow. To nurture our team to be the best that they can be. To invest in our community, our environment, and support the causes we feel will have a positive impact on those around us.
The first 25 years have been an amazing journey for me, and there are way too many people who have been part of that journey for me to take credit for where we are. My parents, my team, my clients, to start.
Our vendors and contractors we've used over the years. The people who have mentored me, coached me, and cajoled me. The members of the masterminds I've been part of over the years. The organizations in Maine that help businesses grow, like the Maine SBDC, Maine Center for Entrepreneurs, and SCORE.
My kids, my girlfriend, and my ex-wife.
This has been a journey that has been going on for nearly half of my years, but at no point was I ever alone on this journey, and I'm sure that will continue.
Wherever you are in your entrepreneurial journey, surround yourself with good people who push you to be the best you can be, and try and leave something behind of value.
Looking forward to the next 25 years.
~ The Rich Brooks
Rich Brooks is founder and president of flyte new media, a digital agency in Portland, Maine, that's been in business for 25 years. He is a nationally recognized speaker on entrepreneurship, digital marketing, and social media.
He founded The Agents of Change, an annual conference and weekly podcast that focuses on search, social & mobile marketing. He recently co-founded Fast Forward Maine, a podcast and workshop series for growing Maine businesses.
Rich is the author of The Lead Machine: The Small Business Guide to Digital Marketing, a popular and well-received book that helps entrepreneurs and marketers reach more of their ideal customers online.