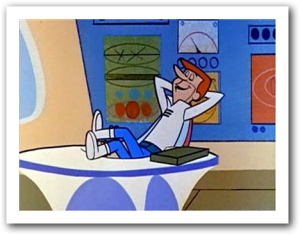 Looking to make your small business more "digital?" Here are some everyday tools that will reduce your reliance on dead trees (though possibly increase your reliance on reading glasses).

There have been so many changes in technology during the seventeen years that flyte's been in business. It affects not just the type of work we do, but how we do it.
Whether you're a web developer or run a doggy day care, it's hard not to notice the new tools that make us more connected, more efficient, and hopefully more profitable in running our small businesses.
Here are a few tools that we use almost every day here at flyte.
Years ago, my project manager would print up our production calendar every week, staple it, and hand it out to our team. We'd sit around the table, make notes, and more or less make the document irrelevant before the meeting was over.
Now, we pull up a Google spreadsheet on the conference room computer and make changes in real time. (We used to project the screen onto the wall, but we found we do better when looking at each other rather than the wall, so now we just huddle around the table as we discuss each project.)
Wikis
Although we've moved away from these in the past few years (due to other options), wikis are great tools for documenting and codifying specific activities your team does.
We've used wikis to document which clients are on our WordPress Care Plan, which prefer to see a test of their email newsletter before it goes out, and whose birthday is coming up next.
I can't imagine running flyte without this amazing project management software. It allows us to setup a project for each new client, assign resources, schedule milestones, coordinate handoffs, upload and store files, document scope creep, and more.
(Since you can rename and brand Basecamp, we call ours "The Hangar." Just one of the oh-so-witty puns we use here at flyte.)
You know what beats walking? Skype. It's nice to have a free piece of software that allows me to text, have group chats, and even do Jetson-like video calls without having to leave my desk and use up precious calories.
However, I may need to get a treadmill desk to make up for it.
We work with clients all over the country, but even our Maine-based clients appreciate not having to come to our offices for every meeting, especially during snowstorms.
We use all three of these video conferencing tools around the office, depending on our need.
I use GoToWebinar to repurpose my in-person presentations as webinars and reach a wider audience. By giving free webinars, we're able to build our email list quickly and cost-effectively.
We use Glance for desktop sharing to train clients remotely. Once we've built a client's website in WordPress, we train them in how to manage their site. When an in-person meeting isn't an option, Glance is a great alternative.
Google Hangouts are fantastic for group video conferencing. I've only recently started using Google Hangouts but I'm immediately starting to see the benefits. Google Hangouts wears many hats, and wears them well.
It allows you to hold group video conferences for free – something that you have to pay for with Skype. Also, the quality of the video appears better than on Skype, although your mileage may vary.
Google Hangouts also integrates well with Google Drive (no surprise there) and handles screen sharing with ease. You can even stream your Hangout live (if you wish) so that more people can watch, or save it directly to YouTube. I've watched some interesting Hangouts with thought leaders where hundreds of people watched online and posted questions to be answered.
Most importantly, you can superimpose funny hats or moustaches on your face, which adds to the professionalism of your Hangout.
Of course, there are plenty of other digital tools we use as well:
Doodle: A great tool for planning meetings with multiple people. It definitely saves time and cuts down on the back and forth.
Fax2Email: Just one of many options that allowed us to transition away from faxes (and fax machines.) Faxes come in as email attachments, and we can email out attachments that arrive as faxes.
Highrise: From the people who brought you Basecamp, this digital rolodex (a.k.a. customer relationship management) allows me to stay on top of clients, customers, prospects, and leads. (Internally we call it The Tower, as in traffic control.)
VoIP: Voice Over Internet Protocol phone systems are much more reliable than they were just a few years ago. We use a VoIP system that allows me to remotely forward phone calls, send recorded voicemails to my email, and most importantly, set up a conference call without hanging up on anyone. (It's also allowed us to completely stop buying those pink "While You Were Out" message pads.)
The list goes on…smartphones and tablets today, wearable tech tomorrow.
The Flip Side
The technology that allows us to run our small business better keeps on changing. While it's important to keep abreast of changes, it's equally important to not let technology become a barrier to getting work done.
For example, we had some pushback from some clients on using Basecamp. A couple said they didn't want to learn a new piece of software just to communicate with us, and another felt like we were hiding behind it. For those customers we send out emails directly or pick up the phone for weekly status updates.
Then we document those conversations in Basecamp (gotta cover our butts).
Takeaway
Digital tools are becoming a more integral part of our workday. They can save us time, money, and make us more efficient and profitable.
Just make sure that the technology you're using to connect with your customers is effective, otherwise you're throwing up unnecessary hurdles for your late adopter customers to overcome, and that can hurt your bottom line.
What digital tools are you using throughout the workday? Share with us and your fellow readers in the comments below.