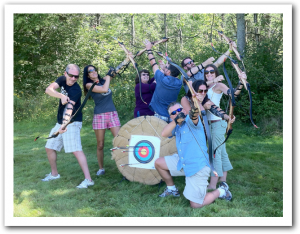 Too often we fall into the trap of hiring people "like us" for our small business because that's what makes us comfortable.
But by developing a diverse workforce, you can come at a challenge from a variety of different angles because of the unique life experiences each of you have. If everyone in your office is similar, you have limited experiences from which to draw…none of which may be helpful in a moment of crisis.
Of course, "diverse" means more than just race. It can mean gender, age, religion, background, physical ability and more.
However, if you do have a varied group of employees, sometimes the differences seem more obvious than the similarities. You'll need to find ways in and outside of the office to build a team that works well together.
At the same time, a trust building weekend at a luxury hotel may be more than most small businesses can afford.
The trick is to find activities that fit your budget, foster relationships, and help create positive, lasting memories.
Here are ten affordable team-building exercises that can help that don't require you to hold hands, do trust falls, or sing Kumbaya:
1. Play hooky for the afternoon.
Take the team out for an afternoon at a local pool hall or bowling alley. Both are affordable, and you can probably find ones that do and don't serve alcohol, depending on your company handbook.
2. Start a Book Club 
As is the case with most book clubs, make sure that each employee gets a turn at picking a book. This can be something that's held monthly in the lunchroom or done after work.
(If it's company sponsored, you may want to set some ground rules, like 50 Shades of Gray is off-limits. And poorly written.)
One important thing to remember—from book clubs to gardening clubs to jogging clubs—this can't be company mandated, or end up in the employee's permanent file based on whether they join or don't join.
The moment they feel that this is a forced death march, morale plummets.
3.  Get outside.
Depending on where you live, you can find some great outdoor activities.
We recently had a day out at an archery range run by L.L. Bean's Outdoor Center.  While few of us had a lot of experience playing with a bow and arrow, it was a fun morning out of the office, and we all had some good stories to tell afterward.
If you are going to do a physical activity, make sure it's something that everyone in the company can take part in. A day of rock climbing or spelunking may not mix well with a sedentary work force. 
4. Volunteer together.
Whether it's a Saturday in a soup kitchen or working with Habitat for Humanity to put a roof over a needy family's head, pulling together for a cause can turn even the most cynical of your work staff into an old softie.
Plus, you're doing something good for the community. 
5. Lunch & learns.
Bring in an expert and enough pizza to feed the group once a month. Maybe one month you bring in a financial planner to help people set up their 401's and 529's.
The following month bring in a dietician who creates unique meal plans for each employee. After that, hire an extreme couponer and learn how to find the best deals online and off.
Make the meetings optional, but throw in the pizza as an enticement.
6. Get the whole family involved.
Plan an afternoon picnic at a local park and invite spouses, kids, and significant others to join you.
You can ask someone to arrange some kid games like kick the can or spoon races. Make sure you pack some Frisbees, footballs or playing cards in your trunk, depending on your staff.
7. Root for the home team.
OK, taking the team out to a sporting event can get pricey, but it doesn't have to be tailgating at an NFL game.
Most cities have a minor league team in one of the major sports. Near our offices there are NASCAR races every Thursday during the summer, and the Sea Dogs, Red Claws and Pirates play baseball, basketball and hockey, respectively.
There's even a roller derby league. 🙂
You might be surprised what's around and what's affordable.
8. BBQ at the Boss's House.
Make it a potluck and ask everyone to bring his or her favorite childhood dish.
Yes, you might get six dishes of American Chop Suey, but at least there will be leftovers.
While catered events are nice, potluck gives the event a more relaxed, intimate feel.
9. Play games.
While not all employees relish the idea of playing games—whether over lunch, after work or at a retreat—generally once it gets started the competitive juices take over.
Make sure that the games are team-based, and find games that require diversity in a team, like trivia or Pictionary.
10. Ask your employees what activities they want to engage in.
The best activities that bring a team together come from the bottom up. Ask your team for input and suggestions on what you could do as a company.
Over the past few years the flyte crew has gone bowling together, practiced archery, and taken a day cruise on a wind jammer…all suggestions that came from my employees.
Now it's your turn…what affordable team building experiences have you been part of, and how did it turn out?
Rich Brooks
Don't Try This At Work  
I am blogging on behalf of Visa Business and received compensation for my time from Visa for sharing my views in this post, but the views expressed here are solely mine, not Visa's. Visit http://facebook.com/visasmallbiz to take a look at the reinvented Facebook Page: Well Sourced by Visa Business. The Page serves as a space where small business owners can access educational resources, read success stories from other business owners, engage with peers, and find tips to help businesses run more efficiently. Every month, the Page will introduce a new theme that will focus on a topic important to a small business owner's success. For additional tips and advice, and information about Visa's small business solutions, follow @VisaSmallBiz and visit http://visa.com/business.