Can't find your website on Google? You'll need to engage in some search engine optimization (SEO). Here's how to get started.
Dear Rich,
I've had a website for years but people tell me they can't find me at Google. What am I doing wrong? How can I get on the first page of Google and other search engines?
–Invisible in Islesboro
Dear Invisible,
Good question. Without knowing your website I can't give you the exact reasons why your site doesn't show up in Google, but I can give you some common reasons why you may be difficult to find when your prospects are searching for you.
1. You've got little to no content on your home page and other important pages on your site. Many web designers (and site owners) like big, beautiful pictures on their home pages and feel text just "gets in the way." Unfortunately, search engines are (still mostly) blind. They can't see the beautiful view from your waterfront rooms, the stocked shelves of your natural food store, or the quality craftsmanship in your handmade, wooden toys.
Solution: Bite the bullet and add some words. The text should include some keyword-rich copy (in other words, use the words in your copy that your prospects are searching for) and then link those words to the pages on your site where they can find more information.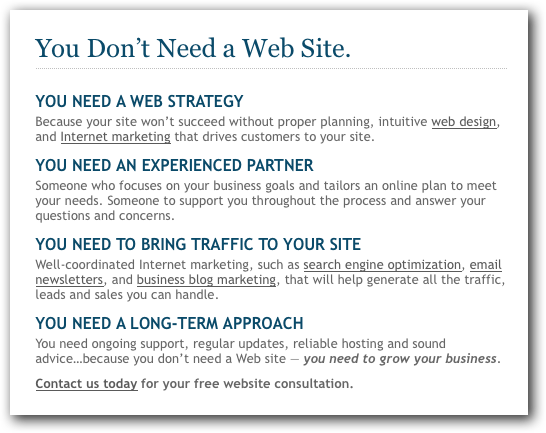 2. Your page titles aren't descriptive. Ask the opinions of two search engine experts and get three different opinions, but almost all search engine marketers agree that your title tag is critical to your search engine visibility.
Too often companies have generic title tags, or just have their company name as the title, or use the same title on every single page…a huge missed opportunity.
The page title is made up of the words that appear in the title bar of a web page; they let the search engines know what this page is about. Your title tags should be keyword-rich, descriptive, and specific to the content on the page. Here are some examples from our website.
You'll notice that each one is unique, keyword rich, and focused on the content on that particular page.
3. You're using the wrong keywords on your site. This is a tough one. Maybe you're using technical terms but your audience isn't familiar with the language. You're writing about your vocal stylings and they're searching for a wedding singer. Or you've coined a term that differentiates your business…but no one is searching for that term.
Or you're targeting a keyword that's too broad, such as travel or coach. Those terms are so broad there's little chance anyone will find you for them. Instead, you might do better targeting to a narrower niche, such as Maine family adventure travel or leadership coaching for non-profit professionals.
Solution: Perform some keyword analysis of the phrases you'd like to rank well for or that you think your prospects are searching for. While there are some powerful for pay tools out there, you can start with Google Adwords Keyword Tool.
Put in your keywords: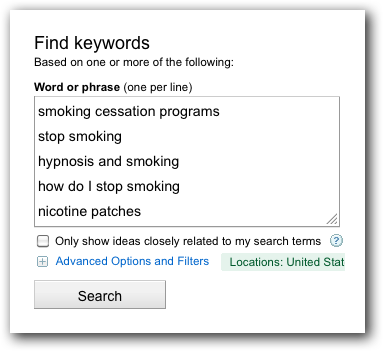 And reap the results: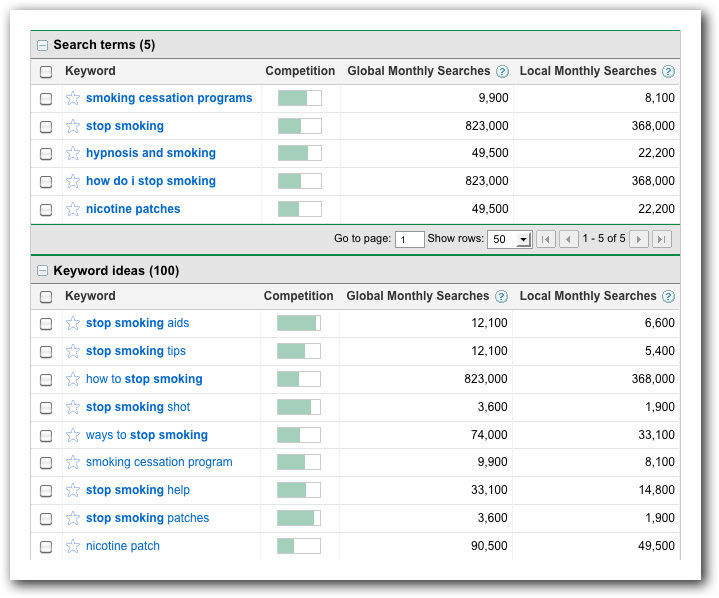 (And, yeah, we can help you with your search engine optimization if you don't want to do it all yourself.)
4. You put all of your products/services on the same page. Google and the other search engines prefer focused pages. They are hungry for rich detail so that they know if they should recommend your page (or your competitor's page) to your prospects. You need to help them out.
Solution: Instead of listing your five service areas on the same page under the header "Services" create a unique page for each service. Give each page a unique page title, strong header, go into more detail about the service in the body copy, consider adding photos or video, and create links to all the other services pages.
If you've got dozens of services (or products) you may choose to highlight the most important (or lucrative) and bundle the rest onto a single page. If you can't think of how you can create unique content for each service (think 300 – 500 words minimum), then consider writing up a case study of someone you helped to round out the page, or include a testimonial.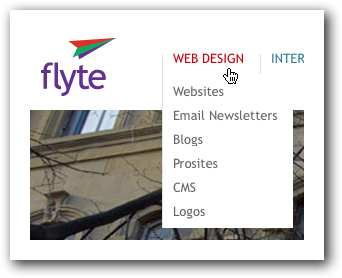 5. You've been hacked, blacklisted, have some technical problem on your site. It happens to the best of us: some scummy guy from across the hemisphere has hacked your site or your host company for some nefarious purpose…or just to see if he could do it. 
Solution: Sign up for Google Search Console, (formerly Google Webmaster Tools, a free service from Google that will provide you with loads of cool tools and alert you to anything that's keeping your site from getting indexed by the search engines.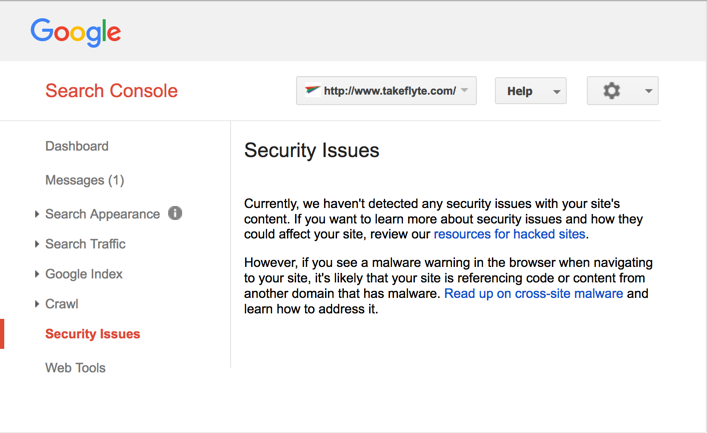 Takeaways:
This is just the starting point for increasing your search engine visibility and "finding yourself" on Google. I'd also recommend adding a blog to your website, starting an email newsletter and archiving past newsletters on your site, adding videos, getting inbound links and a whole lot more.
However, if you're more or less invisible on the search engines, or they're not delivering the amount of traffic you were expecting, then start with these five tips for improving your search engine visibility.