For the past few weeks I've been using NutshellMail, an email tool that helps business owners and marketers better manage their time and networks though flexible email delivery.
NutshellMail rocks.
I could stop my review at this point, but you'd probably want some more information before trying out NutshellMail for yourself.
Setting Up NutshellMail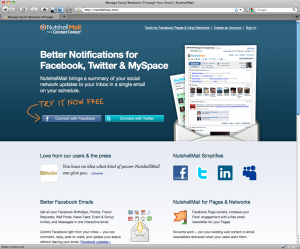 Setup is free and easy. Just visit the NutshellMail web site and click on "Create an Account" in the upper right corner.
From there you'll be taken to a page where you enter in your email, create a password, and choose which of your social media accounts you want to receive updates from.
Currently NutshellMail supports Facebook, Twitter, MySpace & LinkedIn.
For networks that allow multiple accounts (Twitter & MySpace) you can enter multiple accounts. For Facebook, you can get your personal activity, as well as activity from your pages.
Once you've set this all up I recommend going with the default settings at first; once you receive a few emails from Nutshell you'll be able to tweak your account to maximize its effectiveness for you.
Customizing NutshellMail for Maximum Efficiency
What I may like best about Nutshell is how easy it is to customize the emails you receive. By default, Nutshell will craft an email of all your online activity three times a day, 7 days a week. However, it's easy enough to have it deliver 1, 2 or 24 times a day. Or not on the weekends. Or only on the weekends. Maybe you just want a daily digest delivered at noon so you can see what's going on while you eat lunch at your desk.
(BTW, eating lunch at your desk every day is the leading cause of job dissatisfaction, so go out to eat or chat up someone new in the lunchroom. Like that cutie from accounting.)
Customizing Twitter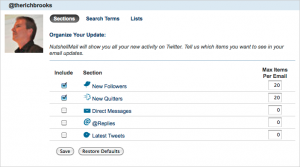 As you use Nutshell more, you'll also want to tweak what messages get delivered in your email. For example, for each Twitter account you'll get information on:
New Followers (20 max)
New Quitters (20 max)
Latest Direct messages (20 max)
Latest @replies (20 max)
Latest tweets (20 max)
Now, since I have two monitors and one of them is dedicated exclusively to TweetDeck–except, you know, when I have to do work–seeing my most recent 20 DMs, replies and tweets is redundant. However, getting a list of my most recent quitters is pure gold, and let's me see how many people were just following me for the follow back.
The downside of that is seeing some legitimate people quit you, but life goes on.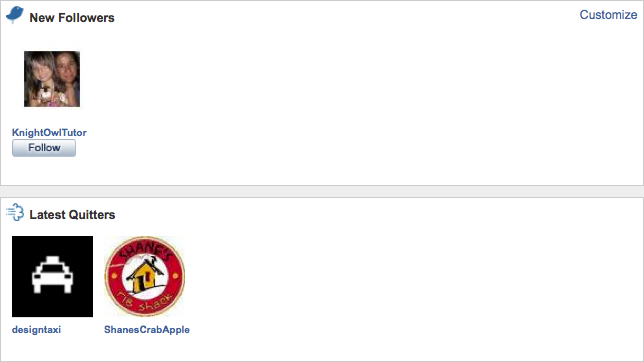 As you can see from this screen capture you have the option to one-click follow new followers (assuming you're not already following them.) Likewise, if you're following any of your latest quitters there's a one-click option to unfollow them back. You can also change the customization from any Nutshell email by clicking on the "Customize" link in most sections.
You can further customize your Twitter section by including saved searches that you want to follow (like the name of your business, your personal name, industry terms, or the names of American Idol contestants.
Nutshellmail also gives you a digest of any or all of your Twitter lists, and again this is completely customizable: include or exclude the latest tweets from any of your Twitter lists, or change the maximum items per email.
Customizing Facebook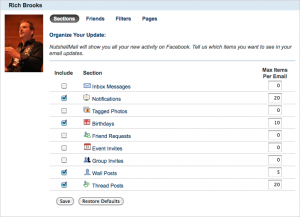 You have even more control of customizing the information you get from Facebook, but a lot of it is based on how you have your Facebook account set up.
For example, because I already get so many emails from Facebook, I chose not to include messages from my Inbox, notices of me being tagged in photos, friend requests, etc.
Alternatively, maybe it makes more sense to flip that: stop those messages from Facebook and instead filter them through NutshellMail. I certainly love getting the email updates about friend's birthdays…a lifelong weakness of mine.
You can further customize your account by selecting which groups of friends you want to see updates from. This, of course, only works if you have been putting your friends into groups at Facebook.
And although Nutshell offers some filters, it doesn't filter out Farmville updates. (Damn, you, Farmville!) However, my friend and Social Media FTW co-founder Jaica Kinsman just taught me last night how to filter those pesky Farmville (or Mafia Wars, or whatever) posts out of your feed. But that's a subject for my next blog post.
Another thing that Nutshell offers that Facebook doesn't (to the best of my understanding) is that it will send updates from your pages. One of the shortcomings of a Facebook business page is that someone can leave a comment and you don't know until you visit your page again. If they comment on an older thread you may not even see it. NutshellMail allows you to get updates from all your favorite Facebook business pages, whether you admin them or not.
Customizing LinkedIn
There's not as much customization for LinkedIn, but that may have to do more with LI's API than anything else. You can get updates on new recommendations, profile updates and other items you're interested in. Since I don't use LinkedIn as a way of staying in touch with people on a daily basis (like I do with Twitter and Facebook), I tend to ignore the LinkedIn section, but your mileage may vary.
Customizing MySpace
I'm guessing there's customization on MySpace, too, but since I never use this for business you're on your own. If you do use NutshellMail for MySpace updates feel free to leave your thoughts in the comments section.
What's Missing
Sometimes what's missing, or purposefully left out, is more important that what was put in. What's nice about Nutshell is the ease-of-use, no matter your level of expertise. That being said, somethings I don't believe you can do in Nutshell:
Subscribe to a blog's RSS feed (a list of new blog titles and perhaps a snippet of text would be helpful)
Respond to posts, tweets and updates (although you're usually just a click away)
Integrate other social media sites (blip.fm, plaxo, etc. NutshellMail feels particularly American since many of the popular non-US social networking sites aren't included.)
NutshellMail: In Conclusion
Whether you're just starting with social media networking and feeling overwhelmed, or you're a power user looking to maximize your efficiency to stay on top of all of your networks, NutshellMail can be customized to serve your needs.
I've only been using it for a couple of weeks and already I can't image working without it.