Five Ways to Use Your Facebook Profile to Build Your Business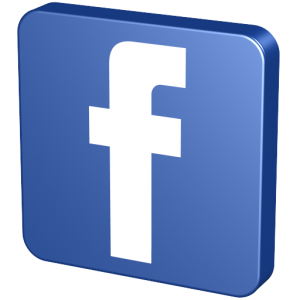 Is your Facebook business page going unnoticed? Are the posts there getting no likes, comments or shares? Are you struggling to build an engaged fan base?
ATTENTION: Join us on 5/30/2013 for a FREE live webinar on Turning Likes Into Sales.

It may be that you're overlooking the power of your personal profile. In this article I'll show you how to leverage your personal Facebook profile to grow your business.
First things first: I know many people out there want to keep their business and personal lives separate on Facebook. With a few extra clicks in your Facebook settings, you can configure who sees which updates you post.
Photos from your kid's birthday party gets hidden from your "networking" pals, and a post about your upcoming webinar won't bore your family and friends to tears.
Or, you may choose to live the life of the modern entrepreneur and share your life as the mixture of business and pleasure that it actually is.
Why isn't my company getting much engagement?
We generally find other people more interesting than companies, meaning we're more likely to engage people than brands on Facebook. Compound that with recent changes in Facebook's algorithm, and most of your company updates will only be seen by 16% of your fans…the people who have "liked" your page.
If you're willing to work the networking angle of Facebook, you can greatly increase that reach. However, abuse this power and even your mom will mute or unfriend you.
1. Start by finding your real world contacts you're not "friends" with yet.
The Facebook Find Friends Browser is a great tool to catch up with people from your past. Facebook will help you track down people from your hometown, college, previous jobs and more.
I'm not suggesting you randomly friend everyone with whom you've ever shared a beer, coffee or chocolate milk.
However, I've had people reconnect with me, ask what I do, and then say, "that's so funny, I was just looking for a…." Next thing you know, contracts are being signed because there's a trust built up from our shared history.
2. Engage your friends in the timeline.
When you're logged in as your company, you can't really engage with your fans unless they're commenting on your page. As a friend, you can like, comment and share just about anything they post. Your activity—especially comments and shares—will be noticed by your friends and their friends, increasing your visibility.
3. Chat your friends up.
Most of your friends have Facebook chat enabled. Haven't seen someone in a while, but they pop up as available to chat? Go ahead and send them a quick message. It's amazing what a one-on-one chat will do to hold you over until the next face-to-face.
One marketer shared with me that when he sends "like my page" requests via chat he has a 48% success rate, compared to 9% through Facebook invites.
That being said, I personally can't stand when people I'm not close to ask me to like their business page in a chat window, so use your best judgment.
4. Tag your friends in photos.
This is especially powerful if you have photos on your business page of a recent event that friends attended. Once you post the photos as your business, tag people as yourself.
Not only will they be alerted that they've been tagged, but their friends may see that activity, too. As they and their friends like and comment on the photos, your page's engagement goes up.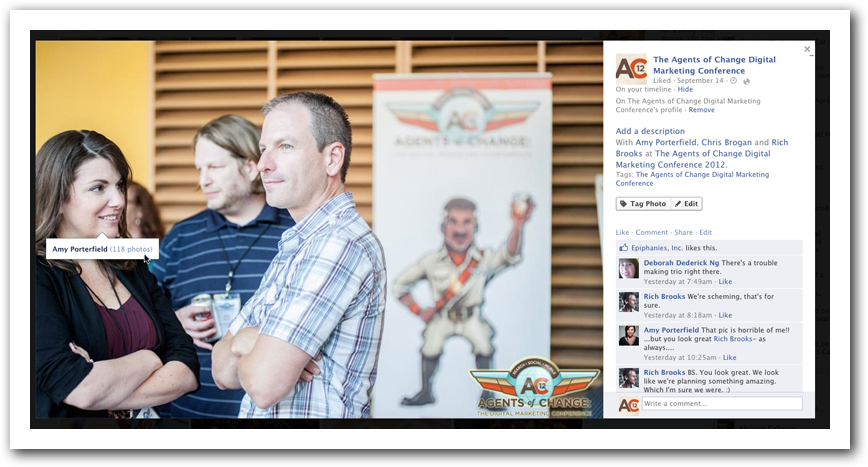 5. Share your business page updates.
Be sure to like, comment and share your business page updates as yourself.
Like and leave a comment as yourself for almost everything you post as your business; this can prime the pump and encourage other people to engage with your content.
Shares carry more weight and are more powerful than a like or comment, but they should be used with discretion. It might be best to only share the best, most engaging content so your don't exhaust your personal good will.
Any engagement you get with your personal share counts towards your page's engagement rating, so don't worry about diluting the reach of a business page update.
Takeaways
If you're comfortable blurring the lines between business and fun on Facebook, you can greatly increase your company's reach and engagement. This in turn can help grow your business.
Even if you prefer a separation of "church and state" when it comes to your company, you can use Facebook's privacy settings to have two de facto personalities on Facebook: one for business and one for family and friends.
Let's call it the mullet approach to Facebook marketing: business up front, party in the back.
If you need help marketing your business on Facebook, please contact flyte new media today.
Rich Brooks
President, flyte new media