How to Setup Your Company Page on LinkedIn
You probably know about all the benefits of having a LinkedIn profile for you and your co-workers. But if you're not using LinkedIn's company pages then you're missing out on a huge opportunity to reach an even wider audience and build your business online.
Company pages are different than LinkedIn Groups, which many companies set up to stimulate discussions. They're more like Facebook's business pages: they act as your business's digital soapbox and a place for you to promote your products, services and job opportunities.
Building your company page on LinkedIn is free and easy to start.
Creating a Company Page
To get started just choose Companies from the navigation menu and then click "Add a Company." Jump through a few verification hoops and you've got your business on LinkedIn…congrats!
But wait…there's more!
Like building a fan base on Facebook, you can attract followers on LinkedIn; prospects, vendors, partners and job seekers who can see your company's activity from their home page.
Once your page is created you'll see four tabs: Overview, Careers, Services & Analytics. Let's break those down.

The Overview Tab
From your overview tab you'll be able to create your business profile. You should complete all the fields available to you, from the company contact information, to uploading a logo, to specialties, to your blog feed and more.
Leave no field blank as each represents an opportunity for someone to find you.
LinkedIn now allows you to post updates that will be seen by your followers, so it's a good idea of getting in the habit of posting an update to your company page regularly.
You'll need to first activate your ability to post updates. From the Overview tab change the "Company Pages Admins" from "All Employees" to "Designated users only."  Once you choose at least one admin (including yourself) you'll be able to post updates that will show on your followers' home pages.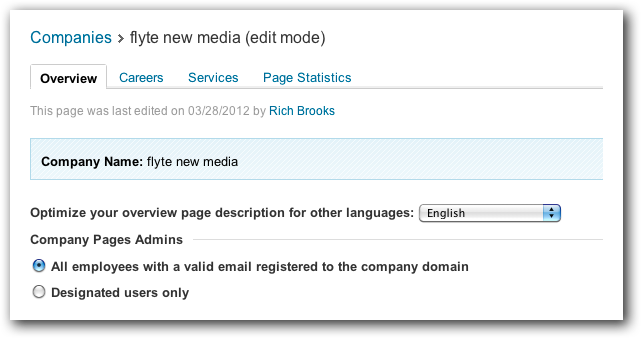 This is a powerful method to engage your audience. Since your followers may not regularly revisit your company page on LinkedIn, your best opportunity of getting seen is through regular updates that appear on their home page.
Therefore posting regular, valuable updates that are interesting to your target audience is a critical aspect of building your business on LinkedIn.
The Careers Tab
If part of your LinkedIn strategy is to attract the best and the brightest, you'll want to post your job openings to the Careers tab.
If recruitment is an ongoing activity for your company you may want to explore the Premium Career Pages to really differentiate your business.
The Services Tab
This tab allows you to spotlight some of the best products and services you offer. You can create rich descriptions of each service, upload photos, and even embed YouTube videos to help tell your story. 
To further engage your audience you can gather recommendations, offer a special deal, and include calls-to-action with photos of the members of your team they should contact for more information. You can even promote your product or service through LinkedIn advertising.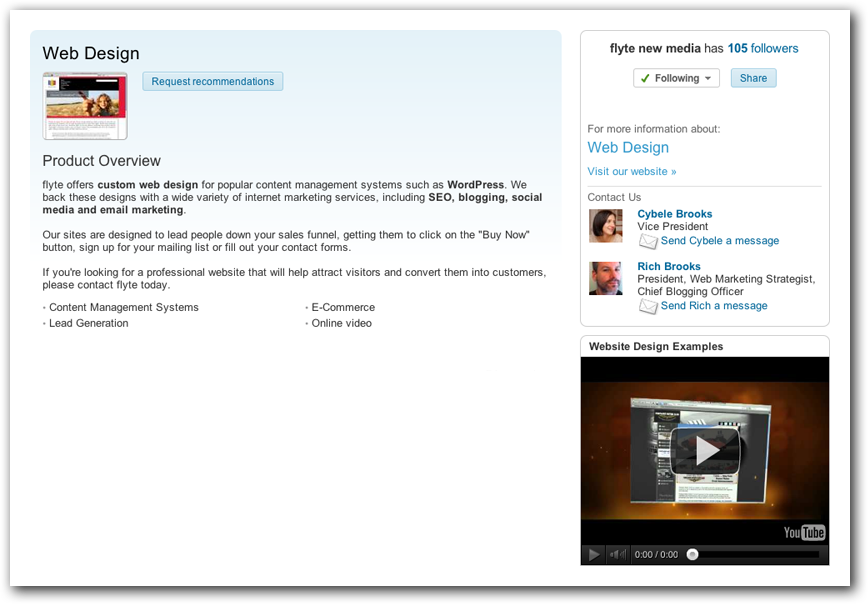 The Page Statistics Tab
Curious to know how many people are visiting your company page, or what industries are checking you out? Your page statistics tab can give you these numbers and more.
How to Get Followers for Your Company on LinkedIn
Whether your goal is to attract talent or customers, your success depends on getting people to follow you. Here are some tips that will help you build an audience: 
Complete your company profile. The more customized your company page is, the more attractive it will be to other professionals.
Add a follow button to your company website and blog. Easy to install, you'll build a steady following this way.
Promote your company's vanity URL. Your company will have a vanity URL created for it when you set it up, like http://www.linkedin.com/companies/flyte-new-media that can be promoted in email signatures, newsletters and more.
Use LinkedIn ads. You can engage in advertising to promote your business, product, service, or job openings, with highly targeted, pay-for-performance ads that drive traffic back to your company page.
Takeaways
Regardless of your size, if you offer products or services to other businesses, creating an engaging company page on LinkedIn is critical to your growth and success.
Take advantage of LinkedIn's company pages to build awareness of your business, products and services and job openings to your targeted audience.
If you need help developing a LinkedIn strategy for yourself or your business, please contact flyte new media today.