FACEBOOK TIMELINE FOR SMALL BUSINESS
Confused about the big changes Facebook just rolled out for your business page? Relax. Here's how to move to the Timeline painlessly.
ATTENTION: Join us on 5/30/2013 for a FREE live webinar on Turning Likes Into Sales.
Facebook just announced some of the biggest changes for your business pages ever, and you've only got until the end of this month before you're dragged—perhaps kicking and screaming—into the next phase of Facebook's evolution: Timelines for Brands.
While it's a bit too early for best practices, we wanted to put together a primer for you so that you can make the changes before the March 30th deadline.
What is Timeline for Brands?
You've probably already seen the timeline layout on friends' profile pages.
The biggest visual element is the Cover Photo…the big image that stretches across the top of your page.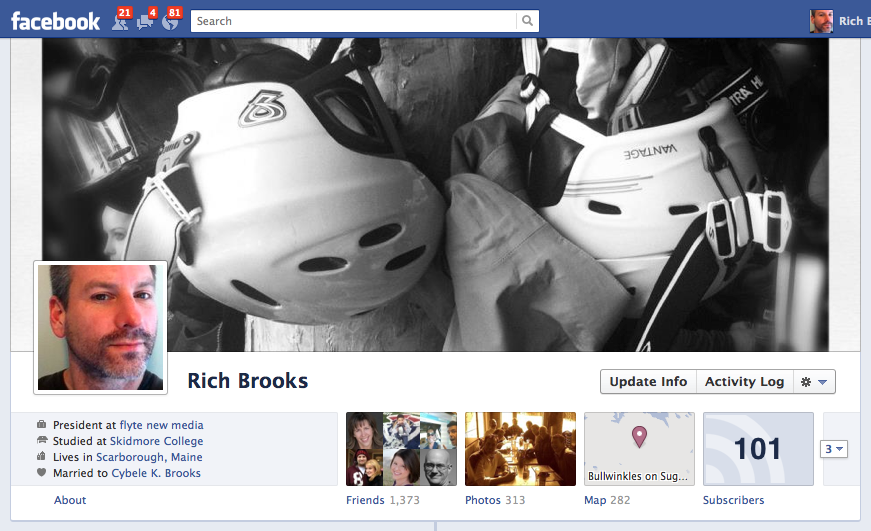 The good news is that you'll be able to have an eye-catching, branded image across the top of your page. The bad news is that you can no longer automatically redirect people to a landing page to solicit likes.  
This will force a major change in how brands try and engage their audience and build their fan base.
Later in this article I'll share some thoughts on how you can continue to build your Facebook audience.
What can you do to prepare for the changes?
Start by creating a compelling Cover Photo that helps tell your story.
It could be a product shot, or people using your service, or whatever makes sense for you.
There are a few things Facebook doesn't allow in your Cover Photo:
Price or purchase information, such as "40% off" or "Download it at our website"
Contact information, such as web address, email, mailing address or other information intended for your Page's About section
References to user interface elements, such as Like or Share, or any other Facebook site features
Calls to action, such as "Get it now" or "Tell your friends"
The optimal size for a Cover Photo is 851 x 315 pixels. But remember that your profile photo will overlap your cover photo, so build around it.
I've created a template below that you can download and use to develop your own cover photo.

Improve the icons for your custom tabs, er, Views and Apps.
The custom Facebook tabs you created have been moved from the left column to a bigger, more prominent position and renamed Views and Apps.
That's both good and bad.
The good news is that you can draw more attention to important apps you've created, driving traffic to shopping or events pages. The bad news is that the images you created for custom tabs may be underwhelming when you first make the switch.

You're also limited to only four tabs showing, and the first one must be Photos–why, Facebook, why?!?–so choose carefully. You can arrange the remaining tabs however you wish.

Make sure your profile picture still works.
On your current/previous business page, your profile picture is cropped from your left sidebar image. The timeline gets rid of this ubiquitous sidebar image, although your profile picture carries over.
Chances are your profile photo still works, although you may want to double-check how it looks. And, since your profile photo sits on top of your cover photo, you may be able to come up with some creative juxtaposition of the two images.
Just make sure that the profile photo works on its own, since it represents your brand on Facebook anywhere you post or comment. Your profile photo is 180 x 180 on your page, 32 x 32 on other parts of Facebook.
Promote your best stories.
Facebook Timelines give you two new ways to promote your best stories to engage your audience. 
Highlight: By default, updates to your page appear on either the left or right of the timeline which divides the page. By rolling over any of your page's posts (but not your fans' posts) you can highlight the post and expand it to the full width of the page, making it more prominent.
 
Pin: As you roll over an update, you can also click on the edit icon and choose to pin the post, which will make it appear at the top of your timeline, increasing its visibility. Again, you can only do this to your page's posts. You can only pin one item at a time and after seven days the post will return to its regular place in your timeline. (You can always re-pin it.)
 
Rethink your Facebook marketing strategies.
With landing tabs a thing of the past, businesses are going to have to rethink their strategies to get likes and appear in their fans' newsfeeds.
One surefire way is to pay for attention. Facebook is rolling out new tools like the "Reach Generator" and continues to offer options like targeted ads and sponsored stories. You can get an overview of your advertising options on the Facebook for Business page. 
Once people are at your page it's critical that you get the like. However, keep in mind that you can't redirect someone to a custom app any more, and you can't ask for the like in your cover photo.
So, what can you do?
While Facebook won't let you run a raffle off your page (unless you're going through an approved 3rd party app), you are allowed to offer something to everyone who likes your page.
You should consider offering a discount or similar enticement and promote it through one of the first four Apps on your page. Using some scripting, you can show a coupon or discount code on the custom tab once someone has liked your page.
For example, flyte could give a 25% discount to all fans to our upcoming webinars. This would be promoted via the Views and Apps bar, driving traffic to that page. Once there, fans would see the discount while non-fans would be asked to like the page first. This appears to still be kosher under Facebook rules.
Takeaways
The Facebook Timeline represents a major change for how brands will use the platform, but companies that embrace the changes can get even more engagement with their audience.
Make sure your cover photo, profile picture and apps are ready to go by the changeover and you'll be ahead of your competition.
Follow up with targeted ads and regular updates and you'll be sure to shine.
If you need help with your Facebook timeline design, custom apps or like gates, flyte new media is here to help. Contact us today.