Google Plus recently allowed businesses to "set up shop." Here's how you can carve out a space for your business at social media's newest outpost.
Google Plus (or Google+) is Google's latest attempt at creating a social media platform to take on Facebook and Twitter. At first it was only open to individuals, but recently Google allowed businesses, non-profits, brands, and just about any other thing that's not a person to set up a page.
Although the process is pretty straight forward, I created a video which you can watch below or view at YouTube (How to Create a Google+ Business Page in Under 3 Minutes.)
Some things you should know before you get started:
You'll need your own Google+ account. Since Google+ is now open to the general public, this shouldn't be much of a barrier. You can create your own profile here.
Start building your own page by clicking on the "Create a Google+ page" link in the right column.
Currently there's not much difference between business pages and personal profiles. In fact, the biggest difference so far is that you can't add people to your business's circles until they've added you.
Currently there's not a lot of add-ons like there is with Facebook business pages. You can't create landing pages, pull in RSS feeds, or get any type of analytics. Also, it appears that only one person can be an administrator of a page. One would assume that all this will change over time if Google's serious about challenging Facebook.
Once you've created your page, you can toggle between your personal profile and business page by clicking on the link next to your profile picture.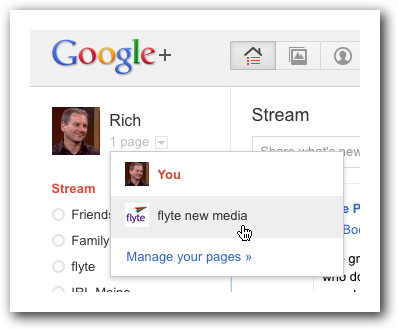 So, what are you waiting for? Go ahead and build your own Google+ page. And in the meantime, please add flyte new media to your own circles on Google+.