FACEBOOK MARKETING: UNDERSTANDING EDGERANK
ATTENTION: Join us on 5/30/2013 for a FREE live webinar on Turning Likes Into Sales.
Show of hands: how many of you are on Facebook?(The sound you just heard was the noise of 700 million hands being raised.)
When you log into Facebook you're presented with your News Feed; recent updates from your friends and pages you've liked. It's Facebook's way of letting you know what's going on in your world.
Except that you don't see all your friends' activity, or updates from all the pages you've liked. Facebook determines what gets into your News Feed with an algorithm called EdgeRank.
So, how does EdgeRank affect your business? Well, most people, even when they've liked your page, don't regularly return to it (if ever). The only time they're going to see your updates is when you appear in their News Feed.
In short, to engage your audience you need to get into their News Feed. To get into their News Feed, you have to understand and increase your EdgeRank.
EdgeRank has three important variables:
Affinity: how much affinity a person has for your brand. In short, if they've liked or commented on your posts in the past, you're more likely to show up in their News Feed. Affinity only works one way, however; no matter how much you comment on their activity, it has no direct impact.
Weight: Facebook sees everything you publish as an "object." Each comment or like an object gets adds to its weight, increasing the chances it will appear in someone's News Feed. That makes it easier for them to comment on it, helping it get into even more News Feeds for even more comments and likes. It's a virtuous cycle.
Time: no matter how popular your update may be, over time it's no longer "news" and it's chances of showing up in a News Feed decreases.
So how can you increase your EdgeRank?
Post items that encourage engagement. Ask questions that require short, easy responses. Mint.com does a great job of this with updates like, "In 5 words or less, what's the best financial decision you've ever made?"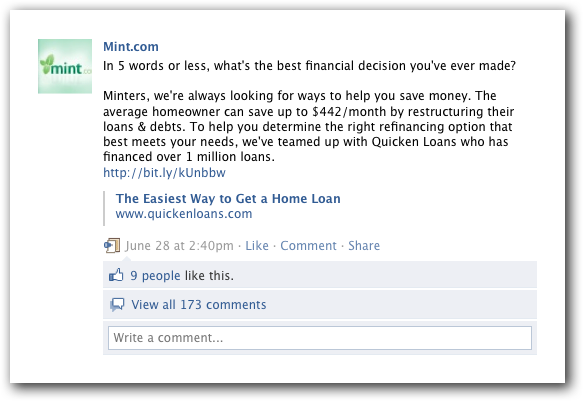 Use photos and videos. The tiny thumbnails Facebook uses almost require someone to click on them to see what's going on. (Or maybe I'm just getting old.) Couple this with a question or caption contest and you can really increase your visibility.
Choose your moment wisely. If your target audience is work-at-home moms, you may want to post something after the kids have gotten on the school bus. If they're office dwellers, maybe lunchtime is your sweet spot. You may need experiment a bit to find the time your audience is most likely to see your updates.
Seed your updates. Sometimes you need a "fire starter" or two. Message some friends and fans privately asking if they'll comment or like an update. Use other platforms like Twitter or LinkedIn to drive people to the update.
Use Facebook advertising. If you need to re-engage people who have liked your page in the past, you might want to target those people through inexpensive Facebook ads. Remember: you can target your ads to people who have already liked your page.

Unhook your automated posts. Tools like HootSuite, NetworkedBlogs and even TweetDeck make the life of the busy social media marketer easier, but they water-down the impact of your posts. Manually post your updates to Facebook for maximum effect.
Post regularly. Try and post every day so that you increase your chances of getting in front of your fans.
Become a fan of flyte new media on Facebook. While there's no evidence to show that this has any direct impact on your EdgeRank, it's better to be safe than sorry. Plus, we share a lot of great tips on Facebook marketing and EdgeRank, which will surely increase the effectiveness of your Facebook page.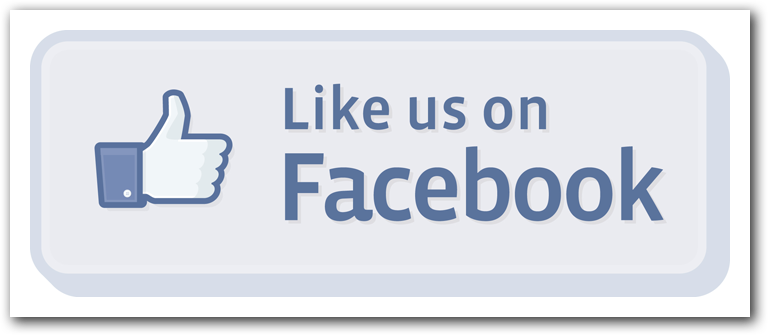 In Conclusion
Like search engines, Facebook will undoubtedly tweak EdgeRank to improve it and to keep Facebook marketers from becoming too complacent. However, focusing on creating engaging content and posting regularly is sure to help any business or non-profit improve their Facebook marketing effectiveness.
If you need help setting up your Facebook page, improving your results, or creating content that engages your audience, please contact flyte new media today.
Additional Reading: