LOCAL SEARCH: GET LISTED, GET BUSINESS
Whether your business is geographically challenged—you share an area code with most of your customers—or your prospects live in every corner of the globe, local search is important. Local search can help drive traffic to your site or store, and help grow your business both online and off.
Why is Local Search So Important?
Local search gives you another opportunity of appearing on the first page of a search, often above the "organic" results. This is especially true as people get better at search, adding city names to their queries.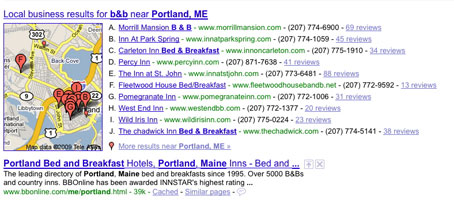 And, as more people tote mobile devices wherever they go, what's "nearby" will likewise increase in relevance when people perform searches on their smart phones.
How Do I Rank Higher in Local Search?
In a recent article, some of the top local search experts weighed in on the importance of different variables in ranking well for local search. The entire local search article can be found here but these are some of the highlights that affect how your LBL (local business listing) ranks:
Claim your listing. Verifying your business listing is an essential first step, giving you access to how your business appears in the results. I recommend using GetListed.org, a site that walks you through the process of claiming your listing at Google and other important search engines.
Location, location, location…to a point. Not surprisingly, search engines want to see that you're physically located in Detroit if someone's searching for a Detroit hairdresser. You can also get a boost by including the location name in your LBL title or description. However, your proximity to the city center seems to have decreased in importance over the last year.
Categorize yourself properly. Once you've claimed your listing, you can place your business in appropriate, keyword-rich categories.
• Product or service keyword in LBL title. If you're a landscaper, it helps to have "landscaper" in your LBL title. However, stuffing your title with keywords may backfire. The experts believe it can help in your LBL description, too, but not as much.
Internet Yellow Pages (IYP) citations. Getting listed in IYPs can have an impact on your local visibility, as search engines rely on these databases for information. Check out sites like Superpages.com and view your listing there. Some experts have found that a paid listing there can further enhance your visibility.
Quality, volume and velocity of customer reviews. Businesses with many good reviews that come in regularly tend to do better than those that don't. Check out this blog post on how to review a business at Google.
Forget toll-free. 800 numbers alone won't do you any good with local listings…in fact it might hurt. Make sure you include your local phone number instead or in addition.
In Conclusion
There are a number of steps you can take to outrank your competition in local search. If most of your business is local, or if you're located in a tourist destination, then this is essential work to increase your online visibility.
If you need help to improve your local or organic search visibility contact flyte new media today.
–Rich Brooks
President, flyte new media