SEARCH ENGINE OPTIMIZATION: STOP GUESSING AND START RESEARCHING
In our last issue, Spider-man was fighting Doc Ock while a worried Aunt May wondered why Peter hadn't come back with her smokes….
Wait, that wasn't our last issue.
In our last issue we talked about five ways that our prospects might search for our products or services and how to brainstorm a list that addresses these different methods.
However, generating a list of possible search terms is only part of the battle. Often we're too close to our own business or industry to know which phrases "lay people" might use. We need to test our assumptions to discover how often different phrases are being searched for, and how much "competition" we have from other sites that target these same phrases.
There are several keyword research tools out there including Word Tracker and Overture, but my recent tool of choice has been Trellian's Keyword Discovery (KD). KD is a paid service: a one-month subscription is $49.95 and a year is $390. However, you can register for a free trial.
Once you've set up an account at KD you can begin researching your keyphrases by entering them one at a time. You can perform different types of searches, including a basic search, a related terms search, a "fuzzy" search and a search for misspellings.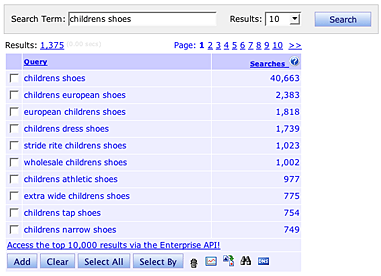 KD will return results, showing the number of times that keyphrase has been searched for in the past year. Click on the "analyze" button and KD will also return the number of competing sites and your Keyword Effectiveness Indicator (KEI) on a scale of 1 – 10, 10 being the most effective.
Note: To run the "analyze" feature at KD you'll need a code called the Google API. (Don't worry; it's not as geeky as it sounds and it's completely free. You can get one here.)
You can save any promising keyphrases to a "project" so you can compare multiple results on one screen. You can also have multiple projects under your account at the same time.
Keyword Discovery in Action
With the summer fast approaching here in Maine, a young man's thoughts turn to lobster. For the sake of this example, let's assume we're starting a Web site to sell lobster dinners.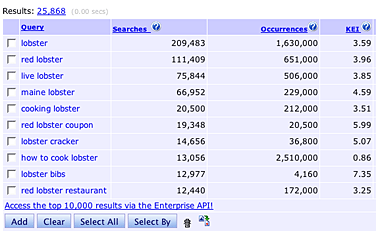 After performing some different lobster searches, I can see that "maine lobster," "lobster bibs," "lobster cracker," and "red lobster coupon" all score well.
To create a search engine friendly Web site my first step would be to work these effective keyphrases into my page titles, headers, body copy and intra-site links.
Even if I wasn't planning on selling lobster bibs and lobster crackers, I might work them into a page titled "Maine Lobster: How to Cook a Live Lobster", or "Maine Lobsters: Do Mainers Use Lobster Bibs?" (We don't. They're for amateurs.)
On the other hand, with such strong KEI for bibs and crackers, maybe I should be selling them alongside my "Maine Live Lobster Dinners."
Tips on Using Keyword Discovery:
Search engine message boards are home to critics who question the results of tools like Keyword Discovery, as well as supporters who swear by them. Although the results aren't always perfect, here are a couple of tips that might help you make the most of them.
Sometimes the keyphrase you're interested in is too narrow to pull meaningful results. In other words, don't research "Rochester dentist," which will most likely have an extremely low search total, but instead research "dentist." When you get your results, just include "Rochester" near any dentist-related keyphrases you end up using in your Web site copy.
Also, you may occasionally get some results that seem out of whack with reality, like would "renters insurance washington state best rates" really get over 10,000 searches last year? Probably not. These anomalies are caused by visitors to parked or expired domains: these sites send search queries meant to generate expensive Google ads on the site. Detailed information can be found at KD's FAQ, but in short, I recommend you ignore these results.
In Conclusion:
In pool, knocking the eight ball into the wrong hole loses you the game. In search engine marketing, optimizing your site for the wrong phrase can keep qualified visitors from finding your site.
If you're serious about being found at the search engines it's essential to stop guessing at what your prospects are searching for and start knowing.
If you'd like help uncovering your most effective keywords, please contact flyte new media today.
–Rich Brooks
President, flyte new media