PAYPAL: AN INEXPENSIVE E-COMMERCE SOLUTION
Important Note:
Paypal no longer requires customers to signup for a Paypal account when paying through Paypal. See the flyte blog for more info.

There's a lot involved in accepting credit cards online: building an online store, getting a merchant account through your bank, adding real time credit card verification to reduce fraud, getting a security certificate and putting it all on a secure server. Not to mention the startup costs and monthly fees that accompany all these items. (Oops. I just mentioned it.) If it all seems overwhelming PayPal may be your solution.
PayPal is the most widely recognized online payment system and is now owned by eBay, which should increase its acceptance. It handles all major credit cards, verifies their authenticity in real time, has no startup costs, no monthly fees, and charges you 2.9% or less per transaction.
Our Story:
Last year we began receiving requests to accept credit cards, but the high monthly fees of a merchant account were more than we could afford. We took the PayPal route to gauge customer interest. Our customers can now pay their invoices online through the PayPal system with any major credit card. They get their miles and we get money in the bank within 3 business days.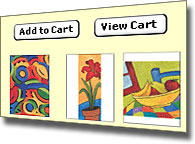 Client Examples:
One of our clients, the Juvenile Bipolar Research Foundation, collects donations online through PayPal. The California Association of Medical Staff Services uses PayPal for member dues, annual conference payments, online classified ads and job opportunity listings. For artist Catherine Breer we set up a PayPal shopping cart to help her sell her calendars and cards.
Caveat:
Only people who have signed up with PayPal can use the PayPal system. Although signup is free, only takes two minutes and is nicely integrated into the buying process, in our short-attention-span society that may prove to be too long for some. If you've never used PayPal consider making a small donation to the JBRF or buying a calendar from Catherine Breer as a test drive. Or, if medical staff services interests you and you live in the Golden State consider joining CAMSS.
Final Analysis:
If you are looking to accept credit cards online and are on a strict budget, PayPal is a good solution. It offers secure transactions for one-time purchases, recurring subscriptions, online donations, and shopping carts. Even if your ultimate goal is to get a merchant account and take credit cards directly, PayPal can be set up so quickly it can be a stopgap measure while you plan out your e-commerce strategy.
If you have any questions on integrating PayPal into your site please feel free to contact us.
–Rich Brooks
President, flyte new media