GOT LINKS? A QUICK WAY TO IMPROVE YOUR SEARCH ENGINE RANKINGS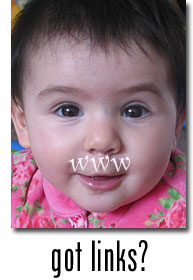 It's no wonder that everyone wants to rank higher in the search engines;
they bring visitors to your Web site that may not have found you any other
way.
While there are plenty of methods to rank higher, one of the
most overlooked is increasing the incoming links to your
site from other Web sites. Many search engines,
including Google,
view links to your site as "votes of confidence" and
will rank your site higher, all other things being equal.
How do you get these incoming links? Perhaps this bulleted list
will explain:
Create content worth linking to, including articles, White
Papers, F.A.Q.'s and other resources.
Have a page of links to other complementary Web sites. Getting
an incoming link from a site is easier when you're already
linking to them.
Ask, and ask again! Web masters and mistresses are busy people
just like you and me. If you don't get a response within a
week or two send them a polite email asking again.
Your mission—should you choose to accept it—is to
go out and get at least one new incoming link before the next
issue of Honey Roasted Peanuts! (I know you can do it, I have
faith in you.)
–Rich Brooks
President, flyte new media