PROMOTE FROM WITHIN: BOASTER POSTER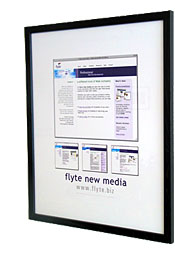 Do you have a retail space? Do clients visit your office? If so, a great way to promote your Web site is through a "Boaster Poster".
These 16″ x 20″ framed Web portraits showcase your site, continue your branding, and remind customers you're available after they leave your store. They display four Web pages of your choice as well as your URL. The cost is $140 with a discount for additional copies.
<Unsolicited Personal Recommendation>
I ordered one for our office and was really impressed with the quality of the screen captures. We get a lot of compliments on it from visitors. These work best when promoting attractive sites like those designed by flyte new media. 😉
<Unsolicited Personal Recommendation>
More information and examples are available at BoasterPoster.com. Be sure to tell them Rich sent you!
If you'd like help in choosing or preparing the pages please contact us.
–Rich Brooks
President, flyte new media