SEARCH ENGINE CONSIDERATIONS II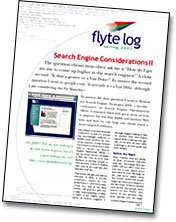 The question clients most often ask me is "How do I get my site to come up higher in the search engines?" A close second: "Is that a goatee or a Van Dyke?" To answer the second question I went to google.com. (Currently it's a Van Dyke, although I am considering the Fu Manchu.)
To answer the first question I went to Boston for Search Engine Strategies 2002; a two-day conference on Search Engine Optimization (SEO). I returned filled with great ideas on how to improve the way flyte builds and markets Web sites and how we can help our clients reach a more targeted audience.
One thing I took away from the conference is that it's becoming increasingly difficult to market your services for free on the Internet. Going forward you'll need to invest more time and/or money in Search Engine Marketing (SEM). I use the word "invest" carefully; a Web site may be your best method of alerting people to your services. A Search Engine (SE) may be the only way they will find your site.
This article will give you just an overview of SEM. A two-day conference cannot be condensed into a 1,200 word essay. (Trust me, this is my fifth rewrite.) My goal is to give you a basic understanding of what it takes to get higher placement in search engines. I strongly suggest talking to flyte or another firm who understands SEM to discuss your specific needs and can help tailor a strategy to fit your goals and your budget.
Before You Begin
First, consider what key phrases most accurately describe your site. Increasing Web site traffic will not affect your bottom line if your visitors aren't interested in your offerings. In the past we've talked about "key words"; words that people might use when searching for a site like yours. However studies have shown that people don't search by key words, they search by key phrases. The more specific you can make your key phrases, the more you can pre-qualify your visitors.
Next, consider the sophistication of your audience. Will they use industry jargon or lay terms? "Rhinoplasty" or "nose job"? "Attention Deficit Hyperactivity Disorder" or "short attention span"? Your target audience will help determine these answers. You can also do research into which key phrases are most popular. There are pay services which will allow you to compare search terms for popularity. Also, try searching at certain SE's; often with your results they will recommend similar search ideas. For example, if you search for "cat toys" the SE may offer similar search terms that will give you an idea of what terms others have used: "pet supplies", "catnip", "laser pointers".
Finally, review your traffic reports. You should know how people are finding you now so you have some way of comparing your results after you've started your campaign for better rankings.
Search Engines, Directories and Results
The term "Search Engines" usually refers to both Search Engines and Directories–confusing, I know. True SE's use automated "spiders" to search the Web and read your content; that content is then added to their own index or database. It is this index that you actually search when using a SE like Google or Alta Vista, for example. Directories, such as Yahoo and Looksmart, use human reviewers who make editorial decisions on whether to include your site in their directory. Going forward we'll refer to both under the umbrella term of Search Engines.
What you may not have realized is that most SE's get their listing from multiple sources. You may have noticed on Yahoo that some of their Web site page results say "Powered by Google." That means that after Yahoo has exhausted their own directory trying to find appropriate results they pull from Google's index. Seeing your site on these pages is not the same as being listed in Yahoo. Google hasn't always provided results for Yahoo, and they may not be the provider in the future. The only sure way to stay in Yahoo is to get listed in their directory, almost always through a paid listing.
Paying to Be Listed
Yes, Virginia, you can still get listed for free. flyte routinely submits all of our clients' sites to the major free SE's upon launch. Non-commercial sites have more avenues available to them in this regard. However, it's becoming more difficult to get listed no matter who you are, and if you're serious about getting found you should budget either time or money for SEM.
Paid placement, or pay for placement (PFP), is when you pay to be included and ranked artificially higher than similar results in a given search. This method is often keyword (or key phrase) driven; depending on the SE, you pay each time your results appear under that specific search, or more commonly only when someone clicks on your link. At SE's, these results are often separated from the regular results and called "Featured Results", "Sponsored Links", etc. Often the order of these links are determined not by relevancy but by the bid. Overture, Google, Looksmart and Ah-ha all offer PFP services.
Paid inclusion, or pay for inclusion (PFI), is when you pay to be included in a database or index that will provide search results; sometimes this inclusion is guaranteed, other times only the review is guaranteed. There is no guarantee of ranking with paid inclusion. With PFI you usually pay to have a specific URL included in the index that generally lasts for a year. PFI does not affect relevancy either positively or negatively so make sure you've optimized your site for the search engines. Yahoo, Inktomi, Looksmart, Alta Vista, and FAST all offer PFI services.
Search Engine Relationships
To get the most bang for your buck, it's important to know where SE's get their results. For example, getting listed in Inktomi (whose results are used by AOL, MSN Search and other big SE's) costs $35/url/year and getting listed in Teoma (whose results only end up in Ask Jeeves) also costs $35/url/year. Obviously, getting listed in Inktomi takes priority.
However, these relationships are constantly changing. If you are interested there are several resources on the Web that will keep you up-to-date. In my opinion the best is Search Engine Watch at searchenginewatch.com. There's also a paid members section with highly-detailed information. There are also a few listservs (I-Search and SearchDay) that will email you updates once a day. Since most site owners don't have the time or the interest to keep up with the minutiae of SE's, they rely on Web development firms to do it for them.
Whatever your budget, it's important to realize that SE's may be an important way of bringing qualified customers to your Web site. Remember:
Review your traffic reports – find out what terms people are using to find your services.
Review and optimize your key phrases – this will help you find your site's focus.
Rewrite key content on your site – this will make it more search engine ready.
Budget time and money for PFP and/or PFI.
Review your traffic reports at least once a month to see if these changes are having the desired effect.
–Rich Brooks
President, flyte new media