(RE) DESIGNING YOUR WEB SITE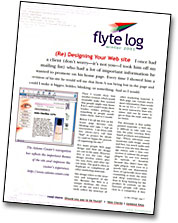 I once had a client (don't worry–it's not you–I took him off my mailing list) who had a lot of important information he wanted to promote on his home page. Every time I showed him a revision of his site he would tell me that Item A was being lost in the page and could I make it bigger, bolder, blinking, or something so people would see it. And so I would.
Then I would show him another revision, which would invariably make him worried that people might miss Items B & C, and could I make them louder, redder, pulsing or something so people would notice them. And so I would.
Before I let all the text on his home page become red, blinking and caps, I had an intervention. I sat down with this client–let's call him "Dad" to protect his identity–and we began the process of organizing his site.*
For many people Web page design and Web site design are one in the same. However, this is not the case. Page design involves colors, photos, text, fonts, and other layout items. The goal is often to duplicate or compliment all other marketing materials.
Site design refers to the structure and navigation of the site. Because the Web is a unique medium, the structure of the site won't necessarily reflect the structure of other marketing material. A Web page can contain much more information than would fit on an 8.5 x 11″ page, can be more interactive than television, and can be easier to get to than the mall, with better hours.
The downside is that unlike printed materials, a Web site is difficult to take with you into the john (wireless Web-based products not-withstanding). Where television communicates with image, sound and fury, too much audio and video at your site may discourage visitors with a slow connection without the proper plug-in. No one ever missed an episode of Seinfeld because they didn't have the right plug-in. And even in a poorly laid out department store, it's generally more time consuming to leave the store and shop somewhere else than to keep hunting for the product. In contrast, on the Internet people will often click to a competitor if they can't immediately find what they're looking for at your site.
Whether you're tackling a Web site on your own or consulting with a professional Web development company, you'll want to do some planning first. The most important questions to ask are:
What is my Web site supposed to accomplish?
Who is my audience?
What information do I want to put out there?
Once you have these questions answered, or have at least considered them, you can begin the most joyous part of the process: making an outline. O.K., maybe it's not the most joyous, but it will help focus the Web site and allow you to decide which items are most important and which can be grouped under a broader heading.
Think of the bigger topics, often the ones with the Roman numerals in front of them, as the buttons in your navigation bar (navbar). Home, Services, Store, About Us, Contact, or whatever else is most important to your site. Try and keep these to a minimum; the more buttons on your site, the less important each one becomes. Can Staff Bios and Mission Statement go under the About Us section? Can Programs and Services become Programs & Services? Can your Links section go under Resources, with archived issues of your Newsletter? As long as the broader heading encompasses the subtopic in the mind of the average visitor, you're all set.
At the same time you don't want to bury important information 15 clicks down. You can draw attention to something a few layers down with a link to it from the home page in a "What's New" or "Featured" section. There's no "magic number" of buttons to have on a site**, but too many buttons create confusion and muddy your message. If you can't seem to get the buttons down to a manageable number, it's O.K. to remove the Home button as long as you have a company logo or name that links back to the home page. Also, since the Internet is ultimately about communication, always try and keep Contact as one of the buttons. Cut away the fat, but not the bone. We almost always design sites with additional links at the bottom of each page that not only duplicate the buttons in the navbar, but add quick links to other pages at the site: Site Map, Privacy Statement, Terms and Conditions, and so on.
Once you've settled on an outline , or approved one that has been submitted to you by your Web developer, it's time to add the content. Know that every single line in your outline will need content. On your home page you may want to have a brief introduction or a What's New section. If you have a Resources area with pages for Links, Articles and an F.A.Q. (Frequently Asked Questions), remember that you'll want to have some sort of copy on the Resources home page, even if it's a simple introduction to the three other pages. The Links page may state that you've approved the following sites for inclusion and that visitors should email you if they have a suggestion for other sites. And so on. Having all the pieces ready to go at the beginning of the job will streamline the process.
Another benefit of this process is that you will gain a better idea of the scope of the project. By creating the outline and writing the copy in advance you know exactly where the finish line is. Because the Web is such a fluid medium it's often difficult to know when you have "completed" your site. The outline allows you to determine what is part of Phase I and what will wait until Phase II. It's a good way to prevent "job creep".
Although we've been talking as though we're developing an initial site, this information can be equally helpful in redesigning or relaunching an existing Web site. In fact, you've already got the outline done (at least in part) by looking at your current site. You may also have a better idea of what's working and what could be improved.
If you have family or friends who haven't spent time at your Web site, ask them to go there and give you feedback. Although positive feedback is good, it won't be as helpful as constructive criticism. You may know why something is listed in Programs and not Services, but it may not be obvious to an outsider.
Ask them to take notes so you can talk to them later. Did they find it easy to contact you through the site? Did they find everything they were looking for? Is there something that could be made easier to understand? Were they able to navigate the site successfully, without having to constantly use the "Back" button on their browser? (Now, there's nothing wrong with using the "Back" button, but a visitor should be able to access any section or important page from wherever they are on your site.)
Don't base your judgements on just one person. That person may be too familiar with your business to accurately represent a new visitor to your site. Try and recruit people who represent your target audience. Interviewing several people will better represent the range of visitors to your site. Use this feedback to clarify your goals and reorganize your site outline.
Ultimately, the more planning you do the smoother the construction of the site will be.
* For those of you who know my dad, I have to admit he is NOT the client in the story. I just felt that after years of him using me as the example in his speeches, it was time for a little "payback". The client is in fact both an amalgamation and an exaggeration.

** The magic number is 5.
–Rich Brooks
President, flyte new media