How to Reach Your Ideal Customer
ATTENTION: Join us on 5/30/2013 for a FREE live webinar on Turning Likes Into Sales.
In days of yore, businesses could reach just about any prospect by use of broadcast media, such as TV, radio or the daily paper.
But because of disruptive technology like cable, Netflix, Hulu, satellite radio, YouTube and trillions of blogs, broadcast isn't as "broad" as it used to be.  Furthermore, chances are your business can't afford a commercial during American Idol, let alone the Superbowl.
So how do you reach your ideal customer today?
By leveraging the biggest disrupters of our age: search, social & mobile marketing. These are what I call The Agents of Change.
Search Engine Optimization
These days it seems like businesses have focused all their attention on social media marketing to the detriment of their SEO (search engine optimization.) That's an unfortunate development for them, but a great opportunity for you to grow your market share.
Whether people use a PC, tablet or smartphone, when they're looking to solve a problem or fill a need, they regularly turn to the search engines for help.
By providing expert advice developed in a search engine friendly way, you can get in front of your ideal customer when they're ready to make a buying decision.
Is your ideal customer a bride looking to plan a wedding? Create keyword-rich blog posts that help her find a wedding planner, hire a band, find a venue, choose a florist, or create a seating plan that addresses every drama in her extended family.
Remember that every blog post is a unique web page, and every web page is another opportunity to rank well at the search engines. 
Is your ideal customer a small business that needs to increase sales? Create short how-to videos on appropriate dress, phone etiquette, crafting the perfect sales letter, and 13 ways to close the sale.
Video is a powerful way to get to the first page of the search results, whether people are searching at Google (the number one search engine in the world) or directly at YouTube (number two.)
Combined with keyword-rich pages at your website, search is the first place most businesses should focus on, whether your offerings are local or global.
If you haven't optimized your site yet, I recommend reading Why Doesn't My Website Show Up in Google? 
Social Media
With your ideal customer spending so much time on social media, it only makes sense that you are there, too.
The first step is to join the networks that your ideal customers are active on, whether it's Facebook, Twitter, Pinterest or LinkedIn.
Don't feel the need to be on every platform! Better to start small and go deep than spread yourself too thin.
Wherever you invest your time, customize your profile and/or business page so that it reflects your branding…that will help build trust with your prospects.
While opinions vary on how much selling you can do within social media, here's a good rule of thumb: behave like you would at a networking event.
In other words, if you went into a new networking event, would you interrupt every conversation and push your business card into every hand before you even learned that person's name and what they're looking for?
(If you just answered "yes," you can ignore my advice.)
By engaging with your audience where they already hang out in social media, and treating them with respect, you'll build loyalty and generate strong word of mouth recommendations.
Also check out What is Facebook EdgeRank and Why Is It Critical to Your Business? and LinkedIn Power Tips for Growing Your Business.
Mobile Marketing
It seems like everyone walks around these days with a portable computer in their pocket or purse in the form of a smartphone (or feature phone.) So why do so many businesses have no mobile presence whatsoever?!?
Admittedly, mobile is confusing. There's mobile-friendly websites. Mobile apps. Location-based services like FourSquare. QR codes. SMS. Text messaging. And probably a half-dozen other categories I'm not thinking of right now.
So where do you start?
A recent study showed that 61% of Americans using mobile devices would immediately leave a website if the site wasn't mobile optimized.
There's your answer.
Start by making sure your website is mobile optimized. If your website is built on WordPress, you might want to check out WP-Touch, a plug-in that can get you started with a mobile site. (In my opinion, it's just a start…you'll want to spend some time tweaking the user-interface, but it's better than nothing. 
After that, it depends on your business and industry. Retail should look at location-based apps and text messaging. Technology companies with sophisticated users might look to a mobile app…but remember: an app requires people to take multiple steps just to engage with you.
Be sure to check out QR Code Marketing for Small Business and Do You Need a Mobile Website?
Takeaways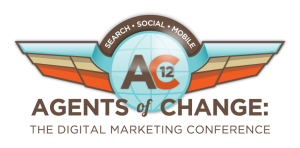 The next step is for you take care of the basics by following some of the links in this article.
If you'd like to learn more on how you can reach your ideal customer through search, social and mobile, you should attend The Agents of Change Digital Marketing Conference on 9.14.12.
Whether you can join us in Portland, Maine, tune into the live stream, or watch later at your convenience, I hope to see you there!
Rich Brooks
flyte new media