Proving the efficiency of time or money spent on any given activity is a critical component of any marketing campaign. This is especially true of social media marketing campaigns, where the true value of time and money spent isn't always immediately recognizable.
So, how do you prove to your clients, or boss, or your own bottom line that there's actual value for you in social media? That you aren't just throwing your money away spaghetti on the wall and hoping something sticks?
By establishing a clear way to measure and track social media ROI. And here's how to do just that.
Define YOUR Success
Setting up quantifiable goals is a crucial first step in understanding social media ROI. Think about exactly what action you want people to take as a result of interacting with your social media pages. Do you want folks to click to your website (a goal we highly recommend)? Share your page or key posts? Register for an event? Like your Facebook page or follow you on Twitter?
*A note on Likes/Follows as a goal: Unless engagement or increased brand/cause awareness is your actual goal, be very careful not to get trapped in putting too much weight on the amount of Likes and Follows your social pages draw. If your goal is to sell a product or service, try thinking in terms of clicks to your website, assisted and direct conversions, email list sign ups, etc. as you develop your list of goals.
Success should be defined by the goals that make the most sense for your business, in terms of the specific desired actions you'd like your audience to take.
Select Your Measurement Tools
Once you've established your goals, it's time to get your social media measurement tools lined up and ready to go.
Google Analytics
Google Analytics is the industry standard for web metrics measurement, and it has some excellent tools to help you understand ROI of your social media campaign.
What I love about Google Analytics is that the metrics are expressed in hard numbers that are easy to understand and/or explain to others.
For example, if your goal is to drive traffic to your website via Facebook and Twitter advertisements, you can easily measure efficiency of each campaign by reviewing the Network Referrals report within Google Analytics (Get there by accessing Acquisition>>>Social>>>Network Referrals).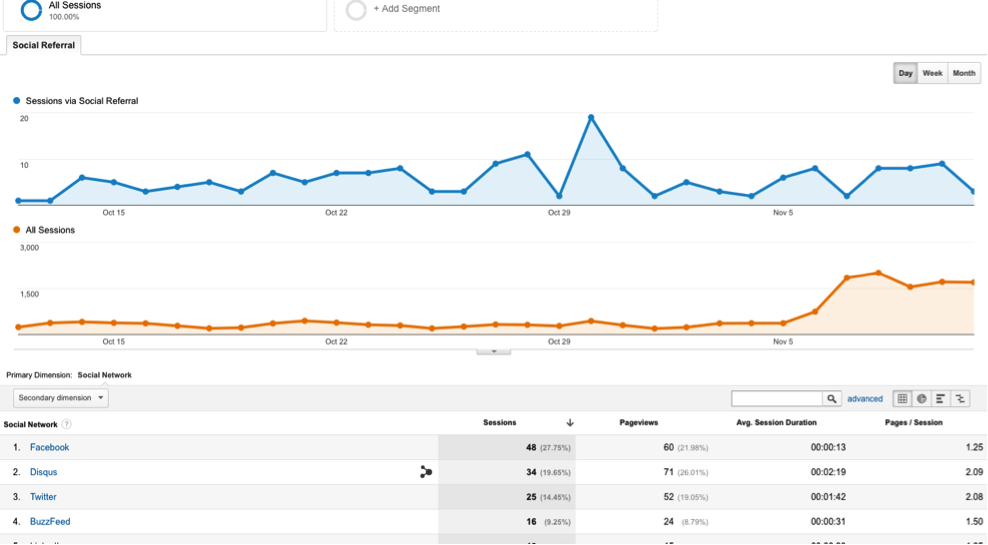 All of the reports under the Social umbrella in Google Analytics will help give you insight on how many people the social channels brought to your website and the behavior of those people once they arrived.
There's definitely enough data there for you to measure which social platforms brought in clicks, and ultimately, which social platforms and activities resulted in conversions.
Using the Conversion tool in Google Analytics can help you understand actual conversions that occurred either directly from social interactions or that originated through engagement via social channels.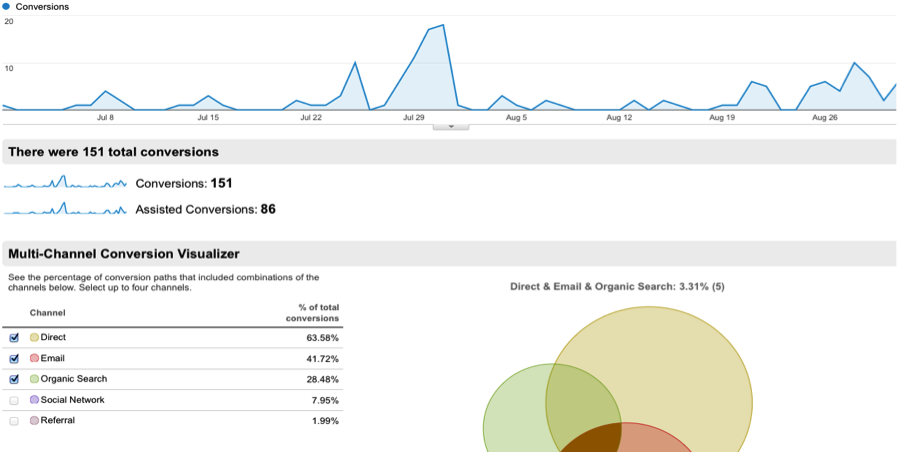 To do this, you'll need to set up Conversion Goals in Google Analytics. Goals can be set for any URL within your website that you consider a "conversion" once a customer makes it there.
It could be a "Thank You" page that people are directed to after they've purchased your product, after they've filled out your "Contact Us" page, or once they've registered for your event.
No matter what conversion works best for you, the Conversion Goals tool is definitely one you should be using to track how well your social media marketing is converting sales – thus creating your social media ROI.
Platform Specific Tools
As advertising on social media has continued to become a more mainstream aspect of the marketing mix for many companies, the various social platforms have stepped up their analytics game regarding the metrics they provide businesses.
Facebook
Facebook offers Insights Reports, which allow you to measure and track a variety of metrics, from Reach and Impressions, to Likes and Website Clicks.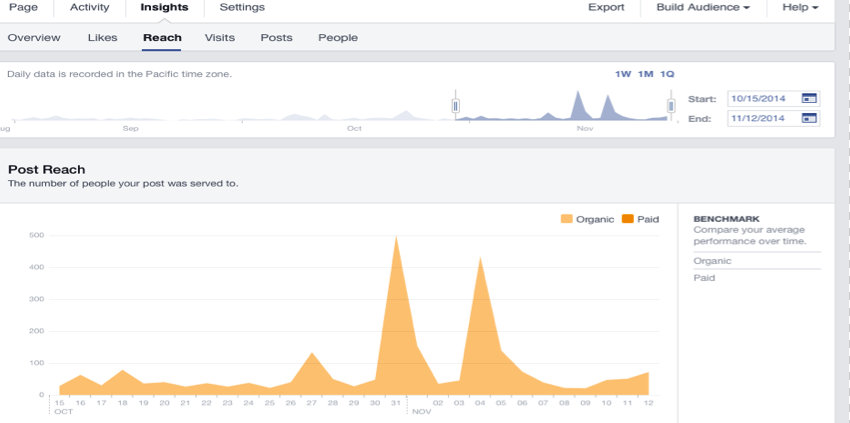 Their Ad Manager Reports give in-depth reporting on the performance of each Facebook advertising campaign you run that can be broken all the way down to the performance of each specific ad.
Additionally, Facebook has rolled out a tool that helps you track conversions through their platform, by placing a "pixel" within the page you consider a "conversion page" in your website.
Twitter Analytics
Twitter also has decent reporting set up for their advertisers and social media marketers. The Twitter Analytics Report allows you to track everything from Follows and Retweets, to Lists and Favorites.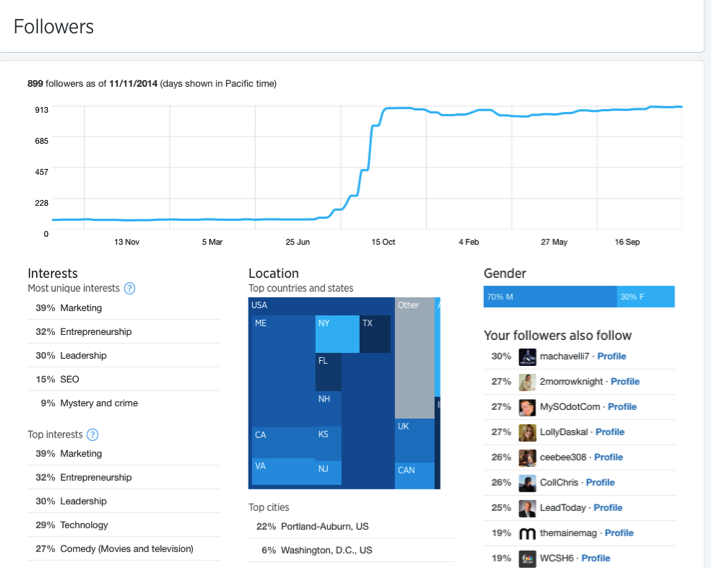 Twitter Advertising Reports give a more in depth review of the performance of each ad. It's broken down much like Facebook, with Reach, Impressions, Favorites, and Retweet metrics being available, as well as the ever important metrics on website clicks.
Also, like Facebook, Twitter has rolled out a conversion tracking method that allows marketers to track conversions within the Twitter platform, by placing cookies in their sites.
Other Measurement Tools
Along with Google Analytics and platform specific metric tools, there are a number of other instruments available to help you understand your ROI on social media marketing.
Google URL Builder
This free web based tool allows you to create custom URLs from any link from your website you want to share and track with Google Analytics. This easy to use resource has you enter the link you want to share, along with a few identifying tags, and then it auto-generates a custom link for you that can be shared and tracked.
This function is especially useful in social media marketing, because it allows you to track the behavior of customers who are coming into your site via social media channels.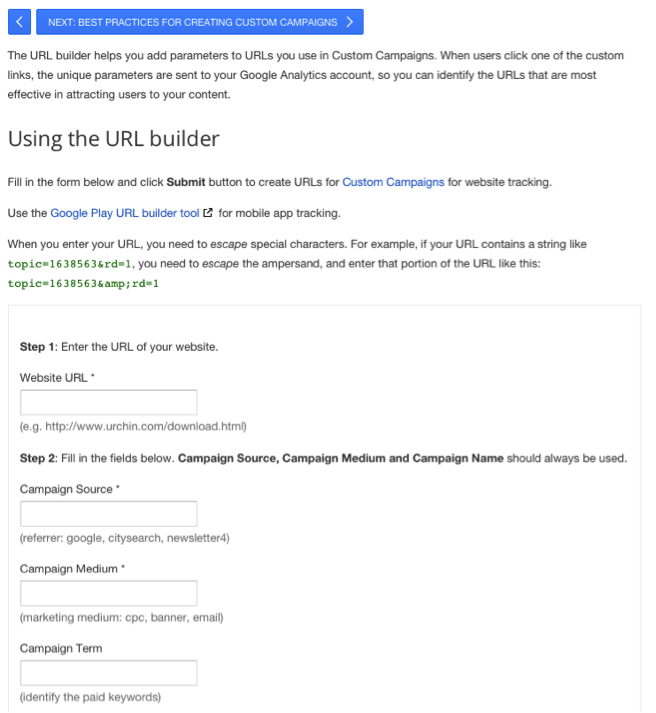 For example, let's say my website sells accessories and I'm running a promotion on plaid scarves. I could use Google URL Builder to create a custom link to my product page for scarves, and share that link on Facebook, with a post promoting the sale.
At the same time, (using Google URL Builder) I could create a different custom link for the same product page and promote the plaid scarves through my Twitter page as well.
One week into my plaid scarves promotion, I could then check Google Analytics and note which custom link was driving the most clicks and of those clicks, which ones led to conversions.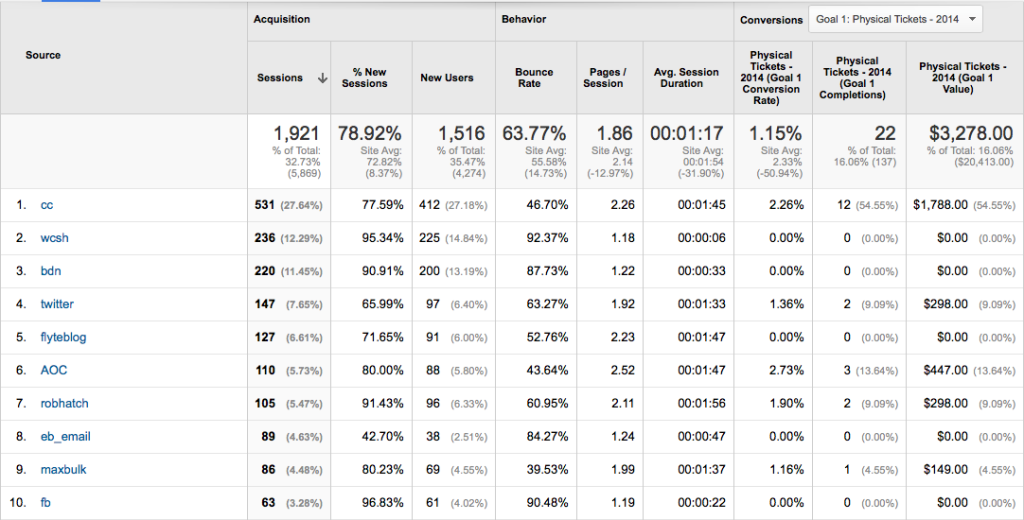 Not only would this allow me to understand my return on each social channel, it would also allow me to make informed real time decisions on continuing to promote on each social channel and on whether to invest in purchasing an ad on either channel.
HootSuite & TweetDeck
Both of these programs continue to add reporting functionality to their offerings for marketers.
Twitter Analytics such as Follows, Retweets, Engagement, and Link Clicks can all be tracked within both platforms. HootSuite can also pull reports from Facebook, and LinkedIn as well.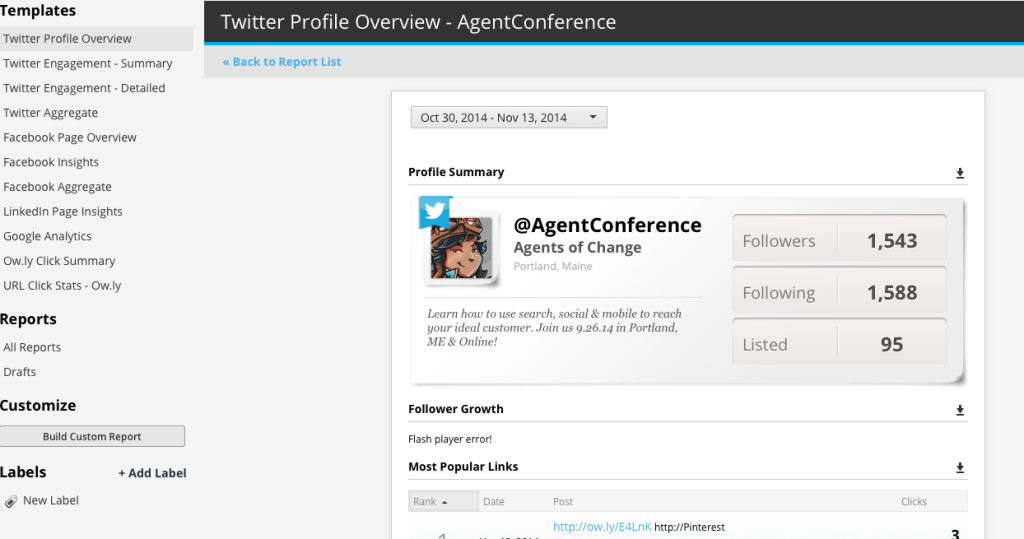 If engagement is a goal of your social media marketing campaign, programs like HootSuite and TweetDeck can be helpful in tracking your success.
Tracking Regularly
Once you have your goals and measurement tools in line, it's important to regularly track how each campaign is performing.
Check into your analytics once per week to note how things are going. Is one Facebook ad out-performing another? Adjust the spending to make your dollars more efficient. Are Twitter leads more profitable than the leads coming to your site from Facebook? Consider putting more of your effort and budget towards Twitter.
Measuring Social Media ROI may seem like the last step in the process of a social media campaign, however, it's more of the beginning of the process of understanding what works best for your business – and how to make social media work even better for your bottom line.
Social Media Super Fan
SaveSave