Does marketing your small business on social media confuse, frustrate, or even intimidate you? Do you feel like you're stuck at the starting gate? Are you not sure how to move forward? 
Well, you're not alone! Which is why we wanted to share this great story of one of our clients, Waltz & Sons Propane. 
We're super lucky that we get to work with smart, interesting, creative clients here at flyte. And I'm not just saying that to be flattering (though what's the saying about flattery again?) – we really do work with some amazing people. 
One of my favorite parts of my job as a Digital Marketer at flyte is to train clients on how to use digital marketing to meet (better yet…exceed) their business goals. I love helping clients rock at digital marketing! And one client who's totally rocking it with their digital marketing right now is Waltz & Sons Propane. 
With Facebook videos that gain over 2.5K organic views, a YouTube channel filled with high quality, professional videos, and an average daily organic Facebook reach of nearly 200 people per day, it's clear that the Waltz & Sons team is awesome at heating up both homes and social media. 
THE GOAL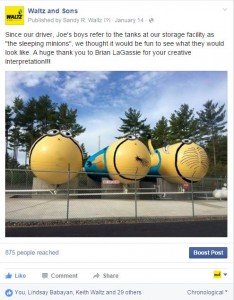 Waltz & Sons came to flyte for a total brand refresh, complete with website redesign, new logo development, and the creation of a strong online presence. 
They had a bit of experience with Facebook, but weren't "experts" with the platform for digital marketing. They were hoping to eventually run their own page in a manner that effectively reached their ideal customers. 
They also wanted to gain visibility through video marketing and were looking for marketing guidance, along with tactical assistance to make this goal a reality. 
THE STRATEGY
We developed a custom training schedule to get the Waltz team up to speed with social media best practices and comfortable using their "priority" platforms – mainly blogging & Facebook, with YouTube being a platform flyte would manage. 
We developed an Editorial Calendar based on keyword research, and provided hands on training on pre-scheduling posts, content curation, and image creation. We also showed the Waltz team how to share their YouTube videos on Facebook for maximum impressions & engagement. 
We provided additional training on how to create engaging, search friendly blogs as well. 
The mix of hands on, in-person training and strategy development would later prove to be effective. 
THE OUTCOME
"We worked with flyte to re-brand our company & create an online presence.  Their professionalism along with their knowledge & depth of online media and marketing made it a seamless process for us.  We can't thank them enough for guiding us through the process of developing a new logo, website, Facebook page and Youtube videos." ~ Sandy Waltz, Waltz & Sons Propane
Empowered by the coaching we provided, Waltz has created an active Facebook community with 200 Likes gained in less than three month. While that may not seem overwhelming, this is a business with a very localized footprint and all of their likes were gained organically.
Most of their organic posts generate at least a few hundred impressions – with some earning over 6.5K organic impressions. Their page fans are engaged, often leaving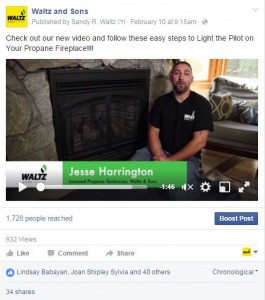 comments or other "reactions" to each post.
The video marketing strategy we worked with Waltz to implement has driven thousands of organic Facebook (i.e. non-paid) views on each video that's been shared thus far. And this, being only a couple of months since they launched their new website & digital marketing initiatives. 
And their Facebook page has started to generate leads – which ultimately is the goal with digital marketing. 
They have an optimized YouTube channel that sends leads straight to their website from each video, and they have an engaging, modern looking blog that will continue to help them reach more customers & increase search visibility. 
A little digital marketing and strategy has gone a long way towards generating new business. 
Along with an awesome new logo & website, Waltz was able to use our training & initial digital marketing strategy to create a solid online presence for their brand that should continue to grow as they keep up the amazing work. 
If you'd like training for yourself of your staff on how to use digital marketing as a tool for reaching your business goals, be sure to contact us today. Please feel free to connect with us in the comments or on social media.