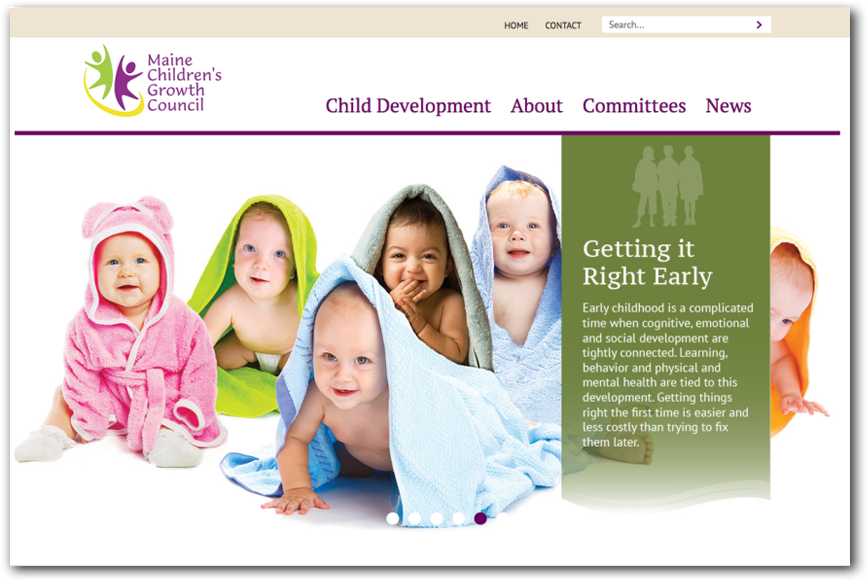 The Client:
Maine Children's Growth Council is working to achieve sustainable social and financial investments in the healthy development of Maine's young children and their families.
The Objective:
Explain, enhance, and promote MCGC's policy and system change recommendations to the Governor and the Legislature; through community and state leadership; through collaboration, planning and monitoring; and through widespread efforts to educate Mainers about the importance of the first few years of life.
The Tools:
The site was build on WordPress. The site uses Events Manager, Gravity Forms with MailChimp integration. The design and development came from flyte new media.
The Outcome: 
Maine Children's Growth Council re-launched their website that showcases their policy goals and upcoming events and recent news. It features videos, a newsletter signup, current council reports and resources, and a blog.
Responsive Web Design = Mobile Friendly
Since a growing percentage of Maine Children's Growth Council's fans and info seekers have mobile devices in tow, the site was built to be responsive. That way, it's optimized for desktops, tablets and smart phones or whatever size screen is being used.
Site visitors can…
Subscribe to News & Events: This page lets visitors view the latest reports, resources, and news and also offers a subscription to signup for email updates.
View Events: The new MCGC site has a page to let visitors know when the latest committee events and meetings occur so they can attend and get their voice heard.
Learn About Maine Child Development: Learn more about why Maine's future prosperity and quality of life are important to every Mainer.
Be sure to visit Maine Children's Growth Council if you want to support their cause or learn more about my Maine child development is so important to all of us, and flyte new media if you need to develop an update or redesign of your own website. 😉