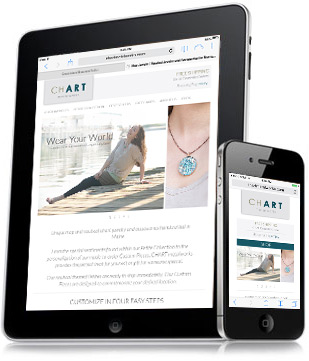 "Since the launch of our Flyte e-commerce site internet sales are up 32% in less than a month! Thanks, guys!"
John Guptil
-CHART metalworks
There's more to online success than ranking well.
Many companies who are looking to get more business from their website focus exclusively on improving their SEO, or search engine optimization.
However, the problem may not be in how much traffic you're getting, but whether you're getting your visitors to fill out your contact form, pick up the phone, or download your free e-book.
The percentage of visitors who take a desired action at your site compared to all your visitors is your conversion rate, and it's critical to your success.
Everything impacts conversion rates.
From the loading speed of your website to the images you choose, from how many options you offer to the color of your calls to action, everything impacts your conversion rates.
To turn more of your visitors into customers you'll need to have a well designed website that guides people to take a desired action that benefits both them and you.
What people REALLY want from your website.
People say they want freedom of choice, but what they really want when they get to your site is guidance.
They don't want too many navigation options or too many competing offers. They've come to your website because they're in need of your help.
If you offer them too many choices, or too many distractions, or hinder their progress in getting the information or advice they need, they'll hit the back button and go find one of your competitors.
How to improve your conversion rates.
At flyte, we offer results-driven website design. We design and build your site to lead your visitors down the sales funnel.
We create special squeeze pages that reduce clutter and improve conversions.
We create Digital Marketing Action Plans that help attract your ideal customer, improving your chances at converting site visitors into leads and clients.
We offer persuasive copywriting that clarifies the advantages of your product or offering to your site visitor, compelling them to click, register or otherwise buy what you have to offer.
If you're ready to turn more of your site traffic into leads and business, contact us today for a free consultation.