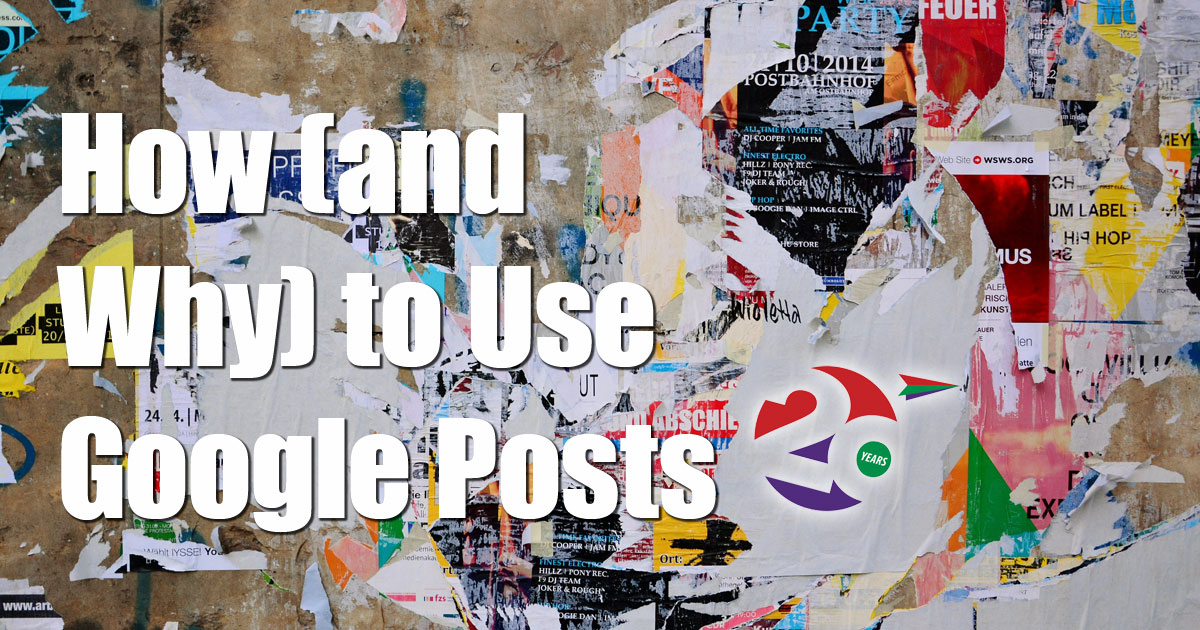 If you're looking for new ways to promote your business, products, services, or events, Google Posts could be just the ticket. They allow businesses to post fresh content that can appear in local searches as well as the Knowledge Panel on certain results pages.
If you don't know what a knowledge panel is, here's an example outlined in red.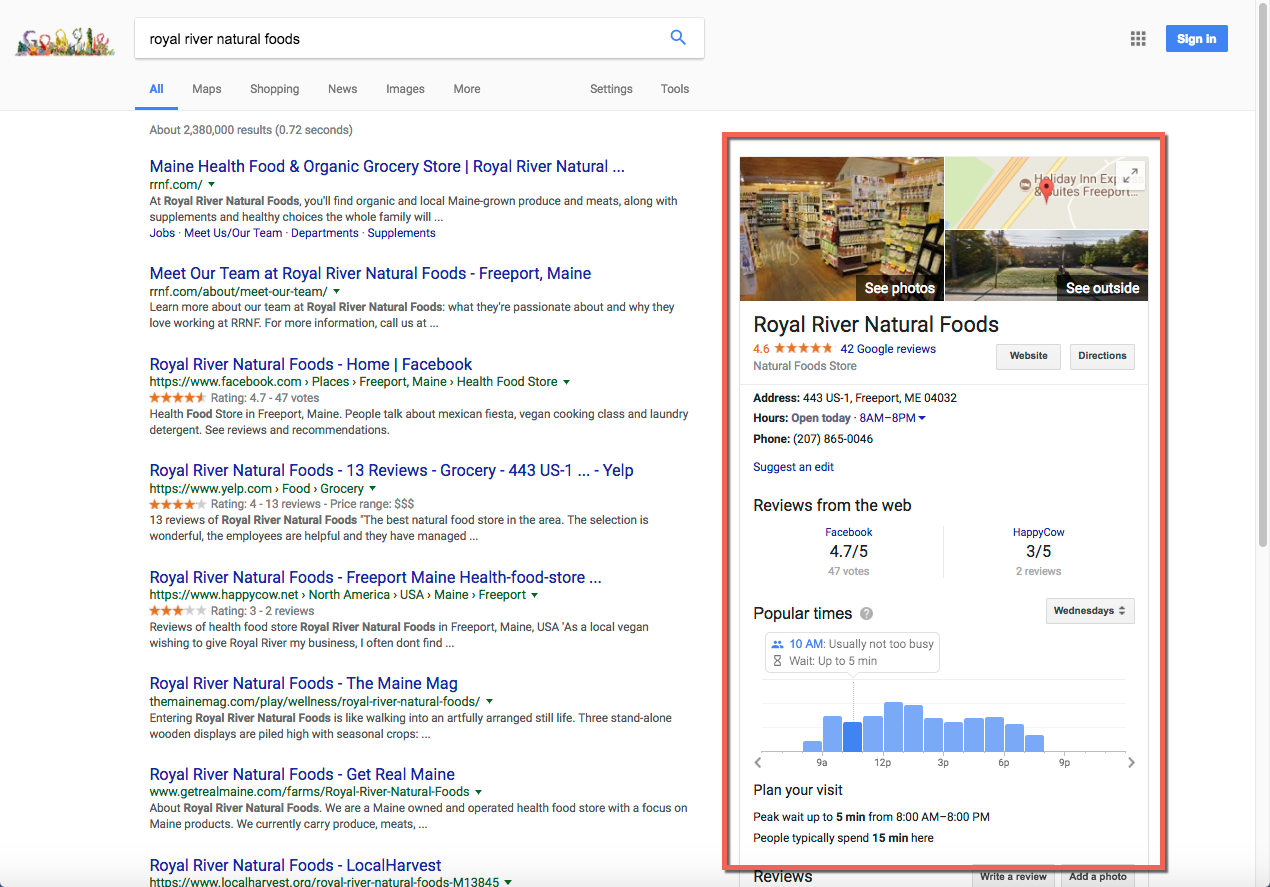 What are Google Posts?
Google describes Google Posts as "up-to-date posts from verified people, places or things, directly in search results."
I describe them as snack-sized content packets that can promote anything from an in-person training session to a recent blog post. To get started, you need to "verify" your business or organization through Google My Business. (There are so many reasons to have a GMB account there's really no reason not to have one.)
Once you have your account, you will see Posts as an option in the left-hand navigation.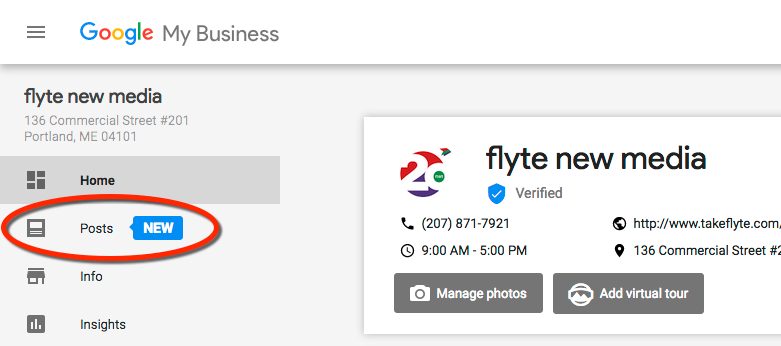 Why use Google Posts?
The jury is still out on how effective Google Posts are…and will be in the future. Google has a habit of testing out new features to see how widely adopted or how effective they are, and not everything makes the cut. The decline of Google Plus and the shuttering of Google Authorship (when your picture appeared next to your articles in the Google search results) come to mind.
That being said, there is some evidence that Google Posts might increase your Local SEO, and Google may be rewarding early adopters of this new feature in other ways as well.
Google is always hungry for content, especially fresh content. Since Google is the number one driver of traffic for many of us, it makes sense to "feed the beast."
Also, it doesn't take a lot of time to create a Post, so you may just make it part of your regular social media promotional strategy, just like posting things to Facebook, Twitter, LinkedIn, or Instagram.
However, you're going to need to publish Posts "in real-time" as it doesn't appear that Google Posts allow third-party tools like HootSuite to post on your behalf, nor can you schedule posts in advance.
How to create a Google Post?
If you're ready to create your own Google Posts, we've created this helpful video walkthrough for you.
If you're the type of person who prefers text, here's a breakdown:
Log into your Google My Business account
Click "Posts" in the left column
Click on the "Write your post" box in the main area
Find a photo and add some descriptive text
Choose "Event" if you're promoting an event and add start and end times
Select a call to action button and include a URL where you want to drive traffic
Review and publish when you're ready
Some things to note about Google Posts
For whatever reason, Posts don't seem to be tied into Google Analytics right now. Google will show you how many impressions (views) your post got, but nothing about clickthroughs or conversions. To do that, you'll need to use UTM codes you create through a tool like Campaign URL Builder.
(If you need a quick tutorial on how to create trackable links that show up in Google Analytics, check out our post on how to use Google's URL Builder.)
Posts can't be too long. Each post can only be 300 words long, so choose your words carefully!
Use square images that are "center-balanced." Google won't accept images smaller than 250 x 250, and image 750 x 750 or larger seem to be best. Sometimes images are cropped, so make sure your best visual is the dead center so it doesn't get hidden.
Posts disappear after seven days. Google only wants fresh content showing in Posts.
For more information check out 12 Things to Know to Succeed with Google Posts.
Final Thoughts on Google Posts
Posts are a great way to promote new content or offers. This could be a podcast episode, a webinar, or the soup du jour.
For the time being, it appears that Google might be giving a slight boost to businesses using Posts, so there's little downside outside of the additional time it takes to create new Posts.
If you're already sharing your content (or specials) through social, just add Google Posts to your routine. It will probably only add a couple of minutes to your day and may add a lot of value to your marketing.
Have you tried Google Posts? Have any suggestions on how to make them work more effectively? Or creative ideas on what to post? Please let us know in the comments below!
Rich Brooks
Post Cereal, or Serial Poster?
P.S. Big props to John Paglio who told me about Google Posts and did the initial research.