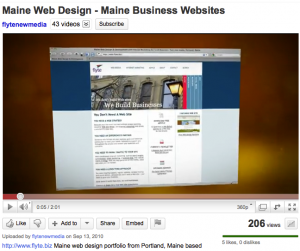 Online videos are a powerful tool for search engine optimization (SEO). For some people this doesn't compute: search engines can't watch videos the way they can read and understand text, so how does an online video increase your search engine visibility?
Search engines like Google or Bing want to deliver the most relevant content to their users, regardless of the form or medium of that content. To that end, they look at the words in the titles of videos on websites like YouTube or Vimeo, as well as the description and the tags.
There's also some evidence that they look at other factors, such as the number of views, the number of comments, viewer ratings, whether people watched the video to the end, number of incoming links, the number of times shared, etc. Search engines may even be converting the audio to text and using that to better determine if the video content is relevant to a given search.
It's also been my experience that search engines want to present searchers with a mix of media in the results: web pages, images, video, local results, news, tweets and more. Each one may be another opportunity for you or your business to rank higher and get in front of your best prospects.
So, if you're looking to leapfrog your competitors in search, you should add video to the mix.
For example, we wanted more visibility for the search term "maine web design." (If you're a Maine web designer you can stop reading now. This doesn't concern you.) So we created a video slideshow called "Maine Web Design – Maine Business Websites" and posted it to YouTube and a dozen other video sharing websites. (I recommend TubeMogul for posting to multiple video sharing sites at once.)
Within a day that slideshow made up half of the top 10 results in Google's video search for "Maine web design." That was nice, but there were no video results displayed on the first page and I don't know how many people click over to video results for that type of search. Still, it showed the potential of video.
Then, about two weeks ago I happened to perform that same search again and, lo and behold, the video was the sixth result on Google in the regular, organic search results. I logged out of Google to confirm my results, and the video was still number six. (When you're logged in your results are skewed/tailored based on your previous search history.) Although the sixth position isn't as good as the first slot, many people are more drawn to video than text links, so it has that added benefit.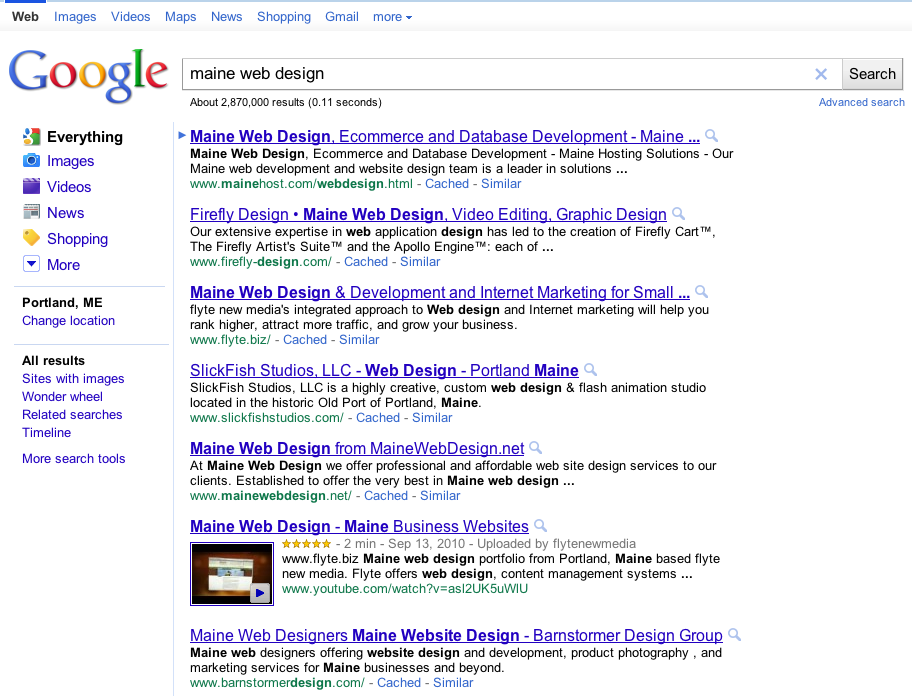 I'm not sure when the video started appearing in the regular search results, but it is still hanging tough at the time of this post.
Something to note about this video: it's just a slideshow of screen captures from websites we've designed for Maine-based businesses; there's no audio, just imagery. However, we did feature this video on a previous blog post, which may have helped its visibility and views, which in turn may have improved its ranking. Blogging about it again should give it an additional boost.
What's the takeaway? If you're looking to leapfrog your competition for popular keyword phrases, you should experiment with video. Just don't expect overnight success; be patient, and keep on uploading new videos targeting different keyword phrases you want to rank well for.